This post was created in partnership with Dole. I have received compensation for this post.
When I think of holiday desserts, my mind always goes to pie. Nothing beats a fresh pie from the oven. The wonderful aroma is certainly intoxicating. But I've always struggled a bit with certain pies. For starters, I'm not an expert edge crimper. They always look a little uneven. I'm sure with more practice I would get better at it, but I simply prefer to go with a more rustic look like a galette. I also prefer pie filling over the crust, so a open faced pie is perfect for me. It is so quick and easy! I've also never and I mean never, tackled a berry pie. Well, until now. I baked a mixed berry galette today and let me tell you, I was nervous.
Why?
Because my mom, an amazing baker, has always struggled with berry pies. It is so tricky to to get them the right consistency. So often they become a watery mess, even with flour, cornstarch or tapioca. I've always wanted to try to make one though because they are so delicious! And since it is a little easier with a galette with no top crust to keep the steam in, I thought now would be a great time to try.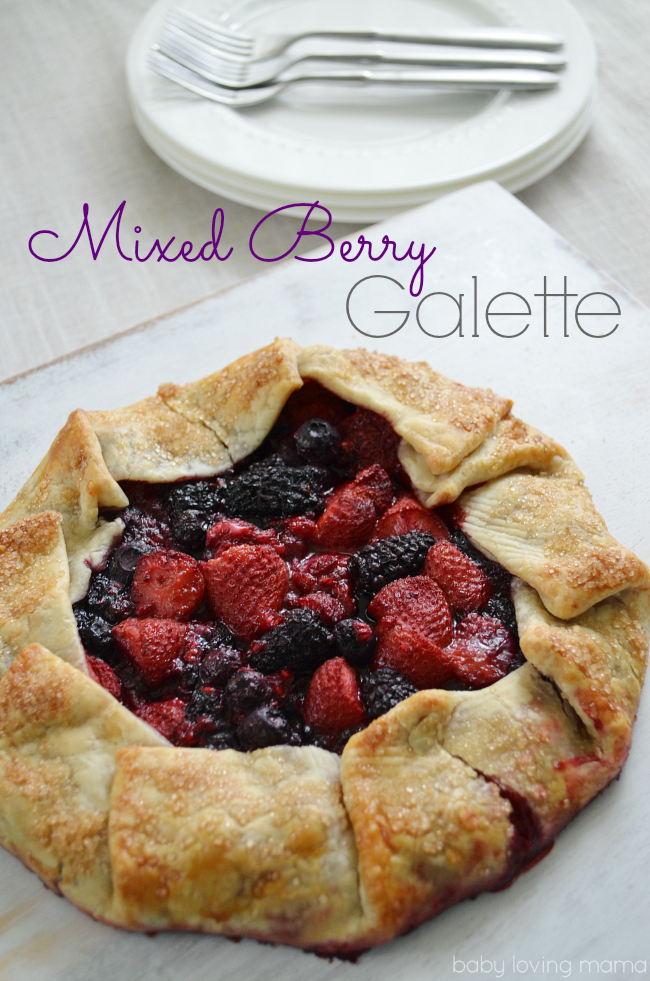 And guess what? It turned out amazing!
I kept things simple and used a frozen bag of Dole Wildly Nutritious Blends Mixed Berries. (Try saying that three times fast!) I read a ton of different articles, all giving different suggestions. Some say frozen fruit isn't ideal for fruit pies, while others say it works great. All said more flour or cornstarch was necessary for frozen fruit, but less for a galette than a traditional pie with two crusts. I couldn't find the absolute perfect recipe for what I wanted. So I guessed.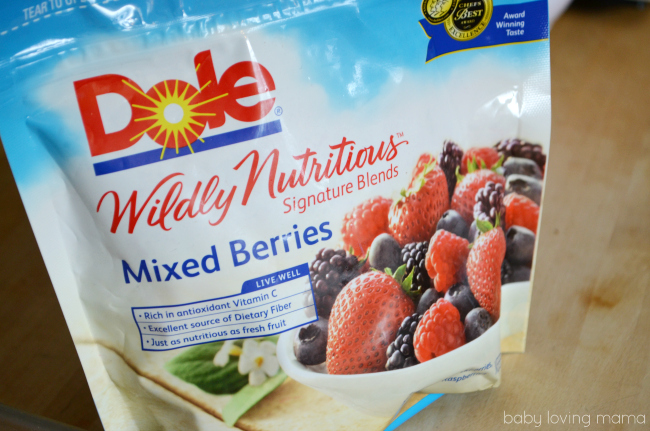 The first time I tried was yesterday when I included a cream cheese layer on the bottom. I thought it would be good to keep the juices in, which it did, but it also turned most of my cream cheese purple. I should have predicated that. And while it tasted great, it didn't have the overall visual appeal. This morning I ditched the cream cheese and added some additional ingredients to cut down on the juice flow. And it worked!

Mixed Berry Galette
Ingredients
1 bag Dole Wildly Nutritious Mixed Berries frozen fruit
1 pie crust
⅓ cup sugar
2 tablespoons corn starch
juice from half a lemon
1 tablespoon butter
1 egg, separated
turbinado sugar (Sugar in the Raw)
Instructions
Preheat oven to 425 degree F.
Line large baking sheet (with sides) with parchment paper or silicone baking sheet.
Roll out dough of your favorite pie crust or use refrigerated pie crust.
Prick center a few times with a fork.
In medium bowl mix sugar, corn starch, lemon juice and frozen berries.
Pour berries into center of pie crust.
Fold edges up around sides.
Brush edges of pie crust with egg white and sprinkle generously with turbinado sugar.
Add butter on top of berries, in three or four small pads.
Bake for approximately 30 minutes or until crust is golden brown.
Cool completely before serving.
Assembling the galette was super quick and easy. Almost too easy since I used a refrigerated pie crust.
And while I did have some leakage out the side of the crust, because I had my silicone mat on my baking sheet, it didn't make a mess and flowed out and away from the crust. This is huge for keeping the crust from getting soggy.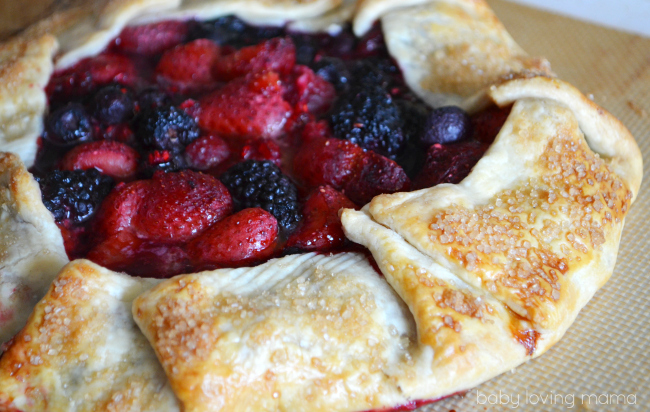 The results speak for themselves. I was able to easily create a berry pie that is beautiful and more important, beautifully easy!
Now I can't wait take a huge slice out of this pie tomorrow and top it with a big scoop of vanilla ice cream!
Have you tried making a berry pie? Got any special tricks?