Being a blogger on the JOHNSON'S® BABY CARES Council certainly has it's perks. Besides learning about new products and voicing my opinons, I've had the chance to visit Johnson's Baby corporate headquarters in New Jersey and interview Hilary Duff who has partnered with the JOHNSON'S® BABY CARES charity program.
So what did I learn? Hilary is like any new mom with challenges like experiencing mommy guilt for missing a feeding and extra pressure because of her celebrity status to get back to her pre-pregnancy weight.  And because she is the first of her friends to have children, she relies a lot on online forums and family for baby advice with her son Luca, born in March.
Hilary also wants to support other moms and their babies. That is why she is working closely with JOHNSON'S® BABY CARES and Save the Children as part of the brand's commitment to the healthy development of babies and their mission to support and respond to the greater needs of families worldwide. After discovering that 90 percent of U.S. children live in areas at risk of natural disasters, the brand decided to kick off the JOHNSON'S® BABY CARES platform, which will help provide essential resources to respond to families in times of crisis, while also providing ongoing support for the critical issues surrounding maternal and children's health.
I'm always happy to see celebrities using their influence to draw attention to fabulous charitable organizations like Save the Children. Giving back is such a rewarding experience and one I always look forward to sharing with my kids. I've also had the opportunity to spotlight great charitable campaigns to benefit my own community because of my blog. You may remember two such campaigns I've shared recently which will bring a 400 meal donation to my local food bank this holiday season and a $1,000 worth of school supplies to my school of choice. I can't tell you how grateful my son's school was to receive the supplies and it just feels so good to give back!  I was equally thrilled to see my readers spread the word and enter to win the same for their own local charities.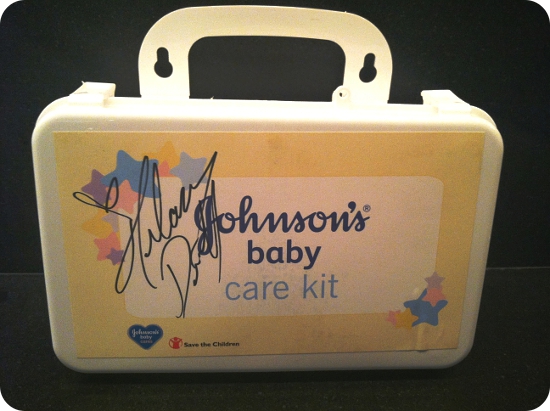 The baby care kits assembled for distribution contain the following essentials:
JOHNSON'S® Baby Shampoo 1.5 fl oz (44 mL)
JOHNSON'S® Baby HEAD-TO-TOE® Wash 1 fl oz (29 mL)
JOHNSON'S® Baby Lotion 1 fl oz (29 mL)
JOHNSON'S® Baby Powder Pure Cornstarch with Aloe Vera & Vitamin E 1.5 oz (42g)
DESITIN® Rapid Relief Cream fl oz (3.5 g, 5.9 mL)
And to help you share in the excitement of this partnership, I've got a Hilary Duff signed JOHNSON'S® Baby "Care Kit" as well as a JOHNSON'S® Baby product gift basket with over $20 worth of products to give away to one of my readers!
Be sure to like the JOHNSON'S® Facebook page to stay updated on products, promotions and to learn more about ways in which you can get involved with JOHNSON'S® BABY CARES!
Disclosure: This is a sponsored post in which monetary compensation and samples have been received  All thoughts shared are 100% my own.