Online I often hear from other mothers that they are so sad that their kids went back to school. How they will miss them so much and would rather have them at home.
And I have to admit, I'm not one of them. There, I said it.
Do I love my kids? Absolutely. I adore them.
Do I miss them during the school day? Certainly.
Would I rather have them at home? No way.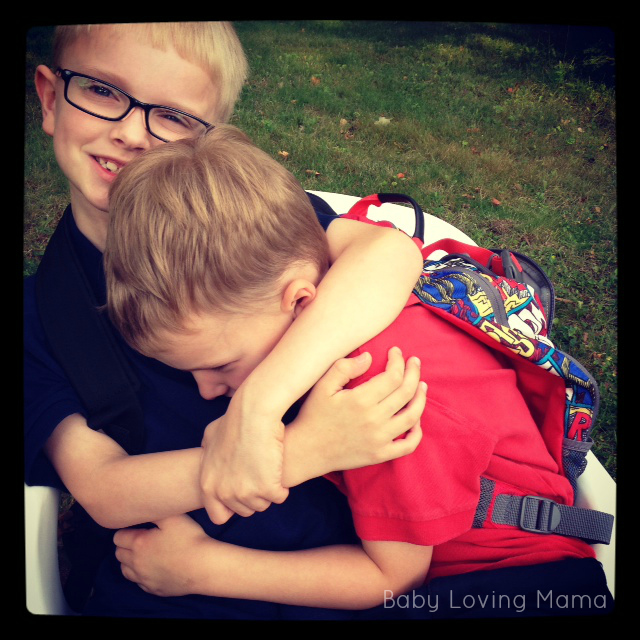 My two oldest boys are very social creatures. They love being out and and playing with other kids. They like learning and exploring. They don't cry because they are away from me. They don't make me feel guilty because I have to force them to go to school. They love it. They look forward to school and they come home happy at the end of the day.
And while I like having them around, I don't care for their bickering. For their whining and constant strange noises. (Seriously, what is up with all the strange sounds?) All their interruptions to ask or tell me something totally random when I might actually be thinking about something else besides them.  (Yes, I know this is part of being a mom but getting a break during the day from this is nice too.)
I especially don't like having to constantly remind them to be quiet when they are near Wesley's (18 months) bedroom and he is sleeping.  To remind them again and again and again….30 seconds later.
With this schedule so many things are easier. I can get things done when Wes is sleeping. I can run errands with just one child instead of three. But most of all I get quality, one-on-one time with my little guy.
Now my time spent with him can be undivided. I don't have to consider activities that all my kids can do no matter the age gap. I can tailor my day around him. And I don't have to constantly protect him from the love of his brothers all day. (No really, they love him so much they smother him sometimes.) 
I actually have the chance to miss my older boys during the day. And  I love that. I shouldn't be ashamed to admit that I need a break from them. That I really appreciate the quiet when they are gone.  That I love the free time I get (usually working or cleaning up) when Wes naps.
So all you mother's out there who say you wish you could keep your children with you all day, every day, good for you. I'm not going to judge you. But for me, having a break from them I know makes me a better mother to all three. That need for some alone time doesn't make me a bad mom.
And for that, I have no mom guilt.