When Warren turned six this year, he decided he'd like to go do something fun instead of have a birthday party. We offered that to Lucian as well and he chose a water park. For Warren, we made a trip to Mall of America! Mall of America offered us some complimentary park tickets in order to experience what they have to offer.  We've been there many times, but always with a limited amount of time and typically when it is very busy. Not the best time to enjoy their huge Nickelodeon Universe indoor theme park. But for this trip we were able to time it with a winter break and go during the week to minimize crowds.
What we didn't know was that the timing would also put us in the middle of a big snowstorm. We live about 2 1/2 hours away so we made sure we arrived before the storm and stayed overnight two nights in a nearby hotel. It worked out so well for us! The mall was virtually empty the morning after the storm and since we were staying right next to the mall, it was still easy to travel.
If you have never been to the Mall of America, I can assure you, it is massive. The same can be said for Nickeloeon Universe which is 7 acres! As you can see, there aren't a lot of people walking around which worked out great for us.
We were able to enjoy the park with virtually no wait in line until the late afternoon and even then it was short. We felt spoiled as I'm sure anyone in the park did that day. My kids had a blast going from one ride to the next or experiencing the same ride over and over again.
I think the most pleasant surprise was the number of rides for my 23 month old. Wesley still had lots of great rides to choose from and wasn't limited to only the carousel.
As long as we rode with him, he could go on a ton of great rides. Blues Clues is one of his favorite shows so he was excited to ride with Blue!
He loves vehicles so the Big Rig Trucks were also a huge hit. That was a favorite of mine since all my boys really liked it. Joe even managed to squish his very long legs inside.
One of the most visually stunning rides that my whole family could enjoy together was the Balloon Race.
These hot air balloons are unique, slower paced option for young and old. It is perfect for anyone who isn't a fan of jerky moments or just needs a bit of a break.
Another great ride option for younger kids was the Rugrats Reptarmobiles. My boys have watched the cartoon many times and love the characters. I think the headlights are a nice touch!
A favorite at this park was definitely the Pineapple Poppers which is essentially a huge pineapple that allows the kids to jump to their heart's content. Warren especially loved this and chose it over and over again, even when presented with  new ride options. I like that instead of sitting in a ride, it allowed them to burn off some energy.
The other favorite were the Crazy Cars, which are essentially bumper cars.  This ride was perfect for my husband, Joe. I don't know who enjoyed it more, him or the kids. They would get off this ride and immediately go back in line to go again. And since there was no wait, they were like kids in a candy store!
Joe was very interested in trying out Dutchman's Deck, a large adventure course. This adventure offers two experiences including the Ghostly Gangplank  (the tallest Sky Trail® ropes course in the world) which challenges guests to climb 56' above Nickelodeon Universe.  Once at the top, you go down the Anchor Drop, a huge spiral slide.
Looks massive, doesn't it? Well, it is. And it was a bit overwhelming for my boys, even though they had done something similar before but on a much smaller scale. My husband loved it!
When my boys didn't make it very far up the rope course I thought they would be coming down right away.
Wrong.
They loved the Anchor Drop and went up and down the slide as long as we would let them. Even if your children aren't interested in the rope course, the slide is worth it! (This ride is $5.99 and not included with wristbands.)
There were a few rides that not all of my kids enjoyed. Swiper's Sweeper for example, was a ton of fun for Lucian (look at that smile), but my little guy hated it. He was so scared by the sweep around the corner that Joe had to ask them to stop the ride for them to get off.
There were others that looked like a lot of fun, but just not age appropriate for our children. And even though my husband and I enjoy the rides, we aren't big on those that will make us feel sick either.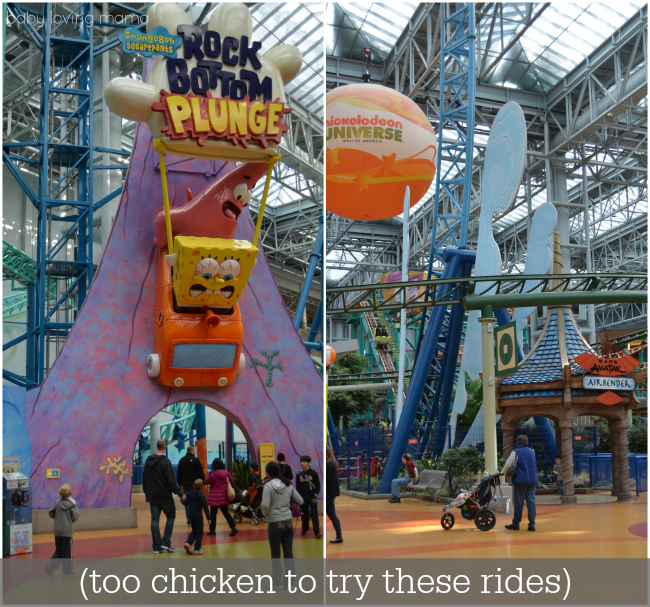 Our adventure certainly didn't stop at Nickelodeon Universe. We had a chance to enjoy many great features of the Mall of America. A favorite of course is the Lego store, located right next to the park.
This Lego play area is typically packed when we visit. Having so much space to ourselves to really enjoy the amenities to their fullest was pretty awesome.
We really enjoyed our time so much, and it was moments like these, when I'd look up and just smile. These are the things that memories are made of.
Tips for Getting the Most Out of Nickelodeon Universe
While we really enjoyed our day at Nickelodeon Universe, there are a few things we'd do again or do differently next time.
Visit During Non-Peak Times When Possible
This would include weekdays, especially Monday through Thursday, and during the school year. Hit the mall when it first opens to get a jump start on the crowds and to find parking.
Consider Whether Everyone Needs a Band
Buying an unlimited ride wristband can be a great deal if you plan to spend a while in the park. However, if a child is young enough to require an escort on a ride, the chaperon can ride for free. I realized after we left that every single ride I was on was with Wesley. I could have rode for free. If you only plan to ride a couple of rides or you plan to ride with a young child, paying per ride may be cheaper for you than a wristband. This may also apply if there are long lines and you have a limited amount of time in the park or you just want to spend more time exploring the mall.
Observe the Ride Ahead of Time
There were a few rides that were a bit too jerky for Wesley. While he could technically ride them with an adult, it was still too much for him. Because many rides we went on didn't have a line, we didn't always see what exactly what the ride consisted of before we got on. Take a moment to observe  to avoid scaring your child or having to get off mid-ride. You know your child best.
Split Up When Necessary
There were times that our children wanted to enjoy different rides. While we love spending time as a family, we consistently asked ourselves what would be the best way to make everyone happy, even if that means splitting up. Whether your lines are long or short, splitting up occasionally may give you the best opportunity to enjoy what you love most.
I hope you have the opportunity to visit the Mall of America and all the unique amenities including Nickelodeon Universe and the Sea Life Minnesota Aquarium and their newest attractions, the Barbie Dream House Experience and CSI: The Experience.
Disclosure: I received park tickets for the media, however all thoughts are my own.