When Welch's asked me to share my family's signature PB&J, I would typically say it is just your run of the mill sandwich. My two oldest boys, ages 5 and 6 are both rather picky eaters. Thankfully they each love peanut butter and jelly sandwiches which is perfect for us when we are on the go and for school lunches. In fact, it is all my six year old wants in his lunch. I'm always giving him other options but he still chooses a peanut butter and jelly sandwich, even on the weekend!
But to break tradition and get more creative in the kitchen, my 5 year old son Warren and I decided we should make some muffins reflecting our love of PB&J.
The process was easy and I was lucky to have such a great helper in the kitchen! Watch this short video to see what I mean:

To shake things up a bit we used some fun paper liners for our muffins and decided to not choose between two favorites spread favorites, strawberry and grape. Instead we used them both. Using different colored liners for different flavors is a great way to tell them apart.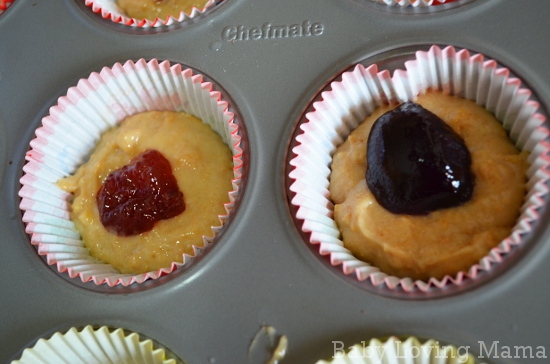 We used Welch's Natural Spreads for the centers. This has been our regular brand for the last couple of years and even though Welch's sent us two jars, we haven't opened them yet as I had two already in my fridge. I was drawn to it immediately when I realized there was no high fructose corn syrup, no artificial flavors or colors, and no preservatives. I even got my parents hooked on it last year as well!
These turned out to be a hearty muffin that isn't overly sweet and looked a bit different than our usual muffins.
Peanut Butter & Jelly Muffins
Author:
inspired by food.com
Ingredients
2 cups flour
½ cup sugar
½ brown sugar
2 teaspoons baking powder
1 teaspoon salt
1 cup creamy peanut butter
1 large egg
1¼ cup milk
jelly or jam or preserves of choice
Instructions
Preheat oven to 350 degrees. In large bowl, stir together flour, sugars, baking powder and salt.
Add in peanut butter with a pastry blender or two forks until mixed and crumbles are formed.
Whisk together egg and milk and add to dry ingredients.
Stir just until moistened.
Place a spoonful of batter into each of 14 greased or paper lined muffin cups.
Spoon a teaspoon of jelly in the center of the half filled muffin tins.
Top each muffin cup with the remaining peanut butter batter, fulling covering the jam layer.
Bake for 20-35 minutes or until full cooked.
Let sit in pan for a few minutes before transferring to a wire rack. Serve warm if desired.
The warm, gooey centers were a favorite in our house! Delicious!
We decided to leave it a mystery as to what flavor center was in each one since everyone likes both varieties. The boys loved seeing what "surprise" they'd find inside.
 I'm so lucky to have a son who is such a fabulous baking buddy who loves the process as much as I do.  He especially enjoys taste testing our creations.
April 2nd is National PB&J Day!
To celebrate, Welch's is running a Facebook contest "PB&J Your Way".  Entrants have the chance to win $500 and a one year supply of Grape Jelly (50 people will win a sandwich keeper). All you have to do to enter is tell them your creative spin on the classic sandwich.
How do you make your PB&J?
I participated in a campaign on behalf of Mom Central Consulting for Welch's. I received product samples to facilitate my review as well as a promotional item as a thank-you for participating