Thank you Owlet for sponsoring this post and helping ensure the safety of my nephew.
Bringing a rainbow baby (a baby born after the loss of a child) was a moment filled with absolute joy. It was accompanied by the normal parental worries, only heightened to a new level. When you've lost a baby and your circle of friends include those who have lost a child to sudden infant death syndrome or tragic sleep accidents, laying your child down to sleep can be stressful. My video monitor brought a measure of comfort, as did having my daughter in a bassinet in my room. However, if I had known about the
Owlet
smart sock baby monitor when we brought our baby home it would have been on the top of my wish list. When my precious nephew was admitted to the NICU shortly after birth, I reached out to Owlet hoping their smart sock baby monitor might help when he came home.
Everett's Story:
Written by his momma: On April 13, 2016 we welcomed our 3rd baby boy, Everett,  into the world at 37 weeks. At first we thought everything was just fine but soon after being born he was brought to the NICU because of his noisy breathing and his inability to keep his oxygen sats at a normal level. We were initially told he'd likely need to stay for 48 hours to receive antibiotics for a potential infection. We soon discovered this was not the case.

He went from needing a little extra oxygen from the nasal cannula to needing high flow. He was still getting worse so he was put on the c-pap. The c-pap was not working well enough for his oxygen needs so he was put on a ventilator. We spent the next 2.5 weeks watching our baby struggle to breathe and hooked up to so many machines. He was diagnosed with Respiratory Distress Syndrome and his right lung blew a large hole (pneumo thorax). He had fluid and air collecting in his chest cavity and air trapped inside his lung tissues. Both of his lungs were very stiff and had a hard time expanding. He had 2 chest tubes, picc line, catheter, umbilical line, and numerous procedures and tests.

I lived with him in the hospital during his stay and spent my days and nights staring at his monitors watching his heart rate, respiration rate, and oxygen levels. With every alarm bell that rang my heart would sink and most of the time it was his oxygen level dropping. I would go over and try to stimulate him or reposition to get his level back up. After 2.5 weeks we were able to come home and I was an absolute nervous wreck. All I could think about was what if his oxygen level dropped during the night and we didn't know?

Here is where the

Owlet

smart sock baby monitor came into our life. At first I was a bit skeptical as I was wondering if the readings would be correct but it soon proved to be the greatest gift we could ever receive.
The setup was super easy and we got it all ready to go the first night home. His heart rate and oxygen readings were pretty much the same as they were in the hospital and I laid in bed for the first couple hours just staring at the app on my phone.
Everett is now 7 weeks old and I still stare at his readings periodically through the night. I still have nightmares about him struggling to breathe and being on life support, so to be able to check on his heart rate and oxygen levels when I need to is absolutely priceless for my mommy heart. I am able to rest at night knowing if something goes wrong with him I will get an alert. Thank you from the bottom of our hearts for this wonderful product and piece of mind.
As a loss mom myself, watching my nephew struggle to breathe in the NICU was one of the hardest times . I know that this world has no promises and that although many babies make it through their time in NICU and grow into amazingly strong, healthy babies, it's hard to face the reality that many do not. I was heartbroken that my nephew was faced with these terrifying difficulties. Knowing that the Owlet baby monitor was there to watch over Everett when he came home from the NICU calmed my heart along with his mom and dad's.
Before Everett came home, I tested the Owlet smart sock on my 1-year old daughter. They send several sock sizes with the monitor so you can use it as your baby grows. The wireless Smart Sock fits snug on your baby's foot and monitors their heart rate and oxygen levels while they sleep using pulse oximetry technology. This is the same technology that you'd wear on your finger as an adult in the hospital.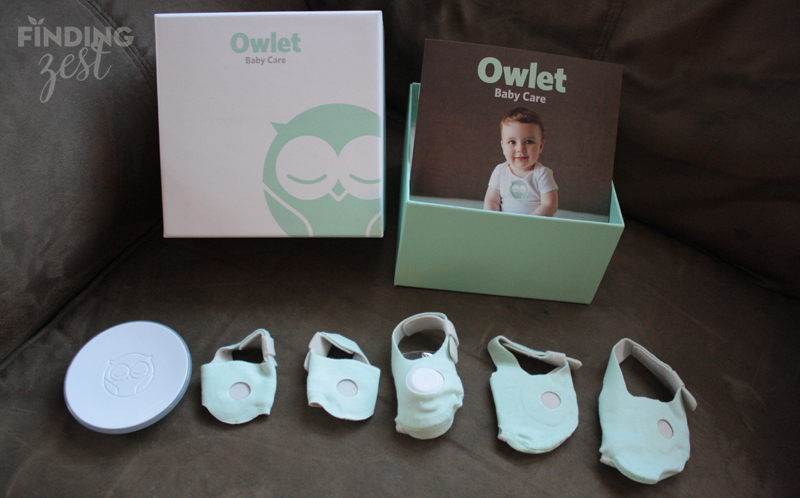 You're able to order an extra-large sock by request as well, which is what fit my daughter best. You're also now able to request a sock for the alternate foot as the monitor does leave an indentation mark on baby's foot from the pressure needed to ensure a proper reading.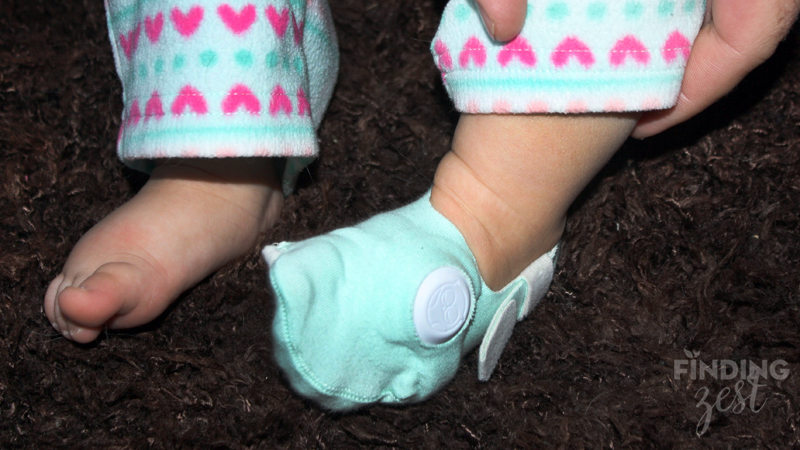 Setting up the monitor was incredibly easy. Owlet has an app for your phone which prompts you through each and every step of the process.
We used the Owlet monitor for our 1-year old for one night prior to passing it along to my nephew as he transitioned home from the NICU. I found with an active, older baby who moves a lot, it took some time for the monitor to get a reading. If your child is moving you'll get a notification that she/he is "wiggling". When baby is asleep however, I found comfort seeing my child's heart rate and oxygen levels were normal.
I set up our base station next to my bed which is right next door to my daughter's nursery. Her crib was right on the other side of the wall from this dresser. Although I looked forward to a good's night sleep, I actually slept worse sadly. The base alarm kept sounding notifying me that there was a disconnect with the sock. Owlet does have a variation in alarm sound and color to notify you of a detected heart rate or oxygen level versus a disconnection in the signal. In either case it was still waking me repeatedly through the night. Everett, on the other hand, sleeps in the same room as his parents and is only feet from the base station. He doesn't experience this problem.
PROS:
• Easy setup
• Monitoring via smart phone as well as base station
• Multiple size socks & alternate sock option
• The monitor charges fairly quickly
• The alarm for a sock falling off or being too far from the base is a song (different from the actual alarm sound for high or low readings)
CONS:
• The sock needs to be near the charging station
• I'd love to be able to use the Owlet in the car when you can't monitor baby as closely
• Not easily compatible with multiples (Note Owlet's response: [Owlet was not designed for twins. We do plan on developing a more twin friendly version. Right now the app only works with one iOS device at a time. You can use two Owlet monitors in your home, you just need two base stations, two socks, and two iOS devices (or you can log out and back in from the same iOS device)].