When spring hits and the days get longer and brighter, it is hard not to want to celebrate. In Minnesota winter feels like it lasts forever because it really is that long.
So very, very long.
When we finally start seeing the snow melting and the sun shining it is the perfect time to bake a cake and live it up! (Any excuse for me to bake). And what better cake than one that is light and fruity and just looks like spring? I got inspired by the Simply Citrus Cream Cake from Kraft but I put my own twist on it.
I have a baking buddy in my five year old son Warren. Baking without him makes him sad and looking at this recipe, I knew it would be one he would enjoy. There were plenty of ingredients to mix together and he did a great job helping me!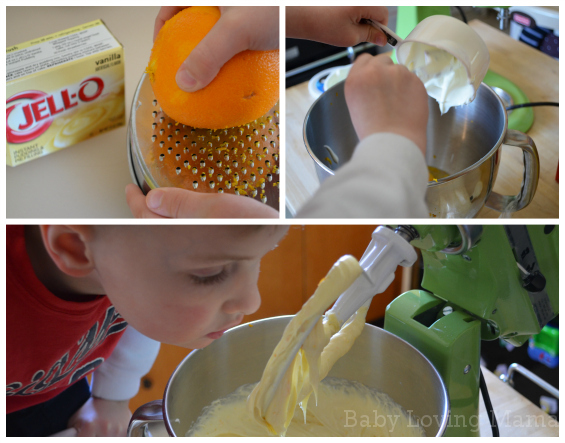 With just a simple pineapple cake mix some special additions like orange zest and sour cream, we created a fruity cake. After the batter was mixed together, the scents of pineapple and orange were impossible for him to resist.  The batter smelled delicious!
Once the cakes had finished baking, it was super easy to create a delicious filling using COOL WHIP whipped topping, lemon JELLO pudding, milk and mandarin oranges. I stacked and filled the cakes, topping them with extra mandarin oranges for garnish.
Pineapple Orange Spring Layer Cake Recipe to Celebrate Spring #KraftTastemakers
Author:
Emilie (inspired by Kraft)
Ingredients
1pkg. (2-layer size) pineapple, vanilla or yellow cake mix
1pkg. (3.4 oz.) JELL-O Vanilla Flavor Instant Pudding
1 cup BREAKSTONE'S or KNUDSEN Sour Cream
¾ cup water
¼ cup oil
3 eggs
2 Tbsp. orange zest
1 tub (8 oz.) COOL WHIP Whipped Topping, thawed
1 pkg. (3.4 oz.) JELL-O Lemon Flavor Instant Pudding
1 cup milk
1 can (11 oz.) mandarin oranges, drained and dried on paper towel
Instructions
Preheat oven to 350°F. Grease and flour two 9-inch cake pans.
In large bowl, beat cake mix, dry pudding mix, sour cream, water, oil, eggs and orange zest with mixer until blended. Pour into greased pans.
Bake for 25 to 30 min. or until toothpick inserted in centers comes out clean. Cool cakes in pans 10 min. Invert onto wire racks; gently remove pans. Cool cakes completely.
Whisk jello and milk together in large bowl. Fold in COOL WHIP.
Stack cake layers on plate, filling with half each of the COOL WHIP mixture and oranges. (Consider breaking up half the mandarin oranges and folding into the whipped topping for the middle layer) Frost top with remaining COOL WHIP mixture. Garnish with remaining oranges.
Keep refrigerated.
By using a decorative cake stand it made the cake stand out and seem even more special. I love having special serving pieces. Desserts always look taste better from fancy dishes, don't they?
I created a flower or sunburst pattern on the top with the mandarin oranges but placing them randomly on the top would have worked just as well.
Feel free to change up the flavors within the cake or pudding. A vanilla or yellow cake mix with lemon pudding or orange cake with vanilla pudding would also taste delicious. Experimenting is half the fun.
The hardest part will be resisting a second slice!
Get your spring baking on with Kraft! Be sure to check out all the great recipes at Kraft and don't forget to follow them via Facebook and Twitter to stay connected.
Since Warren loves peanut butter, I think we'll hit up other recipes like peanut butter cookies!
What do you love to bake to celebrate spring?
___________________________________________________________________
Disclosure: This post was created for the Kraft Tastemaker Blogger Program. All thoughts remain my own and are not influenced by the monetary compensation received.