If you check out the list of recipes below, it seems that many of us are currently loving pomegranates! If you like them as much as us, you might be looking for new ways to enjoy them. We recently shared a Slow Cooker Pomegranate Orange Cider and this week for Mini Chef Mondays we made this Pomegranate Almond Chocolate Bark. It turned out so delicious and is a perfect treat for the holidays!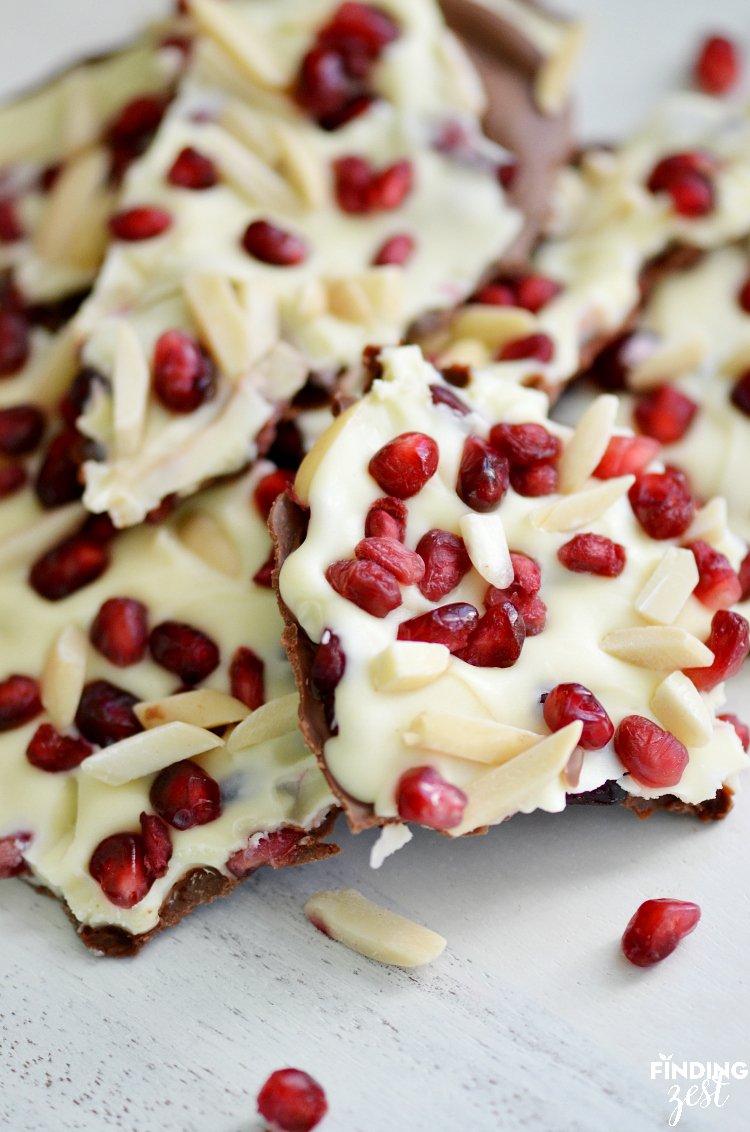 This is another great recipe for Mini Chefs. It has a few steps but nothing too complicated and can be enjoyed in a short period of time.
We decided to toast our almonds. While you could easily skip this step, we do appreciate the flavors that come out when they are toasted.
I'll admit, I like to cheat when it comes to pomegranates. Buying the Pom Wonderful Pomegranate Fresh Arils is a lot quicker and easier than working with fresh pomegranates.  It saves a lot of time and mess!
I knew it would be important to dry the arils well in order to avoid the chocolate seizing up. (You never want to introduce water to chocolate!)
While most pomegranate bark uses dark chocolate, my kid prefer the taste of milk chocolate. Feel free to use either or even a semi-sweet chocolate if you prefer.
I really love the gorgeous arils and wanted to make them pop more, so I decided we should do two layers. The white chocolate works so well to make the red arils stand out.
Pomegranate Almond Chocolate Bark
Ingredients
⅔ cup pomegranate arils
½ cup slivered almonds
1 cup milk chocolate chips
1 cup white chocolate chips
2 teaspoons canola oil
Instructions
Rinse and gently pat dry pomegranate arils.
Lightly toast slivered almonds by baking them in the oven at 325 degrees, for a few minutes, stirring often.
Melt milk chocolate chips with 1 teaspoon oil, stirring often, just until melted
Line baking sheet with a silicone baking liner or parchment paper.
Spread milk chocolate over center of liner.
Sprinkle half of the pomegranate arils and toasted almonds over top of chocolate.
Melt white chocolate chips and remaining teaspoon of oil, stirring often, just until melted.
Drop by tablespoons over milk chocolate.
Gently smooth out white chocolate over the top.
Sprinkle with remaining arils and slivered almonds. Gently press down.
Chill until chocolate is set, break into chucks.
Store in refrigerator in airtight container.
For best results, enjoy within 24 hours.
My husband honestly ate probably half of this recipe. He loves chocolate and the flavor combination really blew him away. We made a smaller batch because it really is best enjoyed the same day. Because you are dealing with fruit and chocolate, this bark will begin to form condensation on the top. Just like chocolate dipped strawberries, it tastes best within 24 hours. So delicious!
What have you been up to with your mini chefs?

I am hosting Mini Chef Mondays along with 5 fabulous bloggers, find out more about the Mini Chef Mondays Team!
Join our facebook group to find even more recipes and share recipes too!
Get featured and follow us too!
Be sure to check out each of their Mini Chef posts as well!