Earlier this month I shared this Pumpkin Raisin Bread on my baking blog, Oh My! Sugar High. My family loved this bread so much, I decided that I needed to make this into pumpkin chocolate chip muffins. I swapped the raisins for chocolate chips just to switch it up a bit. I found that this recipe is quite a bit easier as a muffin. This bread is deliciously soft but is rather dense,  so baking it can take a while. These muffins on the other hand, can cook in less than 25 minutes, much less than the over an hour its bread counterpart requires.
Pumpkin Chocolate Chip Muffins
Ingredients
1 can (15oz) canned pumpkin puree
2 eggs
⅓ cup vegetable oil
1 teaspoon vanilla
½ cup brown sugar
½ cup white sugar
2½ cups all-purpose flour
1 teaspoon baking powder
1 teaspoon baking soda
½ teaspoon salt
1½ teaspoons pumpkin pie spice
1 teaspoon ground cinnamon
1 cup mini chocolate chips
Instructions
Preheat oven to 350 degrees F (175 degrees C).
In a large bowl, whisk pumpkin, eggs, oil, vanilla, white and brown sugar. Set aside.
In separate bowl, stir together flour, baking powder, baking soda, salt, pie spice and cinnamon.
Stir flour mixture into pumpkin mixture, just until combined.
Fold in chocolate chips.
Pour batter into lined muffin tin. Fill ⅔ to ¾ full, depending upon how large you want your muffins.
Bake for 21 to 25 minutes, or until a toothpick inserted into the center comes out clean.
Cool for 5 minutes before transferring to a wire rack. Cool completely.
This pumpkin muffin is a great base recipe. Feel free to change things out. Consider adding nuts or dried dried cranberries instead!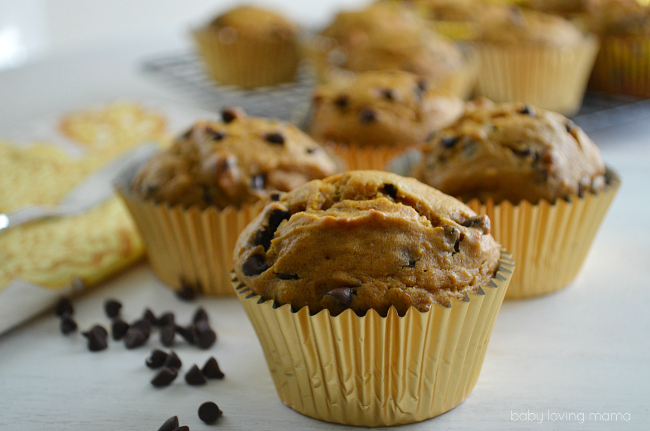 If you want to keep these muffins around, you may have to hide some. These we requested for both breakfast and snack, so they went fast!