Earlier this year my son Warren turned 7 years old. He was very excited about having a party and inviting his cousins and friends from school. Because the party was in early March, I wanted to have the party somewhere weather wouldn't be a factor but would appeal to both boys and girls. We decided on a gymnastics party through our local YMCA to give the kids a chance to really burn off some energy. The YMCA provides all their own decorations as part of their service, so I knew I'd need to go with something colorful but not a specific theme for our party favors. Using party items from Target, I came up with these Rainbow Helicopter Party Favor Boxes that were definitely a hit at the party!
I tried to choose party favors that would appeal to both boys and girls since I knew four girls were also coming to the party. And since most of the items I chose included colors for both boys and girls, it worked out well.  I found the package of six striped rainbow boxes in the dollar spot section of Target for $3 a package. I still see these boxes there, but you can also find them online or virtually any party store.
I used colored shredded paper to fill the bottom of the box and added a small box of Crayola crayons in fun colors, fruit snacks, bouncy balls and punch balloons.
You can really get creative with what you place in the box. Other small toys, stickers, gum, bubbles, small tubs of playdough, etc would also work well.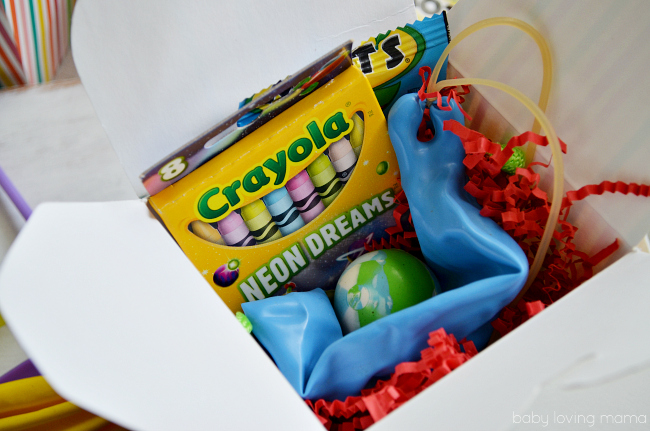 I had picked up these Spritz helicopters and knew right away that I would need to attach them somehow on the outside of the party box. They easily slipped into the top of the party box, making them look like helicopter boxes.
These party favors were relatively inexpensive under $3 a box. I did find many  of the crayon boxes on clearance and I had plenty of colored shredded paper from packages I'd received, both of which helped to cut down on costs. Making a homemade treat such as caramel corn to place in each box would also reduce the price.
The boxes were easy to transport to the party and looked festive sitting at the end of the food table. The kids loved them.
Thanks to Target, putting together a fun favor was easy, even though I waited until the night before the party. *ahem*
Do you have a favorite kids party favor?