This post sharing how we refinished our maple hardwood flooring as part of our modern farmhouse kitchen remodel is sponsored by ABRAMS Books.
Refinishing our maple hardwood floors over the summer was a huge undertaking we didn't expect during our kitchen remodel. While the end results are always worth it, it was challenging to say the least! Home improvement is the subject of the latest book in the Diary of a Wimpy Kid series, Wrecking Ball, from author Jeff Kinney. While my son was reading Wrecking Ball, he was brought right back to this past summer during our own remodel.
BOOK SYNOPSIS
In Wrecking Ball, Book 14 of the Diary of a Wimpy Kid series—from #1 international bestselling author Jeff Kinney—an unexpected inheritance gives Greg Heffley's family a chance to make big changes to their house. But they soon find that home improvement isn't all it's cracked up to be. Once the walls come down, all sorts of problems start to crop up. Rotten wood, toxic mold, unwelcome critters, and something even more sinister all make Greg and his family wonder if the renovations are worth the trouble. When the dust finally settles, will the Heffleys be able to stay . . . or will they need to get out of town?
All three of my kids have enjoyed the Diary of a Wimpy Kid series, and they loved reading the latest installment.  My 11-year-old son Warren got a laugh out of Greg's fear of grout, or rather THE GROUT, a pretty scary monster. Considering we did our own grout work for our subway tile, I can say without a doubt that grout is pretty scary and that fear isn't irrational at all.
Refinishing Our Maple Hardwood Flooring
Since Wrecking Ball showcases some of the scary sides of remodeling, I thought I would share with you the most challenging part of our remodel – our maple hardwood flooring. Granted, we didn't even know what we had under our flooring before we started. Since the rest of our house has hardwood, we had hoped we would find it in our kitchen but it was impossible to tell before starting. After removal of our linoleum, the nice gold speckled kind, we found another whole layer of linoleum underneath.  Surprise!
Once we got through the second layer of linoleum we found maple hardwood flooring covered in felt, huge staples, and a ridiculous amount of nails. Surprise!
We had a running joke that the person who installed the linoleum must have been paid by the nail and staple since they went overboard in several areas. Once we removed all the samples and nails, we had to remove all the glue. This process was not fun! My husband and I mostly worked in tandem (along with my father-in-law) to lay down wet towels soaked in almost boiling hot water. We let them sit for a couple of minutes in each area and then wiped the glue away. We worked on this for several hours in July when it was super hot. We were dripping with sweat, but it was worth it to see the beautiful hardwood floors peaking through.
We did not tackle refinishing the maple hardwood flooring ourselves. After doing a lot of research, we learned just how tricky they can be. We also did not have the equipment necessary to lift our radiators to get underneath them. We are so glad we hired a professional to help with the flooring because couldn't have been happier with the results.
Because maple floors do not take stain well, we just had three coats of poly put on them after they were sanded. The whole process was painless and much less expensive than I expected. If you are on the fence, I highly recommend spending a bit extra to get a professional.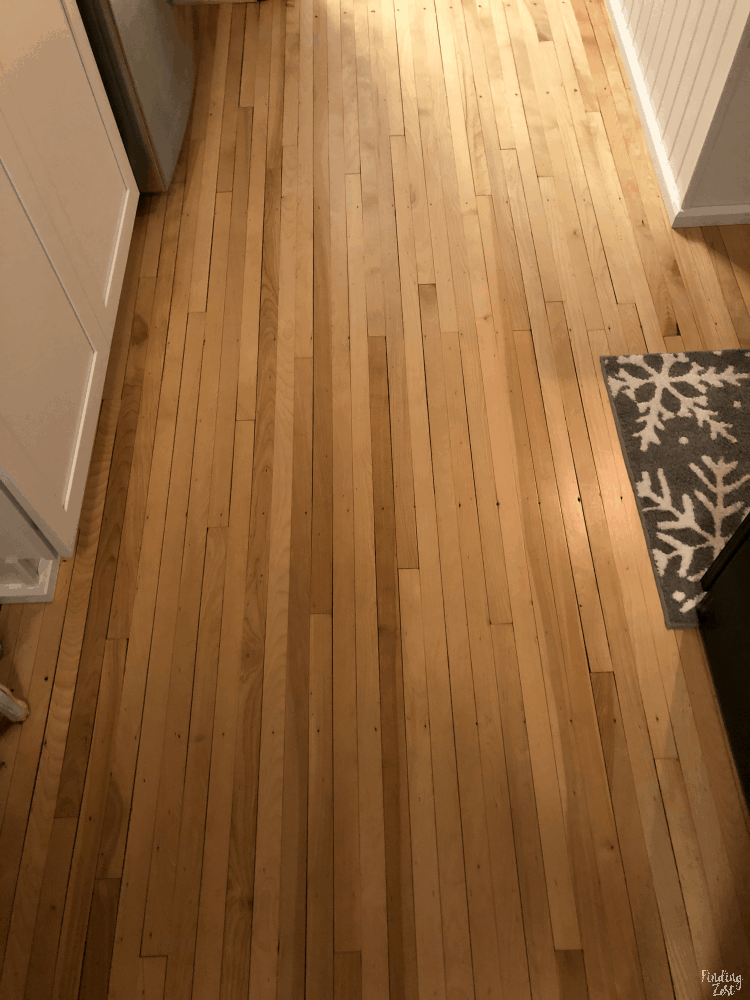 This light and bright flooring really finishes off the look of our modern farmhouse remodel. We couldn't be happier with the way it all came together!
While remodeling a kitchen is certainly a test of patience, the feeling of accomplishment afterward is so worth all the struggles. We weren't sure what to expect with our floors, but we are so thankful we were able to restore them to their former glory.
We still walk into this kitchen every day and can't believe the transformation. It never gets old just admiring the work.
How would you remodel your house?
Warren told me how unrealistic Greg was when he found out they would be remodeling their house but that his ideas were pretty fun. Greg wanted to build his house underground and have a giant aquarium under the bathtub! When I asked Warren what he would want if money were no object, he had some interesting ideas himself, like a bomb shelter. My older son was a little more practical and would be happy with a pool.
Pick up your copy of Diary of a Wimpy Kid: Wrecking Ball by Jeff Kinney, recommended for ages 8-12 and available at retailers nationwide! It would make a great holiday gift idea.