This is a sponsored post on behalf of MasterChef Junior on FOX.
Lately I have been feeling very self conscious about my cooking abilities.  I am definitely not a chef, but I feel like I do okay most of the time.  But lately, my kids have been complaining about everything I make.  I try not to take it personally, but it's hard.  My sister in law recently suggested that if I included them in the cooking more, they would be less likely to complain.  I know she is right.  I know I should include them more.  I want them to grow up and know how to cook and enjoy cooking.  Not fear it like I do.
Recently we started watching Season 3 of MasterChef Junior on FOX.
Each week, the eight to 13 year-old contestants will be coached and encouraged by the celebrated food experts as they compete in exciting challenges.  In the end, one talented kid will be named America's newest MasterChef Junior, receiving a $100,00 prize and the coveted MasterChef Junior trophy.
We are hooked on the show.  The kids are adorable and so sweet (most of the time).  I will say it is a little heartbreaking that they have to send any of them home.  They are amazing.  They know cooking terms I have never heard of.  They are cooking foods I have never heard of.  They speak multiple languages and exude a confidence I dream about.  I hope my kids can learn from it and be inspired to be confident in the kitchen.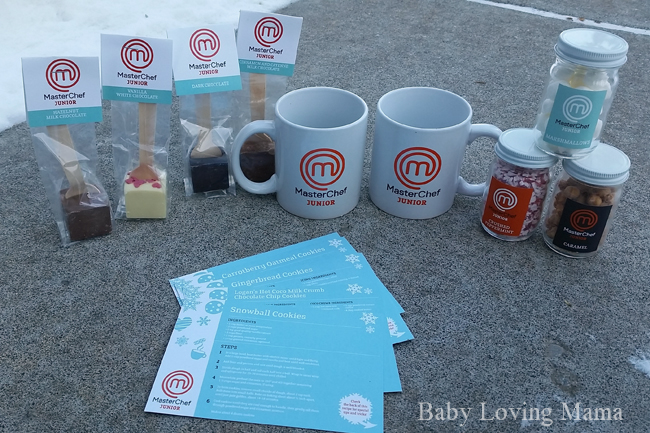 MasterChef Junior sent me an amazing "warm winter" viewing kit to use and enjoy with my family as we watched the season premiere of MasterChef Junior.  The kit included:
(2) Branded MCJ Coffee Mugs
(4) Branded MCJ 'Hot Chocolates On A Stick'

Cinnamon and Cayenne Milk Chocolate
Hazelnut Milk Chocolate
Dark Chocolate
Vanilla White Chocolate

(3) Branded MCJ Containers with Toppings

Marshmallow bits
Caramel bits
Crushed peppermint

(5) MCJ Branded Recipe Cards

Snowball Cookies
Gingerbread Cookies
Carrotberry Oatmeal Cookies
Hot Coco Milk Crumb Chocolate Chip Cookies
Blank recipe card
I looked over the recipe cards and the Snowball Cookie recipe looked strangely familiar.  I baked several cookies over the holiday season, but one I did not make is one of my husbands favorites which they call "Mexican Wedding Cakes".  I had looked up recipes for it, but didn't end up making them for Christmas because it was something new and unfamiliar for me.  Well, guess what?  The recipe for the Snowball Cookies is a recipe very similar to all of the ones I saw for Mexican Wedding Cakes when I researched them.  I decided to bite the bullet and try making them. I also decided to include my two oldest children Danica and Kurtis in the baking fun.
Snowball Cookies
These cookies are made all over the world and have many different names: Mexican Wedding Cake, Russian Tea Cake, Viennese Pecan Ball, and Italian Wedding Cookie.
Author:
MasterChef Junior
Ingredients
1 cup butter at room temperature
2 cups powdered sugar
2 tsp good quality vanilla extract
2 cups flour
1 cup pecans, coarsely ground
⅛ tsp ground cinnamon, optional
Instructions
In a large bowl, beat butter with electric mixer until light and fluffy.
Add ½ cup powdered sugar and vanilla and beat until well combined
Add flour and pecans, and mix until dough is well blended.
Divide dough in half and roll each half into a ball. Wrap in saran wrap and refrigerate for 15-30 minutes until chilled.
Meanwhile, preheat the oven to 350 and stir together remaining 1½ cups sugar and cinnamon, if using.
To form cookies, remove small chunks of dough, about 2 tsp each. Roll these into small balls. Bake on baking sheet about ½ inch apart until just pale and golden, about 14-18 minutes.
Cook cookies until they are cool enough to handle, then gently roll them through powdered sugar and cinnamon mixture.
I love the simplicity of this recipe.  It only involved 6 ingredients, all of which I had in the house.  I also loved that it did not contain eggs.  My son Kurtis has an egg sensitivity which seems to be worse if he consumes raw eggs such as in cookie dough.  With this dough he could like the bowl clean.  Hooray!
The cookies came out great.  My husband did warn me that he remembers they burn easily, so I did watch them extremely closely.  I can see how you would end up burning them because the tops looked very raw, but I noticed the bottoms starting to brown so I pulled them out.  They were perfect.  My kids loved helping.
While we were finishing the cookies we mixed up some of the fabulous hot chocolate on a stick we received in our viewing pack.  They were fabulous.  I think my favorite by far was the   Vanilla White Chocolate.  Yum.  I will have to figure out how to make some of that on my own.   With our bellies full of cookies and hot chocolate, we sat down to watch this weeks episode of MasterChef Junior.
To learn more visit MasterChef Junior of FOX  homepage where you can watch full episodes and clips, follow them on Twitter, and like them on Facebook.  Tune in Tuesdays at 8/7 c on FOX.

WIN IT:

Win your own warm winter viewing kit from MasterChef Junior!
a Rafflecopter giveaway