This post is brought to you by Kraft Heinz as part of the Kraft Tastemakers program. All thoughts are my own.
A couple of years ago I was one of several bloggers who participated in the Kraft Tastemaker program to share fun recipes. I'm happy to say that I'm once again part of this group to create tasty and easy recipes that the whole family will enjoy! For October I created this cute Spider Taco Cheese Ball for Halloween. I designed a spider that was cute rather than scary, making it a great appetizer for any age. He is rather adorable, isn't he?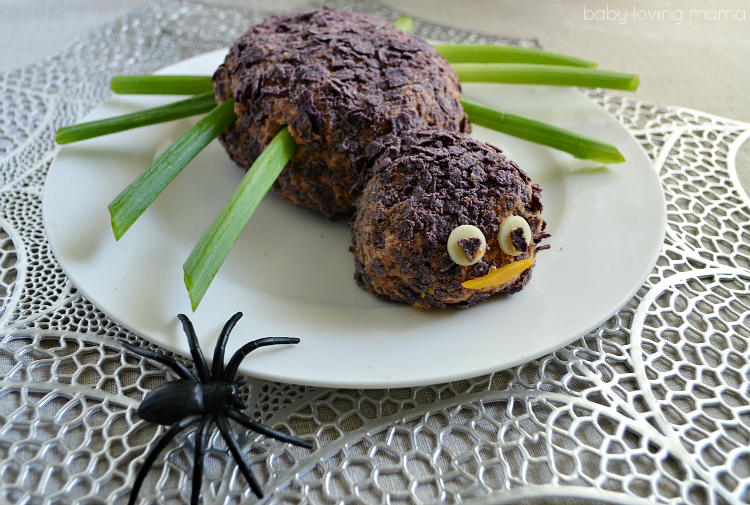 Instead of using the typical olives or poppy seeds for the exterior, I went with crushed blue tortilla chip. You will want to make sure that you wait to roll the spider in the chips until right before serving so they aren't soggy. The cheese ball itself can be made well in advance, even a day or two before your celebration.

I originally wanted pretzel legs that matched the rest of the body. I painstakingly spread excess cheese ball mixture over the pretzels and rolled them in the crushed tortilla chips. However, I quickly realized how impractical this was. Because I used shorter pretzel sticks to create the look of joints, I had to make a whopping 16 legs. Getting them to stick became tricky after a while. I realized it is just too time consuming to go this route. The last thing any hostess wants to do is spend twenty minutes or more in the kitchen working on their spider appetizer right before guests arrive. So I replaced the pretzels with green onions which took only a couple of minutes to cut and insert.
I love appetizers that are quick and easy to prepare but really have a "wow" factor. This cheese ball will definitely impress guests, but really isn't difficult!

Looks tasty, doesn't it? It was! Be sure to get the recipe for this Spider Taco Cheese Ball on kraftrecipes.com and check out the Kraft Blog for more great recipe ideas. You can find all of my recent Kraft Tastemaker posts here.