I love drinking iced tea or iced coffee on a hot summer day. But I am also trying to increase my water intake and limit my caffeine. While I love just a plain glass of water, it is amazing how much delicious flavor fruit can add to water without adding many additional calories. If you haven't yet discovered fruit infused water, you are missing out! It is a great alternative to sugary drinks and an easy way to drink more water throughout the day. Experimenting with different flavor combination is also fun. I like to use whatever I have on hand, but citrus fruits are my favorite. Most recently I tried Strawberry Orange Basil Infused Water using some fresh basil from my mini herb garden.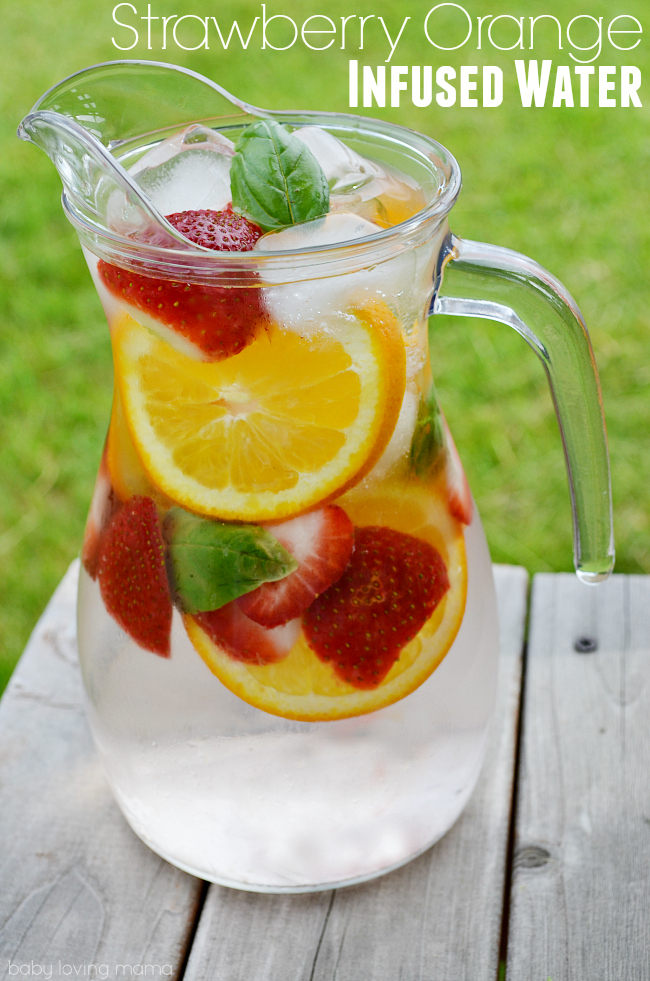 Strawberry Orange Basil Infused Water
Ingredients
3 large strawberries. sliced
½ navel orange, sliced
3 large fresh basil leaves
8 cups water
ice
Instructions
Mixed all ingredients together in pitcher.
Let sit for at least 30 to 45 minutes before serving.
(Use fruit for garnish or add more water to leftover fruit for additional infused water.)
The basil will start to get spotted after sitting in the water for a while, but it doesn't affect the flavor. They can always be removed before serving if it bothers you. I like to add a bit more water to the infused water as I drink it throughout the day. The fresh fruit can easily infuse additional water. Alternatively, you can use the fresh fruit for garnish.
This strawberry orange basil infused water would be a great option for guests at your next outdoor gathering or celebration. Consider serving several kinds of infused water using fresh fruit and vegetables such as cucumber, melons, berries or citrus fruits and herbs such as basil or mint. The possibilities are endless and this drink option is absolutely refreshing, yet guilt-free!