I participated in this program on behalf of Carter's and The Motherhood. All opinions are my own.
Last week my family decided to take a few day getaway to the Minneapolis area and have fun at the Mall of America. Besides having a blast at Nickelodeon Universe, I also got some shopping in with my little guy. I couldn't wait to check out what was new for spring in the carter's baby location that opened up last fall.
If you follow me on Instagram you might have caught a glimpse at some of the adorable spring dresses for girls and spring boys sets. Besides picking up a couple of essentials like graphic tees and rompers for Wes, there was one line that really caught my attention: Stripe Happy.
Besides just loving the overall design, I love that this look is available for all three of my boys as it ranges from size 3 months to 12 years. And with several different colors that can coordinate, they can match without being the exact same. (I couldn't pick them up for this trip, because the Mall of America location only goes up to size 24 months.)
Since we had a bit of down time in the hotel room, I decided to snap some pictures of Wesley in his new clothes. Wes is on the small size and while my baby might turn 2 in less than two weeks (*sob*) he is just starting to wear some 24 month tops. I look forward to him growing into his new 24 month Canvas Straight Fit Pants, but I think it may be a while before he outgrows size 18 months. The Slub Jersey Striped Pocket Tee  however, looks great now with plenty of growing room.

Since we live in Minnesota, it is important to have some great spring looks that still keep him warm.  It is especially important living on a hill next to  Lake Superior. It can be 20 degrees cooler in the summer near the lake than the top of the hill. Layers are a must!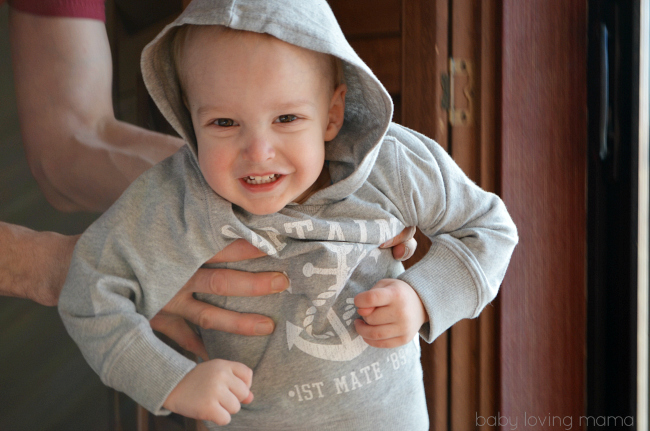 This lightweight nautical hoodie is perfect year round. Wes has a thing for hats and hoodies so he loves being able to wear the hood up.
He liked this hoodie so much that I let him wear it on our Nickelodeon Universe adventures and simply paired it with a pair of carter's athletic pants he was already wearing. Isn't he adorable?
Wes also really loved the graphic tees I picked out. Both featured a textured print and he couldn't stop touching his shiny rocket on this Space Rocket Tee. I can't wait to see him in his Little Dude Tee, complete with fuzzy mustache.
Carter's Baby and Kid Up to 50% Sale
Right now through March 4, 2014,  you can shop and enjoy the benefits of the Carter's Baby and Kid Up to 50% Off Sale like me. The Baby and Kid Up to 50% Off Sale is the perfect time to stock up on great playwear essentials perfect for mixing and matching! Carter's spring collection features adorable items for babies and young kids, including graphic tees, polos, woven shirts, shorts, cardigans, tunics & leggings, cotton dresses—just in time for spring!
Here was my haul from my shopping trip.
I got all of seven pieces for less than $50 ($48.80 to be exact) during this sale by using this coupon which offers an extra 20% off your in-store purchase of $40 or more.
Now my plan is to pick up the adorable matching fedora for Wes, some more great tees and some coordinating items from Stripe Happy for my older boys!
BUY IT:
To get started on your spring wish list, take a look at Carter's Spring into Pink collection for girls and Little Mate collection for boys. Use Carter's store locator to find a store near you!
WIN IT:
I have a $50 gift card for one lucky reader to help you build a spring wardrobe for your little one!
a Rafflecopter giveaway