I can't take credit for this taco stuffed pasta shells recipe. I really wish I could.  Around 10 years ago my sister tried a recipe (similar to this one from Taste of Home) and in turn my mom tried it. To which they both told me I had to try it. Don't get me wrong, I love pasta and I love tacos. But the idea of putting them together to create taco stuffed shells? I wasn't sold on the idea but at their insistence, I made it anyway.  This recipe is awesome and my husband and I instantly fell in love with it.
Doesn't it look tasty? I assure you it is.
I'll never forget the first time we made it for friends we had over for dinner many years ago. When they found out what we were having they made some excuse about how they probably wouldn't eat much because they had a big lunch.
Blah, blah, blah.  And I realized they were giving themselves an out, just in case. We polished off the entire pan, just the four of us that night. They loved it and raved about this dish. Even my super picky selective friend.
How to Make Taco Stuffed Shells
Making stuffed jumbo shells with taco meat is easy with just a few steps.
As you cook your pasta shells, you'll want to be browning your meat. After rinsing your pasta and mixing your taco meat with your flavored cream cheese, salt and chili powder. The combination is delicious!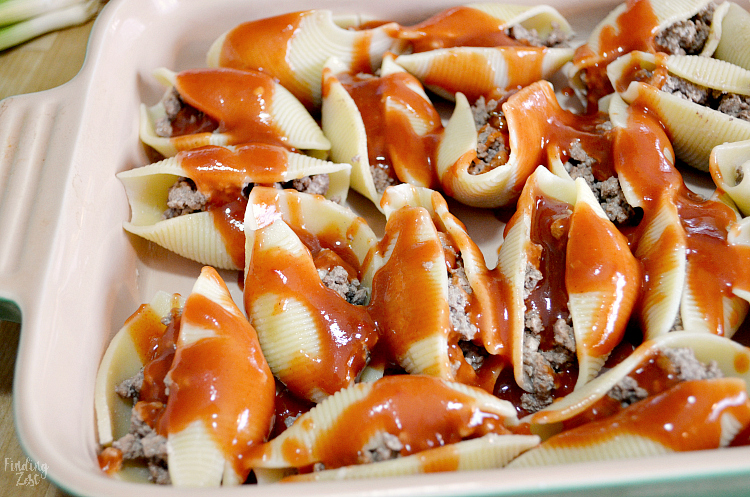 To keep your pasta shells moist and flavorful you'll want pour taco sauce over your jumbo shells. Top with shredded cheese and crushed tortilla chips and pop it in the oven to bake!
If you need to stretch this further, simply make extra of the beef mixture and stuff the shells with more. We've only ever used the cream cheese with chives and I highly recommend it but you could easily substitute plain cream cheese as well.
You can also top with additional cheese and taco sauce if you like lots of toppings but it isn't necessary.

Taco Stuffed Pasta Shells
Ingredients
3 oz cream cheese with chives (or plain if preferred) softened
24 jumbo pasta shells
1¼ pounds lean ground beef
1 teaspoon salt
1 teaspoon chili powder
2 tablespoons butter, melted
1 cup taco sauce
1 cup (4 oz) shredded cheddar cheese
1 cup (4 oz) shredded monterey jack cheese
1½ cups crushed tortilla chips
1 cup sour cream
3 green onions, chopped
Your favorite taco toppings such as leaf lettuce, chopped tomatoes, and sliced black olives
Instructions
Preheat oven to 350 degrees. Butter a 13x9 inch baking dish.
Cook pasta shells according to package directions. Drain and rinse with warm water. Return to pan and toss with melted butter.
Meanwhile, cook ground beef in large skillet over medium high heat, breaking up into small pieces until cooked through. Drain.
Reduce heat to medium low and add cream cheese, salt and chili powder.
Simmer 5 minutes.
Fill shells with beef mixture and arrange in baking dish.
Pour taco sauce over shells.
Cover with foil and bake for 15 minutes.
Uncover and top with cheese. Sprinkle crushed chips over the top and bake uncovered for additional 15 minutes or until bubbling.
Serve warm, garnishing with additional toppings.
To finish off these pasta shells you can use your favorite taco toppings.
 Do you have a recipe that sounded a bit strange at first but turned out amazing like these taco stuffed pasta shells?