Changing the decor throughout the year can breathe new life into your home. Whether you enjoy making simple seasonal touches or going all out for holidays, it is a good way to keep things fresh.  Decorating your space for Halloween is extra fun. You can keep things effortless with some pumpkins or create an entirely spooky space with key pieces and simple touches. But regardless of how elaborate you go, here are 10 easy Halloween decor ideas, courtesy of online retailer Halloween Costumes.

Halloween Costumes makes it easy to create any of these looks with their Full Scenes section under Halloween decorations. All 21 scenes are effortless to purchase and replicate. Items available for purchase in the scene will have a green dot while any out of stock item is gray. Hover over any item in the scene to see the price and scroll the purchase options below the scene. If all items are still in stock, you can see the total cost of the scene! It doesn't get any easier than that to create an amazing look while still staying within a budget.
If you are looking for indoor Halloween decorations, here are just a few to consider:
 Pumpkin and Candle Tabletop Scene
 Boo Mantel Scene
Wicked Table or Mantle Scene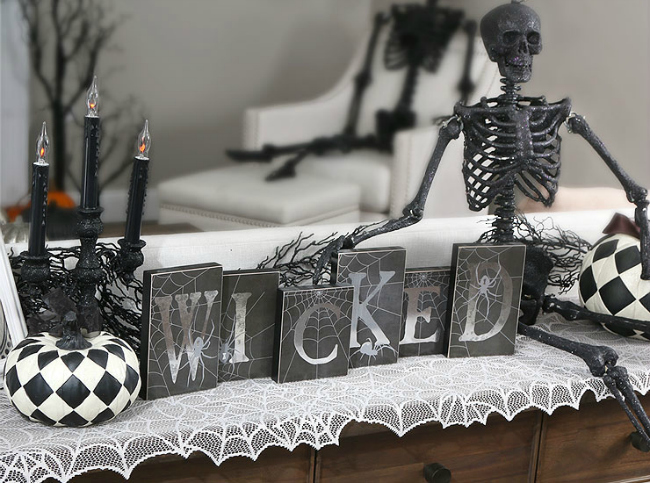 Ghostly Girl Staircase Scene
Spiders Crawling Up the Wall Scene
 Black Glitter Skeleton Scene
 If you are looking to decorate your outdoor spaces for Halloween, consider some of these scenes:
Zombie Graveyard Scene
Skeletons Playing Croquet Scene
Purple Pumpkin Entryway Scene
Be sure to check out all the Halloween Decorations available and additional scenes for even more options.  Browse the costumes section if you are still on the hunt for the perfect costume. You can find a ton of ideas, including Halloween group costumes if you are looking to coordinate with others!  It is easy to narrow down your options with the Group Costume Selector in three easy steps. Just pick a theme, number of people and sizes.
Happy Halloween!
Thanks to HalloweenCostumes.com for sponsoring this post. All thoughts are my own.