I've shared two recipes recently, inspired by a cookbook
 from my media trip with Princess Cruises. Both the Bacon Spinach Salad and Glazed Sweet Potatoes recipes were from Courses: A Culinary Journey
 , which I received aboard the Caribbean Princess ship after our dinner at The Chef's Table. It was quite the experience and one that my husband and I will never forget. I admit this isn't my first time being a bit pampered while traveling. It is a wonderful perk to my job that it much appreciated. But it was certainly an extra special experience to share with my husband who is still talking about it a month later. And it is certainly one of the highlights of my travel experiences.
While on board our ship, we had really spectacular food. From chocolate strawberries, caviar and champagne in our stateroom, to delicious five-course meals in the dining rooms, there was no opportunity to get hungry on our cruise. (Good thing I brought clothes with some stretch!)
But I had no idea what was waiting for me when we were invited to The Chef's Table, including a personal escort by the Maitre d'. I had thought we would be experiencing a meal prepared by the executive chef, and we'd have a chance to tour the galley. I didn't know that meant sampling several appetizers actually in the kitchen during dinner service. I also didn't realize we'd be in for a ten course meal.
By the end of this special dinner, I wished I hadn't eaten all day so I could have eaten more. And I regret not bringing my Nikon with me. The food was so perfectly prepared. I can honestly say, there wasn't anything I didn't love.
Two of my very favorite appetizers were the Lobster and Shrimp Margarita with Avocado Celery in Lime Olive Oil and the Tartare of Beef Filet.  I'm adventurous when it comes to food, so I tried absolutely everything. And while many of those with us refused to try the steak tartar, everyone who did raved about it as much as my husband and I did. Sometimes you just have to take a chance!
After our four courses with champagne in the galley, we moved out to the traditional dining room to have the remainder of our meal. Everything seemed almost too beautiful to eat. This Florida Lemon Citrus Sorbet with Mango Stow and a splash of Grey Goose Vodka was as beautiful to look at as it was to actually eat.
If you like seafood, you were covered at this dinner! The seafood risotto was so good, I couldn't stop eating it, even though I was starting to get full. It was a tough job…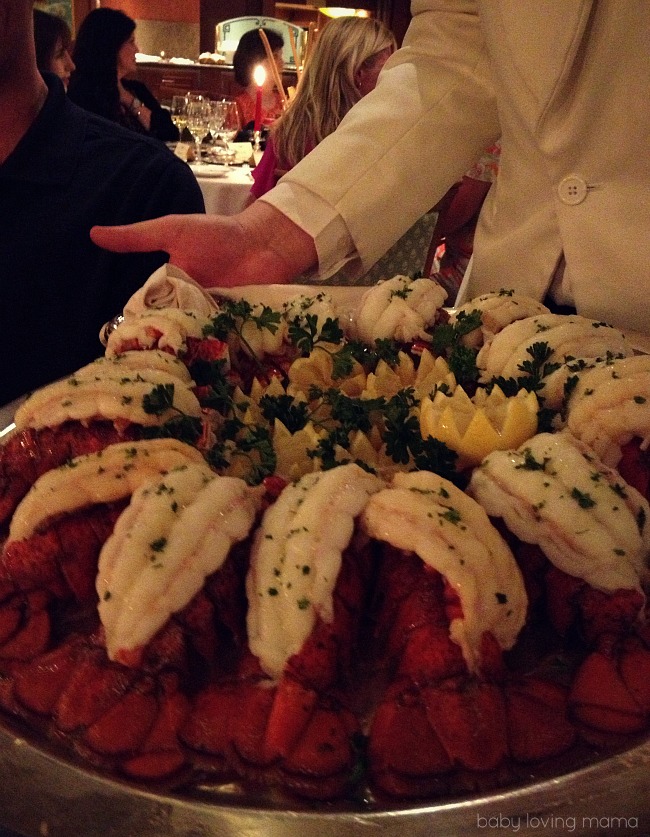 The executive chef prepared and carved our main course table side. My back was, unfortunately, facing him, so I missed a lot of the action.
For dessert we literally had a work of art with this Bitter Sweet Chocolate Mousse.  I almost felt guilty eating this because it was so gorgeous.
Then reason overcame me, and I dove in.
By this point I was really full, but how could I not try it?
Yes, it tasted as good as you imagine it would.
This Could Be You
Did you know this is something YOU can experience as well?  Princess Cruises offers The Chef's Table as a special treat for up to 10 guests at an additional cost. It really is an amazing opportunity, and I highly recommend you try this at least once. This experience is meant to be on a bucket list, it is that good. Reservations are made on board through the ship's DINE telephone line or in person at the dining reservations table set up on the first day of the cruise.
Chocolate Journeys
If you love food like we do, Princess Cruises is sure to delight you with their wide variety of options on board.  If the chocolate mousse featured in this post is just your style, you'd love  Chocolate Journeys, a one-of-a-kind chocolate experience created by Norman Love on board their entire fleet starting in January 2015.  (Some ships like the Princess Regal have it already.)
Watch for more posts to come soon regarding our Princess Cruises adventure! I can't wait to tell you more about the on-board amenities and our excursions while at port!
A big thank you to Princess Cruises for inviting us on board their beautiful ship during a media trip. All thoughts are my own.