When I think back to my family vacations growing up, they almost always center around enjoying the outdoors. From our RV trip through Canada when I was 10 to multiple trips to a cabin on a lake when I was in my teens, they all shared a similar theme. My parents would load us up, and we would travel to a simple place where we would swim, fish, grill, read, play board games and just relax. My parents still love to vacation in this way, which is why my boys have enjoyed experiences like staying in this super nice cabin on a lake in 2009.
And why I jumped at the opportunity to stay at Rutger's Lodge in 2012 for a long Mother's Day weekend.
We love to smell the fresh air, pine trees, and campfires.
These are the smells of summer for me. These are the smells that bring me back to a simple time and place. A place where we can slow down and just enjoy.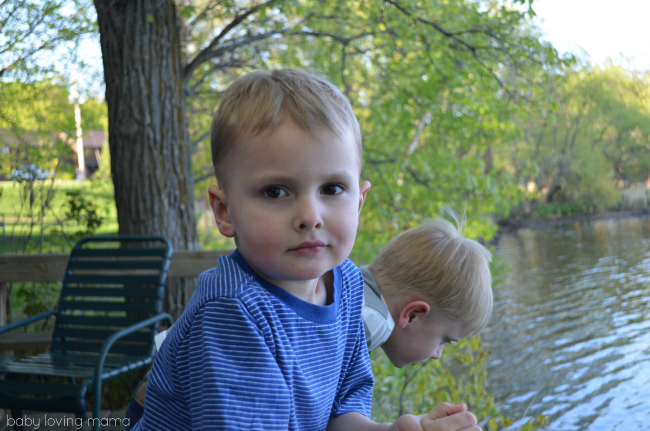 We enjoy nature and each other.  We live in the moment and savor it.
And I capture images like these and look back fondly on it all. From how my kids have grown since then, and what a fun vacation we experienced.
These are the moments that make the hard times worth it. The day to day grind that can get us down becomes worth it.
What are the smells that bring you back to fond travel memories?
A&H Laundry has launched a collection with scents inspired by nature in partnership with the National Park Foundation (which Arm & Hammer is proud to contribute to). The newest A&H Laundry detergent line Clean Scentsations gives your clothes the pristine freshness of the great outdoors. All 3 vibrant options with Arm & Hammer Baking Soda help power out dirt and odors – at a fraction of the cost.

Arm and Hammer realizes scent is the most powerful memory trigger. This summer, they want to start a conversation around your family's favorite scent-related summer memories.
Sensational Memories Contest
Share your story and photo (if available) describing a favorite memory of traveling that can be recalled from a simple scent. The winner of the Sensational Memories Contest will receive a family vacation to Yosemite National Park with an expert-curated travel itinerary! Now that is one way to create some new amazing family memories!
Smart Family Travel
Scholastic is also partnering with Arm & Hammer to provide families with 20 Great Outdoor trip ideas with Smart Family Travel. There you can find out why go, what to do and where to stay at each destination.  As a bonus, you'll find kid-friendly activities. Each destination comes with a printable to teach them a thing or two about the location.
This is a sponsored conversation written by me on behalf of Arm & Hammer. The opinions and text are all mine.