It is Girl Scout cookie season! Of course I had to buy several boxes of Girl Scout cookies from Danica, the daughter my contributing writer Sarah. It is for a good cause and has nothing to do with the deliciousness of the cookies. *ahem* My 7 year old is currently obsessed with anything mint flavored so he loves the Thin Mints. For his birthday last month he insisted on some mint chocolate chip ice cream and really, who was I to deny him?  So last week when I was eyeing the cookies in my cupboard and the left over ice cream in my freezer, Thin Mint Ice Cream Sandwiches just seemed like a win.
At the time I thought I was a genius and set about making a half dozen or so for us to enjoy as a special snack. They are super easy, but my kids thought I was up for some Mom of the Year award because it garnered two enthusiastic thumbs up from my oldest and 10 out 10 rating for my mint loving kid. I wish I could say I'm the only mastermind to come up with this combination, but I just looked through google images and realized I'm so not the only one. But hey, just because it already existed, doesn't mean everyone has tried it, right?
Thin Mint Ice Cream Sandwiches
Ingredients
12 Girl Scouts Thin Mint cookies
⅔ cup mint chocolate chip ice cream
Instructions
Top one thin mint cookie with softened ice cream using a cookie scoop (or other small scoop).
Place second cookie on top and lightly press down.
Transfer to small baking sheet.
Repeat with remaining ingredients.
Freeze ice cream sandwiches several hours or until firm.
Make sure that your ice cream is soft enough so you can press it down, but not so soft that it starts to melt.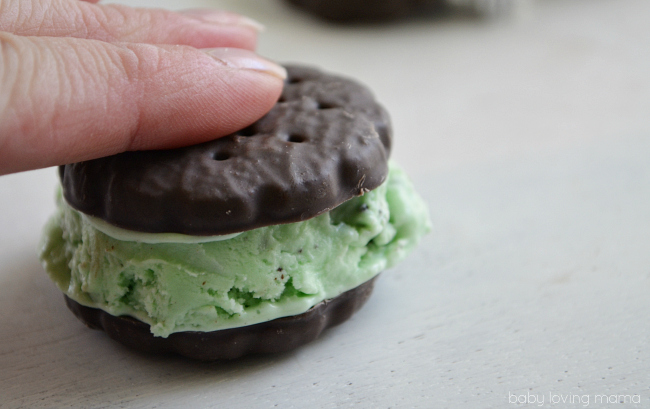 I tried the first sandwich because I'm weak as a taste test after about 30 minutes in the freezer. While they still taste great, you'll want to give them several hours to firm up so that when you bite into them, the firmness of the cookie doesn't squish ice cream out the sides of the sandwich.
If mint ice cream isn't your thing you can definitely keep it simple with just chocolate or vanilla for your Thin Mint ice cream sandwiches! And if your Girl Scout cookies last long enough, this would be a fun dessert for St. Patrick's Day.
What is your favorite way to enjoy Girl Scout cookies?
Thank you Girl Scouts for yet another treat that is hard for me to resist. Sigh…