This past year my children have begun to use my personal tablet.  It started out slowly with Danica using to use an app suggested by her school.  It then progressed to me letting her type her spelling words on it as a change from writing them out.  Gradually I downloaded a couple of game apps for the kids to play on long car rides.  Now, they use my tablet way too often.  I still heavily monitor it.  They always have to have permission for it, but recently I became very nervous when my 8 year old came home from school and told me one of her classmates had looked up a website that was her name, we will call her "Mia."  The girl was very excited to learn that there was indeed a website for Mia.com. ( Again, I substituted the name.)  I immediately had a huge talk with Danica about internet safety and the risks.  I told her about viruses and inappropriate things and some sites may be very scary.  After she went to bed that night I checked to see if there was a Danica.com.  The domain is registered with no content.  Thank heavens.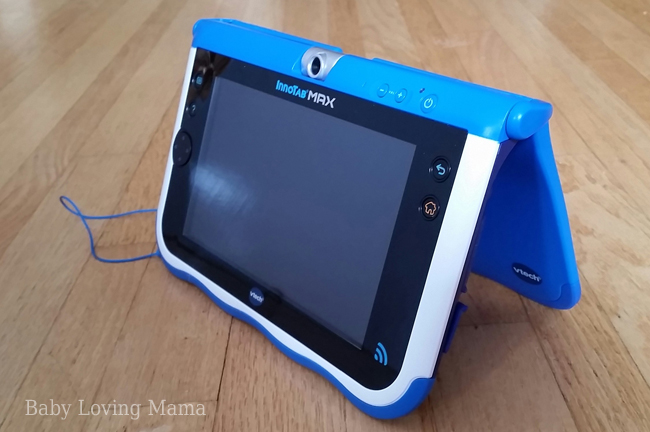 All of this made me EXTREMELY happy to receive the VTech InnoTab MAX that was sent to us.  With this learning tablet my children can use fun and educational apps and websites, and I don't have to worry about them encountering inappropriate material.
FEATURES:
 

VTech's 4th generation kids' learning tablet features its fastest processor yet with up to six times the processing power of previous generation
7" high-resolution multi-touch screen display
Enhanced 2nd generation version of Premium VTech Kid Connect™, at no additional charge, allowing children and parents to exchange voice and text messages, photos, drawings and fun stickers in real time between the tablet and a smartphone
More than 650 educator-endorsed, age and stage appropriate learning titles as well as carefully cultivated educational Android apps that can be purchased and downloaded through VTech's Learning Lodge® app store
Includes 15 onboard apps including Premium VTech® Kid Connect, My Magic Beanstalk, Movie Maker, Art Studio, Wonder Cam Max, E-Reader with Story Dictionary and more
One free Toca Boca app and two additional free apps that can be downloaded from the Learning Lodge
Built-in rechargeable Lithium battery
Kid-safe Wi-Fi so kids can explore appropriate online games, videos and websites that have been pre-selected by VTech
Parental controls allow parents to manage their child's apps, web access and tablet time, as well as view a progress log
I told my children this was an early Christmas gift that they all had to share.  Their faces completely lit up when I gave it to them.  They were even more excited when I told them they could send me text messages.  The great part about them sharing the Tablet is that it allows you to set up multiple users allowing them to customize their own ids.   It also makes it easy for me to track progress on cartridge games and set daily usage time limits for each child.
So far I think their favorite part has definitely been the Kid Connect app which once I downloaded the free app on my smartphone, allows them to send me pictures, messages, videos and stickers.  They love it.  Even my 3 year old Keegan has been sending me messages.   There have been some that are complete jibberish, but I love the ones telling me how much they love me (while I am in the kitchen cooking them dinner).
The parental controls are only accessible via a password that I have set up.  In the parental controls I can set up their profiles, choose which websites I want them to have access to, and lock content such as music photos and videos so that the kids can not delete them.
The speed of the processor is pretty good.  Some things seem to take a little bit to load, but I don't always know if that is the tablet or my internet connection.
My kids love the camera and video parts of the tablet, but I will say the pictures all seem very dark.  I haven't tried it outside in sunlight, but I imagine they would be better.   I thought it was great that the camera rotates 180 degrees allowing them to point and take pictures of themselves or others.
A great feature of the tablet is the stylus which is connected via a string and stored in a slot on the bottom of the tablet.  The InnoTab has 8 GB of internal storage and is expandable to 40 GB via a micro SD slot (card sold separately).  The tablet comes with a removable cover which doubles as a stand and a convenient handle for carrying that folds flat onto the back of the tablet.
There are so many very fun websites already selected by VTech such as some great videos  like a "Frozen: "Let it Go" Sing-along".  Danica loves that.  I was somewhat disappointed that many of the websites I tried to give access to will not work on the tablet because they require a Flash Player.  Also, it does not appear that you can load any apps unless they are purchased through VTech.  This was a bummer as Danica will not be able to use the app needed for school on this tablet and will still have to use mine for that.
Included Apps
Wonder Cam Max, Movie Maker, E-Reader with Story Dictionary, Videos, Clock, Calculator, Calendar, Family Bulletin, My Magic Beanstalk Game, Art Studio, Play Games, Notes, Music, My Wishes.
We also loaded Toca Pet Doctor which my kids love.  They love pretended to be veterinarians and curing the animals ailments.
We are definitely still exploring all of the possibilities with our new VTech Innotab Max Tablet, but so far it has been a big hit with my kids.  I can't wait to get more apps for it and continue the fun and learning.  I already told the kids they need to add VTech games to their Christmas wish list.
BUY IT!
The Vtech InnoTab MAX has a MSRP of $109.99 and is available in stores at retailers nationwide and also online directly from VTech or our affiliates Amazon
, Walmart and Target.  You can follow  VTech on Twitter and like them on Facebook to stay up to date on all the latest product news!
WIN IT!
One lucky reader will win their own VTech InnoTab MAX learning tablet!
Disclosure: I received a sample for purpose of this review however all thoughts remain my own.