Being part of the Kraft Tastemaker program is fun. It gives me an excuse to spend even more time browsing recipes from Kraft, not that I really need any encouragement anyway. I came across a chocolate dip that really only uses two ingredients as a base. And after some quick checking, I realized I had everything on hand that I needed to make it.
There is really no occasion in which some warm chocolate dip wouldn't be welcomed. From holiday parties to baby showers, birthdays , tailgating parties, you name it, a tray like this will always go over well. Who will turn down chocolate like this? Certainly not I.
Warm Chocolate Dip
Recipe Type:
Dessert/Appetizer
Ingredients
1 tub (8 oz.) COOL WHIP Whipped Topping (Do not thaw.)
1-1/2 pkg. (4 oz. each) BAKER'S Semi-Sweet Chocolate (6 oz.), broken into pieces
¼ cup BAKER'S ANGEL FLAKE Coconut (optional)
Your favorite fruit, marshmallows, cookies or pretzels for dipping
Instructions
MICROWAVE COOL WHIP and chocolate in microwaveable bowl on HIGH 2 min. or until smooth, stirring after each minute.
TOP with coconut if desired.
SERVE with remaining ingredients.
I was really shocked to learn that only two ingredients are used to make the chocolate dip. I was surprised to actually melt frozen COOL WHIP in my microwave. I used COOL WHIP Lite because that is what I had on hand, but I bet the original version would create a creamier dip.
I'm sure other varieties of Baker's Chocolate would be delicious as well. Just make sure you choose one that is sweetened.
This dip is ready in just two minutes with virtually no prep except for anything you might need to wash or cut for dipping.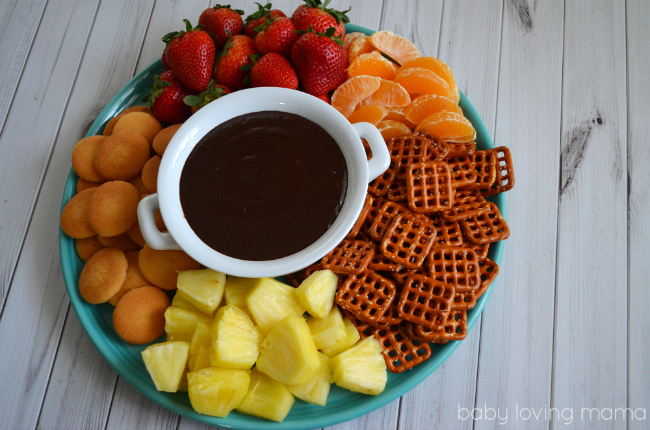 You can really get creative with your sides or garnishes for this dip. Top it with nuts, chopped or grated white chocolate or flaked coconut as suggested. Virtually any fruit would work well but other options like marshmallows, graham crackers, or even Ritz crackers would taste great.
Just be sure to prepare it or heat it up right before serving since it isn't served in a  traditional fondue pot to keep it warm.
If you are looking for more great chocolate recipes check out Kraftrecipes.com. Don't forget to follow them via Facebook and Twitter to stay connected.
___________________________________________________________________
Disclosure: This post was created for the Kraft Tastemaker Blogger Program. All thoughts remain my own and are not influenced by the monetary compensation received.