Halloween is such a fun time in the kitchen. I love projects that I can do with my kids, and these white chocolate banana ghosts from Jill Schultz are a perfect example. Jill uses Wilton candy eyes for these ghosts, but you could easily substitute any dark brown/black candy or even chocolate chips.  If you are looking for a a clean, smooth finish on the white chocolate, simply add a little vegetable oil or shortening to your melted chocolate before dipping.  For the mouth, a bit of chocolate or black Wilton candy melts applied with a toothpick would work well.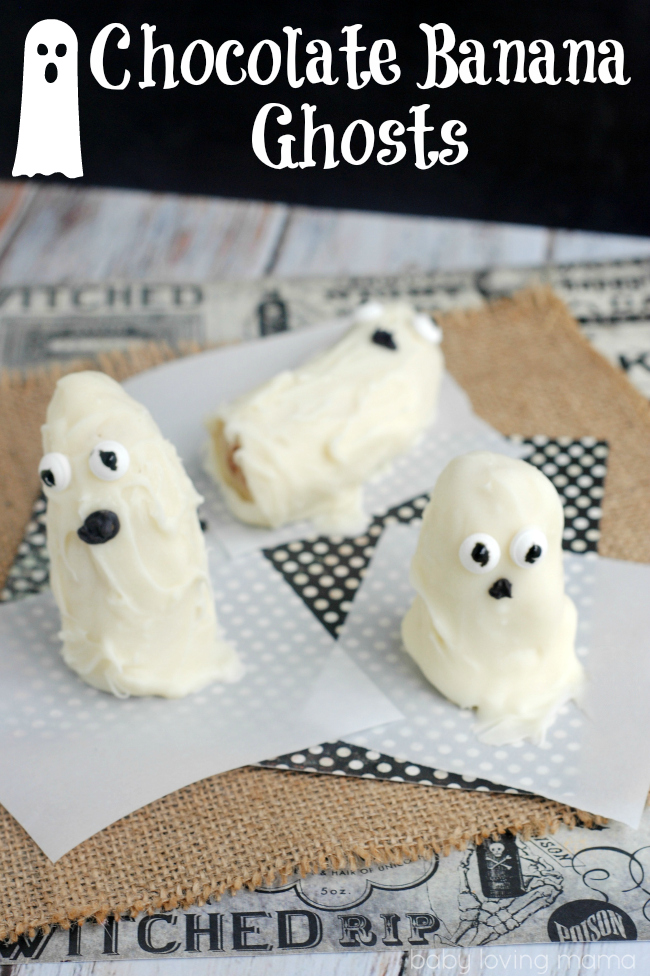 My microwave takes about 2 ½ – 3 minutes for every 12 oz. of chocolate. I also recommend only melting 12 oz. at a time. Once frozen bananas thaw they are super soft and sticky so be sure to keep them frozen until serving.  If you have extra chocolate and bananas feel free to re-heat and melt the leftover chocolate following the directions above.
Wilton products can be found at major retailers and craft stores including Michaels and Jo-Ann Fabrics in the Wilton candy/baking aisle.  You can find Wilton Candy Melts and candy eyes in store at Walmart.
(Tip: You can also find the candy eyeballs in the baking aisle in Target, next to the baking cups and sprinkles.)
I love the combination of banana with chocolate and these ghosts are an easy way to celebrate Halloween. Have fun with these white chocolate banana ghosts!