This post is sponsored by Celestial Seasonings but the content and opinions expressed here are my own. Hope you love these Whole30 drinks!
Earlier this month I started my Whole30 journey. I chose this diet because I've been suffering from eczema on my face and waking up feeling sick for several months. After three weeks I've been feeling so much better and my eczema has greatly improved. Now I'm in the homestretch, I can't wait to see how my body responds to introducing forbidden foods back into my diet.  I'm happy to get these answers and get rid of (or at least reduce) my bad eating habits, but it hasn't been easy. One of the hardest adjustments for many people is with Whole30 drinks. If you've been used to drinking very sweet drinks, it can be a shock to your taste buds. Here is what I've been drinking while on the Whole30 diet.
What Can You Drink on Whole30?
Many foods and drinks are out on Whole30. You can't have any sugar (except what is in fruits and vegetables), artificial sweeteners, soy, alcohol or dairy. So forget that big glass of milk, wine,  sweet tea, or sodas, regardless if they are diet or not. You can drink black coffee, most healthy teas, coconut water, and of course water. Other less common beverages like kombucha, brewed chocolate (not to be confused with hot chocolate) and bone broth are also acceptable. As with everything, make sure you check the ingredients label and watch for non-compliant ingredients in your potential Whole30 drinks.
My Favorite Whole30 Drinks
With so many things you can't drink it is important to find flavorful drinks that satisfy. Getting through the day without desserts and minimal snacks is hard enough but drinks can help tame those cravings. I've got four drinks in my daily routine besides water that I can look forward to drinking!
Coffee
I used to drink my coffee with flavored creamer but I've found it much easier to switch over to black coffee than I would have imagined.  I started out making bullet proof coffee with coconut oil or ghee but I found the aftertaste bitter and stopped altogether. Drinking hazelnut coffee black is enough flavor for me now. If you've always though you had to have creamy, sweet coffee, I urge you to try a few high quality flavored coffees. Alternatively, adding a little coconut milk or almond milk with no added sugar can go a long way. I stick to only one cup a day to limit my caffeine and to increase my water intake.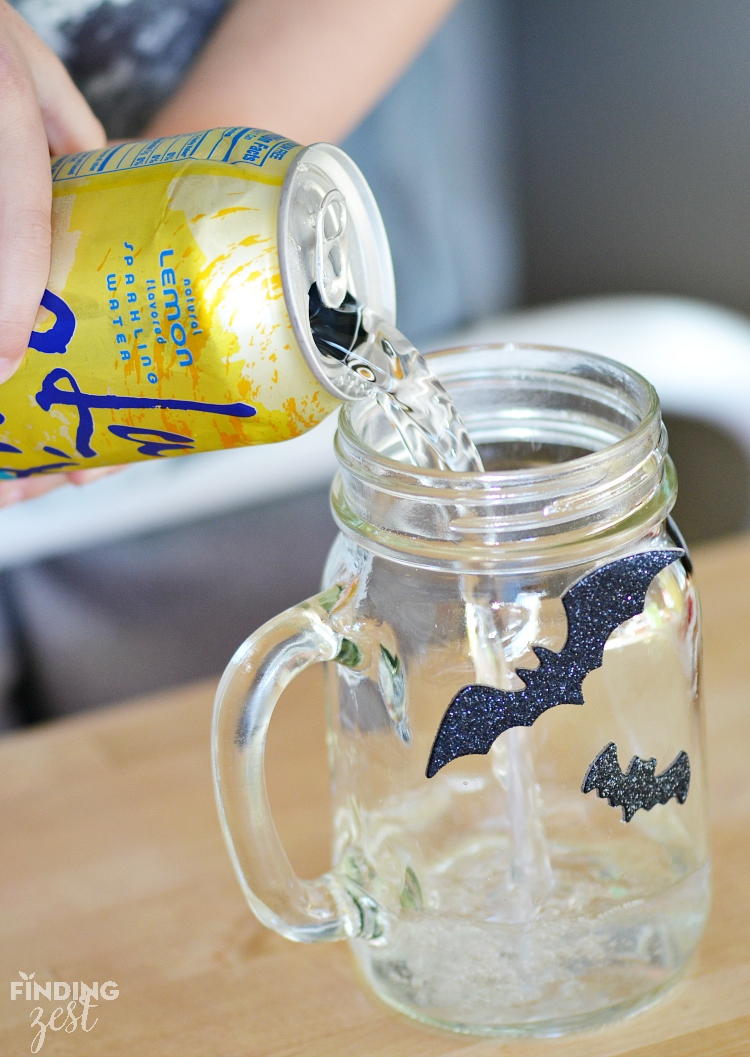 Sparkling Water
A few years ago I gave up all soda and switched over to flavored unsweetened sparkling water. This market is booming and so many flavors are always being added to the market.  I have several favorite flavors including key lime, blood orange and cucumber mint. If you are making the switch from soda straight to sparkling water this might be a difficult transition for you. While you'll get that familiar fizz, flavored sparkling water isn't anywhere close to as sweet as soda. However, give your taste buds time to adjust. Now I find sodas to be way too sweet and I avoid them. Be sure to check the labels. Some sparkling water contains added sugar or artificial sweeteners. 
Infused Water
Since fresh fruits, vegetables and herbs are all Whole30 compliant, you are missing out if you don't use them in your water. While there are some obvious choices like lemon or lime, don't be afraid to try different combinations. I love cucumber and mint infused water for a refreshing treat. Basil mixed with orange slices and strawberries is also a winning combination. If you aren't using a specially designed fruit infuser pitcher or water bottle, I recommend limiting the amount of time you infuse for flavor. Many fruits like strawberries and raspberries break down fairly quickly in water while basil will turn spotted after 30 minutes or so.
Herbal Teas
All varieties of tea are allowed while on Whole30 including black, green white and herbal teas. But my favorite for flavor by far are herbal teas. Herbal teas can add a sweetness and flavor with their ingredients that I don't find in other varieties.  For a long time many herbal teas contained soy lecithin which meant they were out for Whole30. However, did you know that in August 2015 Celestial Seasonings removed soy lecithin from almost all of their tea formulas? That means finding Whole30 compliant herbal teas in retailers like Walmart is easy and affordable! With no calories, no sugar and no caffeine these Celestial Seasonings Herbal Teas are guilt free!
So far my favorite varieties are the Honey Vanilla Chamomile and Peppermint, although the Country Peach Passion is also delicious and loaded with flavor. As always, be sure to check all ingredients carefully to make sure they are compliant Whole30 drinks. 
Because gum and mints are out on Whole30, I find the peppermint tea extra refreshing.  It gives me a a great pick-me-up in the late afternoon when I'm dragging, without any added caffeine.  The only ingredient is peppermint so there is no confusion about whether or not it is Whole30 approved.
I wasn't as sure if the Honey Vanilla Chamomile was compliant so I checked the ingredients and confirmed with Whole30 forums. Since only natural flavors and no actual honey sweeten this tea variety, it is also Whole30 approved. This is the perfect way to wind down my day and keeps my sugar dragon at bay with its sweet flavor. I just add a fresh lemon slice and it is perfect!

With these tagless herbal teas I don't even miss having any sugar since they are so flavorful. Pick them up in store or online at Walmart or use their grocery pickup. (Best service ever! I use it a couple of times of week.)
What are your favorite Whole30 drinks?