Even with the mad rush during the holiday season, I always look forward to baking with my favorite kitchen helper, my son Warren. He may be only four but he has helped me bake so many things the past couple of years and is actually heartbroken when I make something without him. Last Friday morning, completely oblivious to anything going on outside our home, Warren and I decided to make some gingerbread cookies.
Whenever I'm making rollout cookies, there are a few items I think I essential. That includes good cookie sheets like those from Wilton, parchment paper for easy cleanup and perfect cookie bottoms and a jumbo metal spatula to easily transfer my cookies from my work surface to my cookie sheets. Another trick is to roll your cookies directly out on the cookie sheet but because I like to use parchment paper and I always try to roll out my cookies the least amount of times possible, I prefer to transfer them instead.
For my gingerbread cookies, I picked out this recipe from McCormick spices on allrecipes.com.

Gingerbread Cookies
Ingredients
3 cups flour
2 teaspoons McCormick® Ginger, Ground
1 teaspoon McCormick® Cinnamon, Ground
1 teaspoon baking soda
¼ teaspoon McCormick® Nutmeg, Ground
¼ teaspoon salt
¾ cup butter, softened
¾ cup firmly packed brown sugar
½ cup molasses
1 egg
1 teaspoon McCormick® Pure Vanilla Extract
Instructions
Mix dry ingredients (flour, ginger, cinnamon, baking soda, nutmeg and salt) in large bowl. Set aside.
Beat softened (but not melted) butterand brown sugar in large bowl until light and fluffy.
Add molasses, egg and vanilla. Mix well. Gradually beat in dry ingredients on low speed until well mixed.
Press dough into a thick flat disk. Wrap in plastic wrap.
Refrigerate 4 hours or overnight. (I like to wait until the following day to avoid extra stickiness)
Preheat oven to 350 degrees F.
Roll out dough to ¼-inch thickness on lightly floured work surface. Cut into gingerbread men shapes with 5-inch cookie cutter. Place 1 inch apart on baking sheets lined with parchment paper or a silicone baking sheet. (You can alternatively use just an ungreased sheet.)
Bake 8 to 10 minutes or until edges of cookies are set and just begin to brown. Cool on baking sheets 1 to 2 minutes.
Remove to wire racks; cool completely. Decorate cooled cookies as desired. Store cookies in airtight container up to 5 days. Keep in mind if you seal the container completely your cookies will soften over time. To keep them firmer, do not completely seal the container.
These Christmas gingerbread cookies were fairly simple to mix up and Warren and I took care of that the day before, letting it chill overnight. We received these fun
Christmas Stencil Cookie Cutters
($5.99) from Wilton to try out. While I normally prefer metal cookie cutters, I love how easy this decorate our cookies before they went into the oven with some beautiful sparkling sugars.
I found using the lid from the sugars worked perfectly for Warren to pour into the stencil. You can easily move the excess sugar around with your fingers or a toothpick to make sure you get every crevice. In this case I just let Warren do whatever he wanted.  It turned out great! Just be sure not to overload the tops or you'll get a huge sugar mess on the top of your cookie.
We also left some cookies plain for decorating later on, including with Wilton Holiday Sugar Sheets ($3.99).  The round cutter that I used for these cookies however was a bit big and I wasn't as thrilled with the look of them over the oversized cookie. I think I would like these for when I'm in a pinch or for cupcakes. I find people remove them before eating anyway and I prefer the look of the sugars or cinnamon drops.
My favorite cookies were the snowmen in which we used Rainbow Sparkling Sugars ($4.49) and the snowflakes with Pearlized Sapphire Sugars ($4.49). Against the darker background the blue just pops!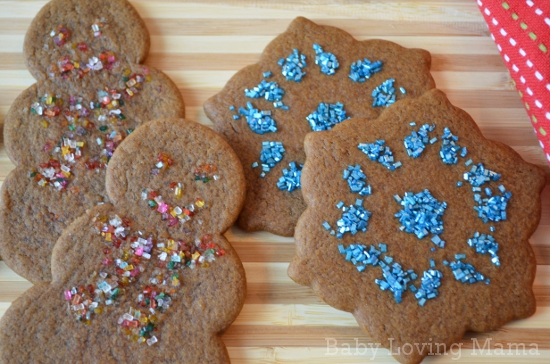 Wilton has some great options for presenting your cookies as gifts. I also like to use them for candy. It can take a rather simple group of candy and make it look like a special gift indeed. These Gifting Treats & Sweets Treat Boxes ($3.99) are perfect for small cookies, fudge or candies.
Next up is using this 3-D Mini Tree Silicone Mold ($9.99) to make trees out of rice krisipe treats, a favorite of ours!
BUY IT:
All of these products and more are available for purchase from Wilton. Items ship free on orders of $50+ and you'll find plenty of items currently on sale! Be sure to check out your local craft store such as Michaels, AC Moore or Jo-Ann Fabrics to find them or check out the Wilton store locator. You'll even find select and exclusive products at your nearby Target and Wal-mart!

---
Disclosure – As a Wilton Mom Ambassador, I received product for the purpose of this review however,  opinions expressed are my own and are not influenced by monetary compensation.