One of the extra cool perks for the timing for the Wilton Mom ReTreat included the opportunity to shop early at the Wilton Tent Sale. If you live at all near Illinois you simply must check it out. It truly is every baker's dream with products up to 75% off and live demonstrations! Even if you don't bake there are plenty of scrapbooking goodies and housewares that anyone would love to own.
The Wilton Tent Sale, which is held in Woodridge, Illinois, is a popular event for cake decorators and crafters. This year's Wilton Tent Sale will offer amazing deals on a wide selection of Wilton cake decorating and baking supplies as well as kitchen and paper craft products from Copco, EK Success Brands and K & Company. In addition, demonstrations of Wilton products and crafting techniques will be offered throughout the sale.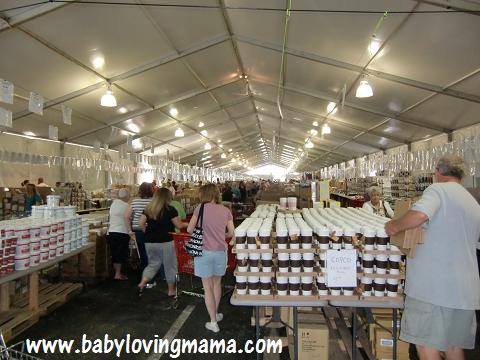 Here is my amazing haul from the tent sale!
We've already used the Copco mugs and love them!
I couldn't even fit everything in one picture. (Umm, yeah. I MAY have had most of this put away by the time my husband came home. You know, so the three huge and very heavy boxes didn't scare the crap out him wondering where we would put it all. ssshhh….)

Not pictured items include the Ultimate Caddy (for transporting cakes and cupcakes) and four of the Copco coffee mugs shown in the tent sale picture. I've already been putting some items to good use like the mixing bowls and measuring cups and spoons. They are awesome and are such a huge improvement to the ones I was using. My mom is also going to be receiving some fabulous gifts.
2240 W. 75th Street
Woodridge, IL 60517
Weekdays: 9:00 a.m. to 8:00 p.m.
Weekends: 8:00 a.m. to 6:00 p.m.
Demonstrations from 11 am – 2 pm
Monday, June 14 Buttercream
Tuesday, June 15 Chocolate
Wednesday, June 16 Fondant Modeling
Thursday, June 17 Rolled Fondant
Friday, June 18 Chocolate
Saturday, June 19 Fondant Modeling
Overall I found this event to be fun and the perfect excuse for a roadtrip or outing with some girlfriends! If you had the chance to attend, please let me know how you made out. I'd love to hear more about your haul!

Disclosure: I was given $150 certificate to use at the Wilton tent sale. However since my bill was well over $400,  all this loot was so not free. 🙂