Sponsored by Build & Imagine
With my daughter's artistic interests from her designer mom and love of building from her engineer dad, the new Build & Imagine magnetic, illustrated building set is a perfect fit for play time.
We were excited to open our Build & Imagine Marine Rescue Center and start building. My daughter loves other magnetic building toys and was thrilled to see that this set allowed her to create a scene for even more imaginative play.
If she builds it, she will play … and add an important "A" for art to the vital fields of a STEM education (science, technology, engineering, and math). That's the mission behind Build & Imagine, an empowering toy line for youngsters ages 4 and up that starts them on a road to innovation. These magnetic construction sets are packed with foundational STEAM learning yet are enchanting for endless hours of imaginative play.
I love that they've emphasized the importance of ART along with the standard STEM learning principles. Through this Build & Learn toy, my daughter is being encouraged to think spatially with the magnetic, illustrated panels, as well as learn about science through the Marine Rescue Center themed set. Yes, you can be a scientist some day!
My daughter was most excited about the sheet of magnetic accessories for her Marine Center. Her favorite was the sea turtle.
Each Build & Imagine StoryWalls play-set is made of colorfully illustrated magnetic panels that a child joins together any way she likes. The result is a scene that she brings to life with the enclosed dress-up dolls and more than 40 magnetic costumes and props. The illustrated details act as story starters, sparking imaginative play. Toy industry experts have taken notice including Dr. Toy, Parents' Choice, The National Parenting Center, Mr. Dad and many others.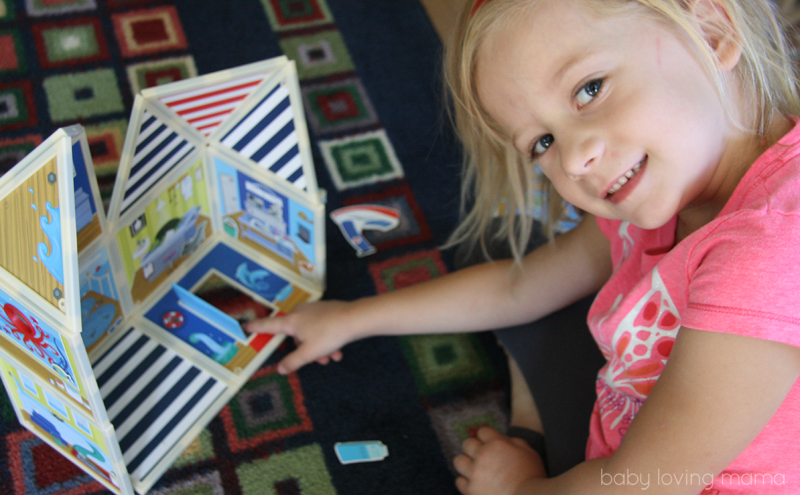 She loved that the magnetic panels could be mixed and matched wherever she'd like. In this case, she made a "magical trap door" on the floor. I love her creative imagination at work.
This Build & Imagine set is built well and encourages creative play for girls and boys alike.
Build & Imagine toys put the child in the role of architect and storyteller, and offers adventurous leading female characters. The color blue is sublimely sprinkled throughout the illustrated scenery. Mom blogger CoolMomPicks noted in her 2015 Toy Fair synopsis that Build & Imagine is a "smart toy for girls that defy the pink aisle. In other words, no princesses, ballerinas or fashionistas, whatever career that is."

BUILD IT:
Choose from three sets:
Build & Imagine Malia's Beach House • $59.99 • Ages 4+
Dr. Toy's 2015 Best Classic Toys
PAL Top 10 Language Learning Toys
Parents' Choice Gold Award Winner
The National Parenting Center Seal of Approval
Build & Imagine Marine Rescue Center • $49.99 • Ages 4+
Creative Child Building Toy of the Year
The National Parenting Center Seal of Approval
Parent's Choice Gold Award
Build & Imagine Day at the Beach • $39.99 • Ages 4+
Mr. Dad Seal of Approval
Parent's Choice Gold Award
The National Parenting Center Seal of Approval
BUY IT:
Look for Build & Imagine StoryWalls play sets online and in stores including Amazon, The Grommet (watch its awesome 2-minute video), Kohl's, Fat Brain Toys and Zulily. Build & Imagine will be featured in upcoming catalogs such as Hammacher Schlemmer, Mindware and Museum Tour Toys. You might even tune in to QVC and catch their products in play. Browse inside Pottery Barn Kids or over 150 neighborhood toy shops. The magnetic building sets can also be conveniently purchased directly from Build & Imagine.
ABOUT BUILD & IMAGINE

Laurie Peterson, an award-winning toy designer and mother, founded Build & Imagine after noticing that the kinds of play experiences she enjoyed as a child (involving building, creativity, and experimentation) were poorly represented in the girls' section of most toy stores. She now develops magnetic building toys with leading female characters and rich narrative details to engage both girls and boys. The company got its jumpstart with a successful Kickstarter project, and will have five themed building sets available this fall.  Click on the company's website, www.buildandimagine.com, for products, inspiration and an informative blog.
Disclosure: I received a sample from Build & Imagine for the purpose of review. All thoughts and opinions are my own.