No-bake desserts are a great option for when you are short on time or simply don't want to turn on your oven. This Key Lime Trifle is a perfect example of a dessert that looks and tastes amazing, but is very easy to create.  Inspired by Pampered Chef's Lemon Blueberry Trifle, Amanda Tinney created this layered dessert in just 15 minutes!
Key Lime Trifle: Easy No-Bake Dessert
Ingredients
1 (16 oz) frozen Sarah Lee pound cake
3 limes
1 cup milk
8 oz sour cream
16 oz tub of COOL WHIP whipped topping
2 boxes (3 oz each) lime JELL-O
Instructions
In a large mixing bowl, whisk together milk and sour cream. Whisk in two boxes of  lime JELL-O and to combine.
Fold in half your tub of whipped topping, reserving the half for trifle assembly.
Place lime mixture into the fridge to set for a few minutes.
Cut off all the dark edges off your frozen pound cake with a serrated knife.
Cut your pound cake into 1 inch cubes. (It is easier to cut the pound cake when it is still frozen.)
Slice two of your fresh limes for garnish.
To assemble, place ⅓ of the pound cake into the bottom of your trifle bowl.
Push the pieces out to the sides.
Add half of your lime mixture.
Add another ⅓ of your pound cake pieces.
Top that with 4 oz of Cool Whip. (This is half of what is remaining.)
Add the remaining pound cake pieces.
Add the remaining half of your lime mixture.
Fill a piping bag (or a ziploc bag with one end cut off) with the remaining 4 oz of Cool Whip and decorate the outside edge of the top of your trifle.
Garnish with sliced fresh limes and the zest of the third lime.
Refrigerate until ready to serve.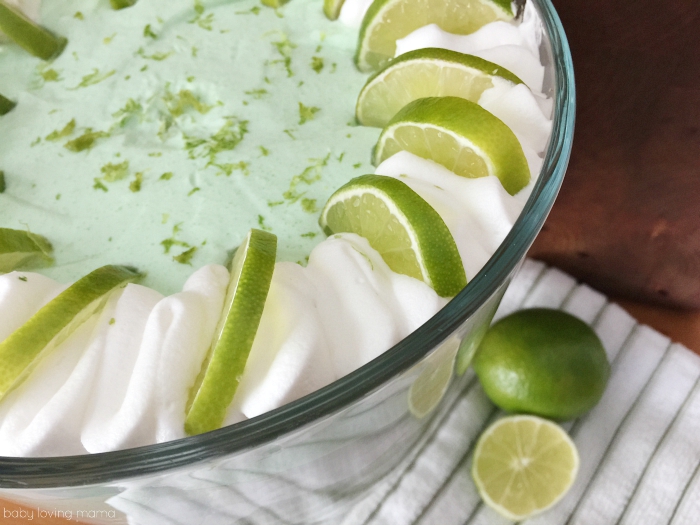 This dessert is all about presentation so you want all of the layers to be even and visible. When you are adding each layer be sure to start by placing them around the edges of your trifle bowl first, working towards the middle.
With only a few ingredients and a short amount of time, you can impress your family or guests with this refreshing key lime dessert!