I don't have a girl and I may never have a girl. And I'm ok with that as I adore my three boys. But I'll admit that I volunteered to help my sister out for her daughter's 4th birthday because it gives me a chance to make something super girly. I created the cake for her frog themed party two years ago and this weekend I tackled another one for her ballerina inspired tutu cake!
Isn't she a cutie? She has the sweetest little voice. She is also super funny, smart and a total handful.
I should really laugh at myself since I told my sister I'm too busy to make a cake for her with two birthdays coming up for my own boys. And then before I knew it, I talked myself into making one with fondant. I found the perfect inspiration cake on pinterest for a Rainbow YoGabba Gabba Cake. (It didn't link to the original source so I'm not sharing the pin.) I thought it would be perfect for the the girl who asked for a tutu cake and pink, LOTS of pink.
I wasn't thrilled with a lot of what I found. I found plenty with cutesy bears wearing tutus and it wasn't the look my sister or I wanted. When I showed her that cake, she was instantly smitten.
I thought that it would be a lot less time consuming because it used props and was made out of fondant. No 3-D, no endless star tipping creating some major cramping in my hands. Just rolling out some fondant and using things I already had in my Wilton stash like fondant cutters, just begging to be used.
Um, yeah.
Did I say it was going to be a fast cake?
Why did I think that?
It all started with my poor planning. We wanted both a vanilla cake and chocolate cupcakes since some people preferred chocolate. But after I baked up my two 8 inch rounds using a Duncan Hines cake mix (Wilton's preferred cake mix) I realized I wouldn't get the height I really needed for this cake. I was afraid the gorgeous tutu that I had made would over power it. So I wanted to add another layer. Only I bought a Betty Crocker Super Moist Chocolate Fudge cake mix. This is perfect for cupcakes, bundt cakes and the like but not good for cake decorating. It is just too moist. (Just ask Trisha from Mom Dot.)
Why is too moist of a cake a problem?
The cake isn't even as it should be. You can't properly "love" on your cake as you build it (pushing it down lightly to connect the layers of cake with the frosting in between). You can't hardly do anything to it without it wanting to crumble. It tastes great but is a royal pain to actually frost. That was very apparent when it was super easy to frost the Duncan Hines layers.
So want to guess what happened to my cake? 
It took much longer than anticipated to decorate and became lumpy and impossible to get smooth because that center layer was unruly. Unforgiving. Unstable.
And yet…
I still managed to make a cake that while filled with imperfections, still turned out rather adorable.
Once I added the adorable tutu, it really came alive.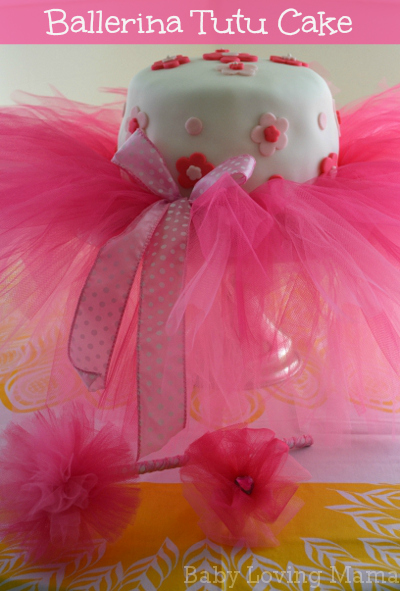 I love how it looks from above!

I was very impressed with the tutu from Tutu Loopy. She worked fast on my request and was so sweet to include a wand and hair clip, complete with a card for the birthday girl at no additional charge.
My sister handled the decorations and I think it all tied together beautifully.
I used Wilton Pink Sugar Gems for the mini cupcakes which created a nice sparkle. The taste really reminded me of rock candy!
But the most important thing is that the birthday girl loved her party!
And she loved to have the tutu, wand and hair clip to keep.
She was so excited to blow out her candles and blew with all her might!


While the cake might have kept me up late, it was definitely worth it for one special little girl!
UPDATE: DISCOUNT ALERT
Tutu Loopy would like to offer readers 25% off in her Etsy shop with the code "BELLA".
Disclosure: This is not a sponsored post. I paid for the tutu, however I have worked with this shop in the past. I also am a Wilton Mom Ambassador and some of the products used to make the cake were given to me at some point.