Even though Wes is officially 11 months, I'm still in awe of how much fun he as brought to our family. Lately he has been a blast to play with and loves it when I play with him and his toys. One of his favorites is the Musical Stack & Ball Game Elephant from Tiny Love.
This unique stacking and ball game helps develop many skills such as stacking, sorting, threading, opening and closing. Two game levels keep baby engaged as his or her skills develop. Electronic lights and music add to the fun. (ARP: $29.99; Recommended for 6 mos. & up)
At first I assumed this was a single toy. One where you drop the ball inside, watch it come down and then just repeat. But this toy has many different levels of play. Some of which I never would I guessed.
Since Wesley loves balls it is no surprise that he likes the three balls included with this toy. But they are his favorites because they have a nice rattle sound and fit perfectly in his hands. When he is crabby in his car seat or activity center, I can give him one of the balls and he is entertained for longer periods of time.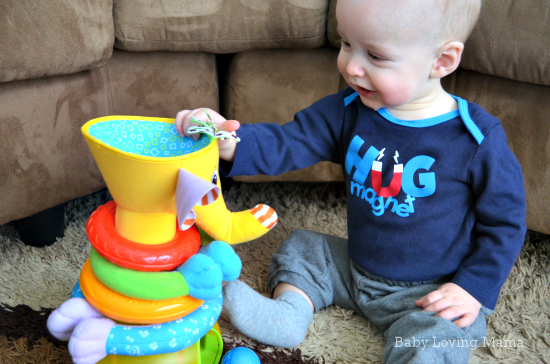 He definitely likes to drop the balls into the elephant itself and watch the toy light up or play music but we had the toy for a couple of months before putting batteries inside. It is not a toy that depends up batteries and is fun to play still without them. The door in front will automatically pop open if a ball is dropped down as a fun surprise for him.
But a favorite aspect to this toy is the stacking action. Wes absolutely loves to play with the rings. He likes to chew on the hard rings but especially likes the soft ones with velcro. He loves to take things like this and shake it around, watching it flap.  He also does this motion with things like socks and stuffed animals with tails. It seems like such a simple thing but he is always grabbing them out of his little toy box. (You can catch him doing it in this picture on Instagram.)
Another cute toy from Tiny Love is the award-winning Follow Me Fred and Fiona.
Fred and Fiona roll away when touched, motivating baby to crawl after them. The friendly dogs bark and play a tune to further encourage baby's movement. The flexible accordion shape enables the pups to move in a circular motion as well as straight. (ARP: $24.99 each; Recommended for 6 mos. & up)
Wes always gets a giggle from the barking dog that moves but he hasn't yet figure out how to get the dog to move or bark. The buttons are on the side and a bit harder to access. He does enjoy following Fred though and I like that you can change the angle of where the dog moves because of the accordion middle. We like it, but it isn't one of his favorites.
BUY IT:
Both of these toys are available directly from the Tiny Love Store or at retailers nationwide. You can also find Tiny Love Follow Me Activity Toy Fred
 and Tiny Love Musical Stack and Ball Game
 online at our affiliate Amazon.
WIN IT:
I have a Musical Stack and Ball Game Elephant to give away to one of my lucky readers! (US/Canada)
Disclosure: I received samples for the purpose of this review however all thoughts are 100% my own.