This is a sponsored post. All thoughts are my own.


I'll never forget the boy that harassed me in 6th grade. I remember running to the bathroom crying because once again he made rude, sexual gestures at me. I couldn't handle it anymore. My teacher's response? "Boys will be boys." Thankfully just telling my teacher was enough to scare my harasser off, but with no repercussions it could have been a different story. Every day kids are being treated in ways that can affect them for life. The idea that sticks and stones break bones but words can't hurt you, is just not true.
My children go to a charter school that takes bully prevention seriously. From the very first day, values of being safe, kind and responsible are promoted and rewarded.  Bullying is not tolerated and my kids have not yet been victims of bullying. For that I am very thankful. Unfortunately, not all parents can say the same.
Want to take a stand against bullying?
Now through October 31st, CustomInk will donate profits from the sales of bullying prevention t-shirts to PACER's National Bullying Prevention Center, up to $100,000, as part of the sixth annual Be Good to Each Other campaign.
CustomInk's Be Good to Each Other campaign unites people of all ages by encouraging them to take a stand against bullying by wearing custom bullying prevention t-shirts that promote kindness, acceptance, and inclusion. CustomInk challenged influencers to create their own t-shirts using the word "Be" to create a positive and motivational message that reinforces self-worth while promoting acceptance in a personal, yet unifying way. T-shirt sayings include: "Be Daringly Different," "Be Humble," "Be Dynamic," "Be Unbreakable."
Celebrity Supporters Include:
Elias Harger (Actor), Jackson Harris (Recording Artist), Jenna Ortega (Actress), Jordan Smith (Singer), Kennedy Raye (Influencer), Lilimar Hernandez (Actress), Lizzy Greene (Actress), Madeline Stuart (Fashion Model), Madison De La Garza (Actress), Michael Campion (Actor), and Milla "Star" Bizzotto (Athlete).
I received a just a few of these bully prevention t-shirts to help spread the message.  The Be Yourself T-shirt created by Elias Harger is adorable and super soft. I took this picture after washing it (not inside out) and the design still looks just as perfect.
The Be Daring design from Seventeen magazine is just as soft, but is a bit see through.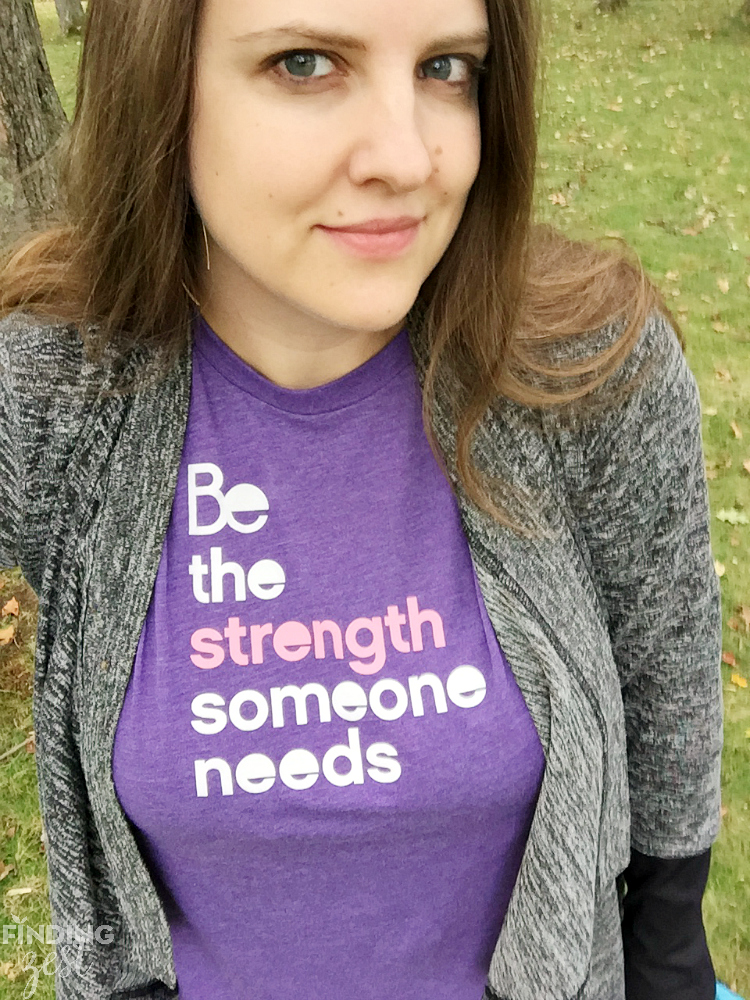 My very favorite t-shirt is the Be the Strength Someone Needs from Kennedy Raye. Does it help that it is purple, my favorite color? Probably. But the message is on point and I feel good wearing it. It is a great reminder for both myself and every single person I pass to be there for others. It is also super soft and a longer t-shirt style. I love this flattering cut!
Show Your Support
To get involved and show your support, visit CustomInk. T-shirts are available for purchase, ranging from $12-$27. Want to get creative and design your own bullying prevention gear? You can also support the cause by designing your own custom bullying prevention t-shirts to wear with family or friends, or for your children's school, club, or team.  Check out their design templates to customize your own!