It is the season of pumpkin spice! I love sharing easy recipes so I'm happy to share these effortless mini pumpkin pies featuring a delicious crumb topping as part of a shop that has been compensated by Collective Bias, Inc. and its advertiser. All opinions are mine alone. #EffortlessPies #CollectiveBias
Almost every Saturday we have my in-laws over for dinner. Our Saturdays are typically busy getting things done around the house so I love serving desserts that are quick and easy.  The same can be said for every single holiday. I want to spend time with my family, not all day in the kitchen. I love having recipe hacks that are simple in my back pocket for any occasion like these Easy Mini Pumpkin Pies with Crumb Topping! They were a huge hit with my family and a perfect way to get kids involved in the kitchen. Can you guess what is inside?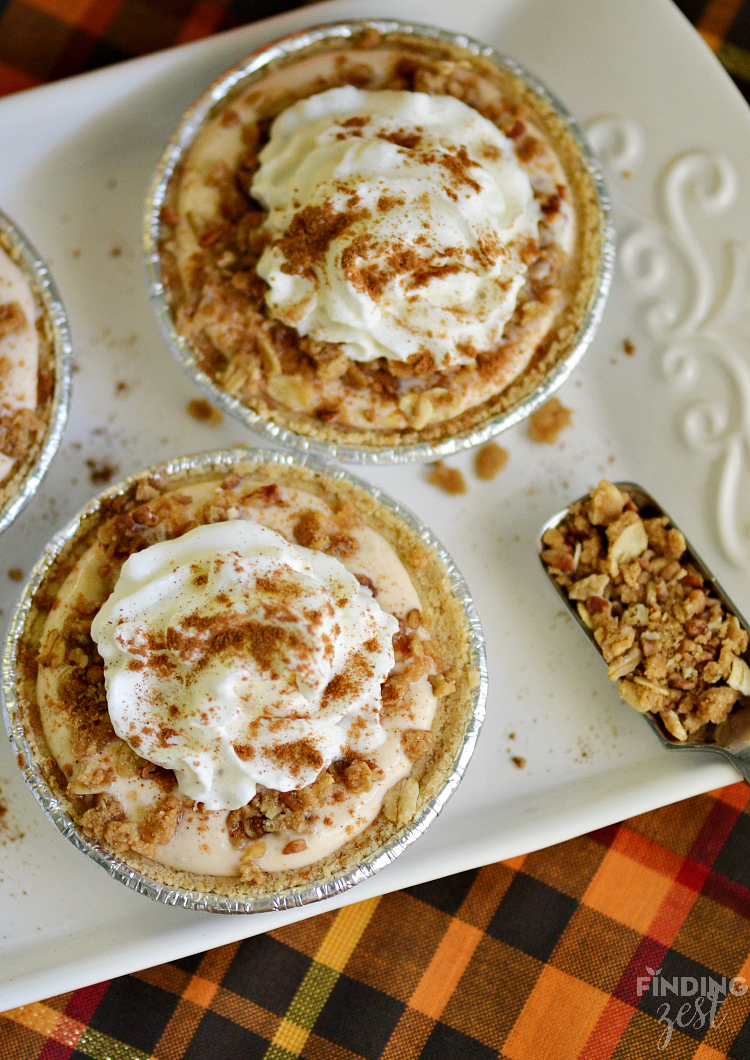 You really only need three ingredients to complete these effortless mini pies, but I do think the crumb topping takes this recipe to a whole other level! The base recipe includes mini graham cracker crusts, Dannon® Oikos® Pumpkin Pie Greek Yogurt® and of course a little Reddi-wip® to top it off. I headed to my local Walmart to pick up my ingredients. You can find the greek yogurt and whipped cream in the dairy aisle.
(If you don't see this seasonal flavor of Dannon® Oikos® Greek Yogurt® on the shelves, check the cases for promotional items. I found mine in both spots!)
This recipe is so easy, I had my eight year old help me assemble them. The crumb topping can be made well in advance to keep your work at a minimum right before serving.
Each container of yogurt is the perfect amount for two pies. Then sprinkle a little homemade oatmeal crumb topping. (If you are short on time, store bought granola works too.) 
A dollop of Reddi-wip® with a little pumpkin pie spice adds the finishing touch.
This is definitely an effortless pie but looks like a fancy dessert you can feel good about serving with almost no cleanup. (Who doesn't love that killer combination?)
My kids devoured their mini pies. Since Dannon® Oikos® Greek Yogurt® is a favorite yogurt of theirs already, it wasn't a surprise. The crunchy oatmeal topping was the perfect addition.

Easy Mini Pumpkin Pies with Crumb Topping
Ingredients
3 containers Dannon® Oikos® Pumpkin Pie Greek Yogurt®
1 package mini graham cracker pie crust (6-count)
1 tablespoon cold butter, cut into small chunks
3 tablespoons old fashioned or quick-cooking oats
1 tablespoon flour
1 tablespoon finely chopped pecans
2 tablespoons brown sugar
¼ teaspoon pumpkin pie spice
Reddi-wip® original whipped cream
pumpkin pie spice for garnish
Instructions
For crumb topping, preheat oven to 350 degrees.
In small bowl, stir flour, oats, brown sugar and pumpkin pie spice. Cut in butter with fork to blend well. Stir in pecans.
Bake on ungreased cookie sheet for 5 minutes or until topping is a light gold brown.
Cool completely.
Right before serving, fill each mini pie crust with ½ container of yogurt. (Stir yogurt before filling.)
Top with approximately one tablespoon of crumb topping.
Add a dollop of Reddi-wip®. Sprinkle pumpkin pie spice over top for garnish, if desired.
Serve immediately.
Give this recipe a try at your next fall celebration such as Halloween or Thanksgiving.  Be sure to check out Effortless Pies for more mini pie inspiration and special savings!