With all of the Halloween drink options out there, it is easy to find something spooky and fun for kids. What isn't easy is finding something that is healthy and not full of added sugar or artificial dyes. And unfortunately, there is always plenty of those to go around on Halloween.  This Bloodshot Halloween Drink for Kids is a perfect option for those of us that want to still wow our kids without any guilt.
The key to making this recipe unique is the syringes I found at Walmart. I found them in their Halloween section and knew immediately I wanted to create a fun drink for them. (If you can't find them in your local Walmart you can also try Amazon.)
Bloodshot Halloween Drink Supplies
5-Pack Syringe for Blood Bag WYNK 50 ML Reusable Fast Filling Syringe Perfect
Party Shots, MEGA SIZE, 30 Pack Jello Shot Syringes(Plus 50 Delicious Jello Shot
Outside the Box Papers Spider Themed Halloween Paper Straws 7.75 Inches 100 Pack
EBTOYS Paper Straws Halloween Spider Straws Halloween Drinking Straws for Halloween Party Supplies,50-Pack
Ghost & Spider Halloween Paper Straws, 10ct
Jolee's Boutique Parcel Dimensional Stickers, Glitter Spiders
We filled them with cranberry juice but any red juice would work including cherry or pomegranate.
For the base of the drink I wanted something clear so you could really see the "blood" in the syringe so I used a unsweetened lemon flavored sparkling water. You could use any flavor that would pair well with your juice.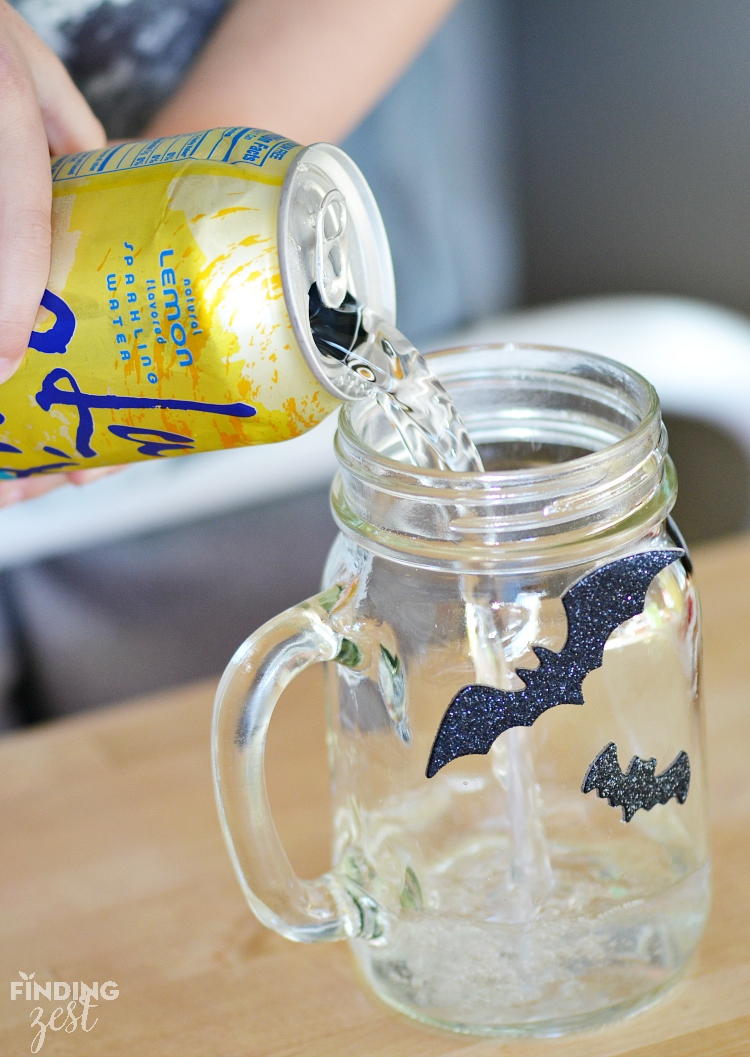 The syringes held the cranberry juice well  and the bubble created are cool effect around the syringe! For fun we also added in some bat glitter stickers to make our glasses more spooky.
Wesley absolutely loved being able to squirt his juice into his Halloween drink.
We filled some extra syringes and added small juice filled beakers that I already owned. (We actually found a small box of them hidden in crawl space of our house years ago!)  Not only did they add to our Halloween table, but they also served to offer Wes the option to make the drink have a stronger cranberry taste.

Wes gave this drink a big thumbs up!
Bloodshot Halloween Drink for Kids
Ingredients
2 cans sparkling water
½ cup to 1 cup cranberry, cherry or pomegranate juice
food safe syringes
Instructions
Fill syringes with juice.
Add sparkling water to clear glass.
Insert juice filled syringe into glass before serving.
Before drinking, squirt juice into glass.
If you are looking for another fun Halloween drink for kids, be sure to check out my
Black Spider Party Punch for Halloween
 recipe as well!
If you like the blood theme, you'll love these blood bags for drinks I made my kids. I even made edible fake blood for displaying these fake iv bags and they loved it! This would also be a great prop for anyone who is dressing up as a vampire.
I am hosting Mini Chef Mondays along with 5 fabulous bloggers, find out more about the Mini Chef Mondays Team!
Be sure to check out each of their Mini Chef posts as well!