Last week I shared our Dolphin Swim and Stingray Adventure in Grand Cayman during our 5 day cruise aboard the Caribbean Princess as part of a media trip. My husband and I had so much fun that day in October, but my very favorite was the ATV Adventure in Cozumel, Mexico. It was our second stop during our Princess Cruise in the Caribbean and was an absolute blast. I chose the ATVs because I wanted to experience something that we couldn't do with our kids. My husband needed some convincing, however . With so many great adventures to choose from, he hesitated.  He wondered if we might get stuck in a long line of ATVs going slow down a rather boring set of trails. I told him we should give it a shot anyway. We both were so glad we did!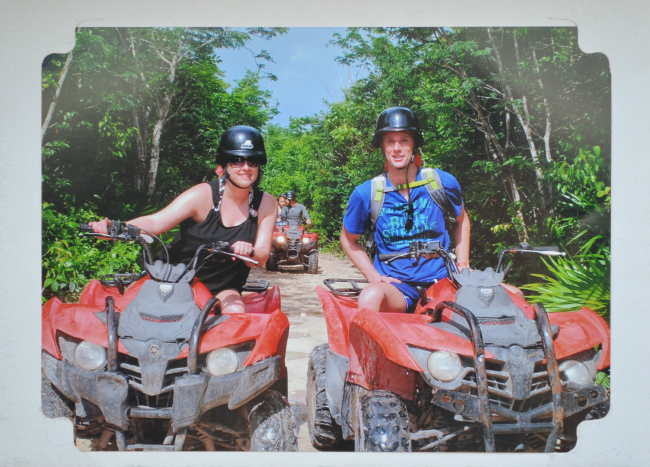 We chose the ATV Adventure, Play Mia Beach Break and Lunch excursion. This includes a fairly short drive to base camp where we received a short orientation. Each person receives their own ATV and gear, including helmet and souvenir bandanna. (Keep in mind that there are no riders allowed so you must present your driver's license and be at least 18 years of age to participate.) 
It had rained the night before we arrived so a lot of trails were washed out. The trail was muddy in spots, with large rocks and very deep water in many places. I thought for sure our guide would stop us, but we always drove through it. It was unbelievable! The water went well over our feet often, and a few times I thought he we might get stuck but never did. My husband and I were directly behind the lead guide, so we were never behind anyone that was tentative. And while our guide stopped several times to make sure everyone was still ok, we went anything but slow. We drove fast through a winding jungle with rough terrain and water.
It was thrilling!
We took a couple of breaks during our ride. We stopped at a Chiclero base camp, learned about Mayan culture, sampled both Mayan a dip and drink, and visited a Mayan planting field.
I loved learning more about the culture and having the chance to take a little break. With such rough terrain, my hands started to get a bit sore from holding on so tight.  I was happy to enjoy this fun excursion with Susan from Doughmesstic, who also was on the media trip with us!
Our actual riding lasted for about an hour. We were lucky to just finish up before a total downpour right as we were boarding the bus.
We then headed to the Beach Club for around an hour and a half to enjoy lunch and the beach. The food was included as part of the excursion and was very good, although I know my husband would have loved seconds.
Unfortunately we weren't able to fully appreciate this leg of the trip since it rained for much of it. However, it didn't put a damper on the adventure as a whole. The ATV Adventure is a must try if you enjoy a thrill. It is not for anyone with health problems such as back, neck or heart ailments.
THIS COULD BE YOU!
If you have never considered a cruise before, now is the perfect opportunity to learn more about it. With the holiday season behind us, now is the perfect time to think of ways we can explore new adventures in the new year. Learn more about the Caribbean Cruise Desinations Princess Cruises has to offer so you can come back new like us!
A big thank you to Princess Cruises for inviting us on board their beautiful ship during a media trip. All thoughts are my own.