Wesley turned 5 earlier this month and was sure he wanted a robot themed birthday party. I had no idea just how hard it would be to find party supplies for what I thought would be a popular theme. Rather than pay a high price for custom work, I decided to make my own chocolate robot cupcake topper instead. Wes was so happy to make them with me!
I found an inexpensive robot mold and decided it would be perfect for this project. Because there are 15 robots (3 designs) that can be made with a single mold, I knew two batches is all I would need.


You will want to get the chocolate all the way to the top.  Wes used a cookie stick to evening remove all the excess chocolate so you have a smooth back to your robot. Anything with a long flat edge will work.
What did we do with the excess chocolate? Dipped pretzels of course!
No sense wasting all that delicious chocolate and it made a tasty snack for later.
Chocolate Robot Cupcake Topper
Author:
Emilie at FindingZest.com
Ingredients
1½ cups milk chocolate or semi-sweet chocolate chips
1 teaspoon oil
1 robot silicone mold
Instructions
Melt chocolate chips and oil in 30 second intervals in microwave, just until melted.
Spoon chocolate into chocolate mold all the way to the top.
Gently tap mold against counter to remove bubbles.
Using something with a long flat edge, wooden spoon handle or cookie stick, scrape off all excess chocolate.
Place mold on small baking sheet and refrigerate until solid.
Store in airtight container in fridge.
Place on cupcakes.
This chocolate robot would also be perfect for party favors!
What have you been up to with your mini chefs this week?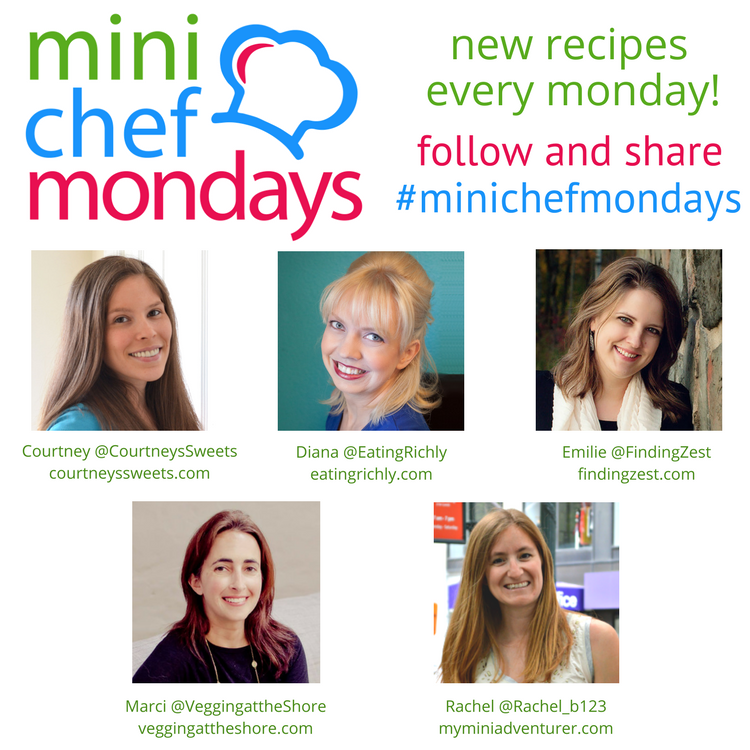 I am hosting Mini Chef Mondays along with 4 fabulous bloggers, find out more about the Mini Chef Mondays Team!
Join our facebook group to find even more recipes and share your own recipes!
Get featured and follow us too!
Be sure to check out each of their Mini Chef posts as well!