Last week I shared with you what a dream it felt like to be invited on the Disney Dream cruise ship by Disney Cruise Line this summer with my family. Our trip with Disney Cruise Line was amazing. So amazing it is just too much to cover in a single post. In my first post I talked about the ship accommodations and the food. Now I have to share all the fun entertainment and our time at port.
Our cruise included visits to two ports, the first being Nassau in the Bahamas.
We decided to simply explore the city a bit with a horse carriage ride.
It was a very interesting ride with plenty of unique architecture and stories from our guide. There were a few times we thought the wheel to our carriage was simply going to fly off, but miraculously we made it through!
Our second port of call was by far our favorite. Castaway Cay is Disney's own private island, just for Disney Cruise Line passengers. I would have been happy to stay here for the whole trip if I could!
My husband took part in a fun 5k race, because he can't resist the opportunity to run.
He was happy to get a medal to add to his collection, even if it was rather hot that morning.
After the race we headed out on our excursion, the glass bottom boat tour.
We liked having the opportunity to see more of the island from the sea, and get a chance to learn a lot about sea life.
The highlight was definitely getting to feed the fish. Everyone on the boat receiving a cup of oatmeal and the fish went wild. My kids LOVED it!
My favorite part of Castaway Cay was definitely the beach.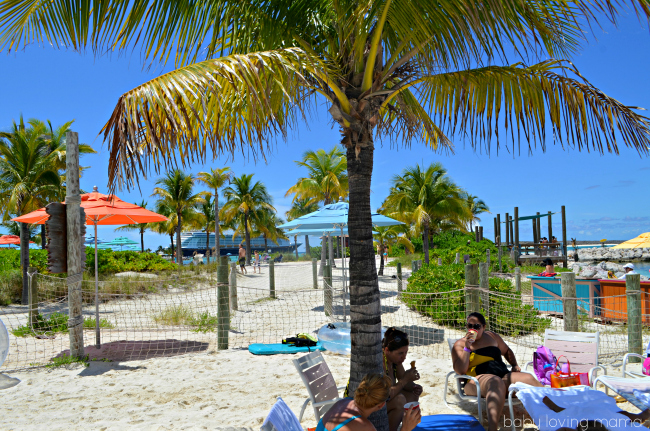 The water was super warm and clear, perfect for swimming. There is even a waterslide!
I could have relaxed here all day. The one thing we noticed really fast was just how clean the entire island is and how safe we felt.  It is a great way to experience a tropical location!
There are two locations on the island to have a barbecue lunch with hamburgers, ribs, chicken, coleslaw, fruit and more.
While we loved our time at port, we loved our time on the ship just as much!  Whether you like to be on the go or simply relax, the Disney Dream has something for you!
To keep track of all the entertainment options on board, you can use your Personal Navigator, the Disney Cruise Line daily activity schedule which is delivered to your stateroom each morning. You can also download the Disney Cruise Line Navigator app which we found to be a great way to keep up with everything!
The party started soon after we boarded with the Sailing Away celebration with Mickey and Minnie (and the rest of the gang).

I really loved how cast members got the crowd involved!
One of our favorite parts of our cruise was pirate night.  Having the opportunity to dress up as pirates is just plain fun, especially for my boys.
But the highlight of pirate night is a show with Captain Jack Sparrow, complete with stunts and fireworks! The cast member playing Jack is so good, I really couldn't tell a difference between him or Johnny Depp. It made for a late night, but this show is worth it!
We really enjoyed the top notch theater performances each night. We attended all three shows which were very entertaining for the kids, but still included plenty of adult humor as well. If you love a traditional movie theater, the Disney Dream has you covered with the latest Disney movies playing  throughout the day! On the second day we saw Captain America: The Winter Soldier and wished we would have time for Maleficent.
If you want the perfect opportunity to see a lot of Disney characters at once, definitely attend the farewell performance. It is a great meet and great on the last evening of the cruise and includes plenty of opportunities to get your picture taken with many beloved characters including Mickey Mouse, Minnie Mouse, Goofy, Pluto, Donald Duck, Daisy Duck, Chip and Dale and more. Even some unexpected guests came by, including Peter Pan and Tiana! There was very little wait and plenty of fun interaction.
The perfect ending to a great vacation!
To learn a bit more about my overall thoughts and see more of the ship, check out my video from aboard the Disney Dream.
Be sure to visit Disney Cruise Line for more information and to book your own Disney Cruise Vacation!
Disclosure: I would like to sincerely thank Disney Cruise Line for offering my family this complimentary vacation. As always, all thoughts are my own.