When I was asked by Disney Cruise Line to be their guest this summer with my family on their ship, the Disney Dream, I thought I might be dreaming. My response was an absolute yes, but also included some jumping up and down and cheers. I think I pinched myself, just to be sure I was really awake. The trip was truly magical, and I can't wait to tell you more about it.
My husband and I went on a cruise for our honeymoon and had a wonderful time. When we contemplated going on a real vacation, just the two of us, for our 10 year anniversary, we immediately thought of a cruise. But then a wonderful surprise came along, and I got pregnant with our little Wesley. Those plans got put on hold.
This past winter, dreaming of cruising again, I decided it would be awesome to go on a cruise as a family instead. I immediately thought of Disney Cruise Line and even priced out a Disney cruise so I could start saving. When I say it felt like a dream to be invited, I really mean it.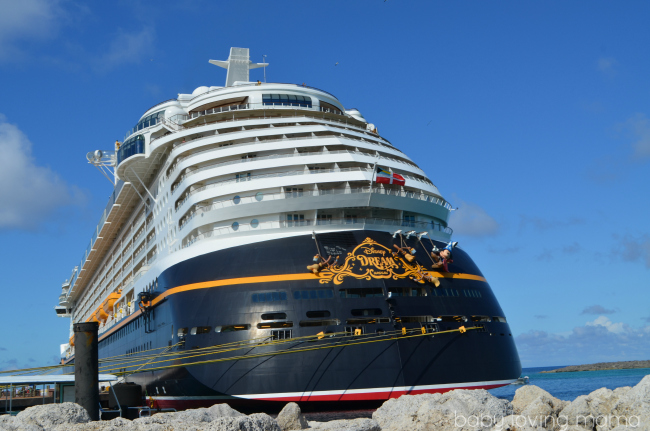 We went on board the Disney Dream on a warm Thursday afternoon and came back Sunday morning. Despite our time on board being only a few days, we experienced a lot in that time.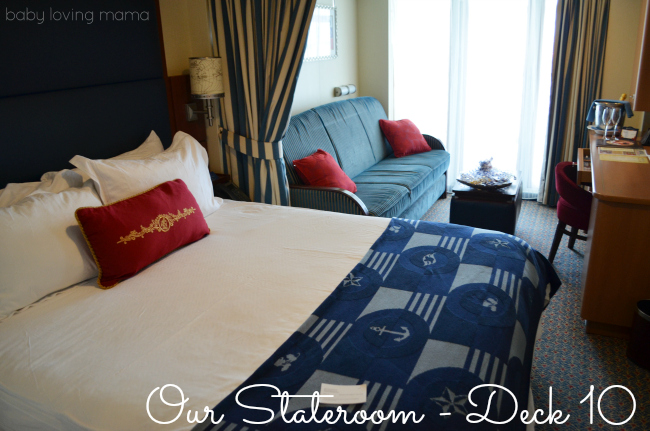 We received a wonderful stateroom with a balcony, king bed and a couch that pulled out into a bed. A bunk bed literally came out of the ceiling so our two oldest boys (ages 7 and 6) didn't have to share a bed. I thought with a family of four (our youngest stayed home with Grandma and Grandpa) we might feel cramped,  but that wasn't the case. Our room  was very efficiently laid out and included such amenities as a desk which was perfect for all our electronics  and 1 1/2 baths so we didn't waste any time getting ready for the day.
One of the most magical aspects to a Disney cruise is the access to the Disney characters. Some were set up as an actual meet and greet. The lines were never too terribly long, and we were waiting in the comfort of air conditioning. The longest we ever waited was 15 minutes to get a picture snapped with a character.  We also saw characters simply roaming the halls with no wait at all.  The first character we saw was Stitch, just hanging out near the balcony. My kids almost ran to him, they were so excited. This kind of availability is such a different experience than what we experienced at the Walt Disney World Parks, where long lines and hot weather made it much more difficult.
Once of my favorite aspects of the Disney Dream was the Oceaneer Club for ages 3 to 12.  This was an area where we could feel safe to drop our kids off, and know they were having a great time.  It allowed my husband and I to have a romantic dinner alone and spend some time in the spa. The kids really did love going there and given the option to stay or go to a movie, my oldest chose to stay. Security is tight, complete with arm bands, photo ids and a security safe word to check your child out.  I thought it was pretty amazing that at any moment they knew what part of the club a child was at, so finding them was a breeze during pickup.  The club offered special events throughout the day, many of which included Disney characters. (Disney Cruise Line has their own club spaces for teens and a nursery for those under 3 as well.)
The ship itself is simply stunning. To all the wonderful details on the ship inside and out, there is beauty in architecture and design everywhere you look. Small details are included with a purpose that mean so much. For example, changes in the carpet color near the elevators tell you what part of the ship you are on, stars in the carpet point to the front of the ship and adorable markers by stateroom doors tell whether you are port or starboard.
We loved exploring the ship and going on long walks on the deck. The weather was beautiful, and the views were amazing.
Several restaurants are on board, including two which offer a more upscale service. My husband and I ate a romantic dinner Palo, which did charge a small extra fee, but was worth it!
The atmosphere is stunning and the views at dinner were breathtaking. Our service and food was really top notch.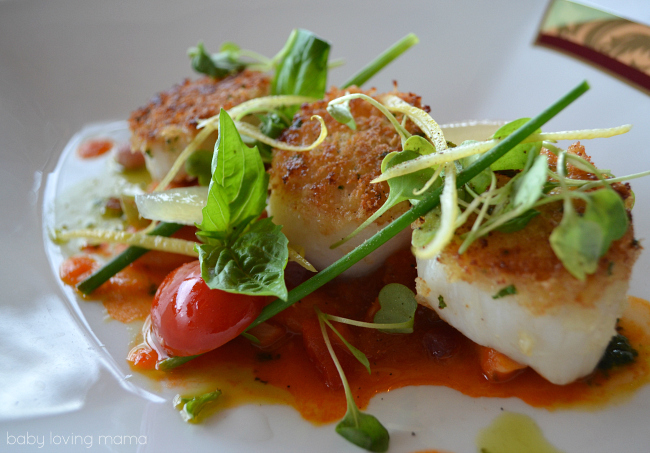 My husband still is raving about the tuna he had here for dinner, and I loved my scallops! Of course, dessert was extra special. My husband picked the tiramisu while I chose their signature dish, the chocolate souffle with warm vanilla and chocolate sauce. It is so decadent and a must try!
There are three dining rooms on the ship which offer a regular dinner service. Throughout the cruise you rotate through all three, keeping the same waitstaff.  Each of the dining rooms were special for different reasons. One that really stood out for was Animator's Palate which features a fun, interactive Finding Nemo experience. Who wouldn't love have a real chat with Crush? The kids loved it!
The other two dining rooms, the Enchanted Garden and Royal Palace dining room featured a more magical atmosphere with beautiful details.
We enjoyed breakfast in the Royal Palace dining room and had lunch at the buffets. Delicious food, including room service, was available around the clock.
We love all the kid-friendly touches, but there were plenty of adult options to enjoy!
Our experience aboard the Disney Dream is simply too much to cover in a single post so check out part two to learn more about the entertainment on board and our time at port! It will cover more about the ship's entertainment and our time on shore!
To learn a bit more about my overall thoughts and see more of the ship, check out my video from aboard the Disney Dream.
Be sure to visit Disney Cruise Line for more information and to book your own Disney Cruise Vacation!
Disclosure: I would like to sincerely thank Disney Cruise Line for offering my family this complimentary vacation. As always, all thoughts are my own.