Our daily routine has been greatly improved thanks to the simple replacement of my daughter's car seat. The last year has been a repeat of the same scenario every time we got into the car. I strapped my daughter into her seat and within a few minutes of travel she'd start to cry. "Mommy my legs are prickly!" Every time we put her in the seat her legs fell asleep. We tried everything to correct the problem. We tilted the seat, adjusted buckles, even gave her something to prop her feet on. We were so close to transitioning to a high back booster, but I'd had enough.
I reached out to Safety 1st and they asked us to try their Alpha Elite 65 Convertible Car Seat.
I was so impressed when I unpacked this Safety 1st convertible car seat. Since my daughter isn't forty pounds yet but was only a few pounds away, it was important to me to find a seat that would transition with her. Obviously I was also concerned that it fit her body well and didn't cause her legs to fall asleep.
With a harness rated to 65 pounds, the Alpha Elite Convertible Car Seat is helping parents keep their children safer in harnesses longer. As an extended-use car seat with superior comfort and convenience features, it'll please parents and children alike through 3 separate stages: Rear-facing infant car seat, Forward-facing car seat with harness to 65 pounds, and Belt-positioning booster!

Extended-use car seat: rear-facing 5-40 pounds, forward-facing 22-65 pounds, belt-positioning booster 40-100 pounds
Side Impact Protection
5-point harness with Center Front Adjust
Quick Fit™ Harness System adjusts height from front in one easy step – never needs re-threading!
3-position recline, adjusts with one hand
Removable infant head support and lumbar support and padded, pivoting armrests
Removable cup/juice holder
LATCH equipped & Meets or exceeds Federal and ASTM Safety Standards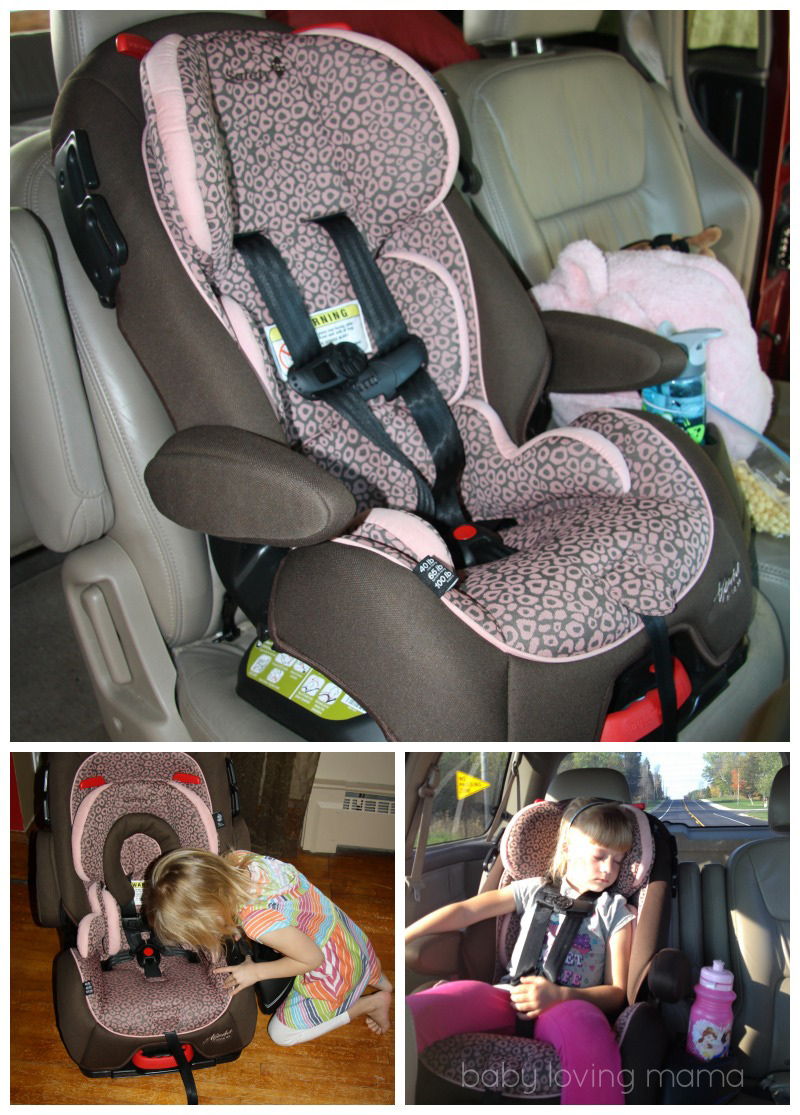 My daughter was most excited about the pink leopard print design (Callie pattern). I was impressed reading about the Air Protect car seat technology built into the head rest area of the seat. Our previous seat had no protection in that area. I also like that when she falls asleep her head doesn't slump forward like it used to. She can rest on the cushioned sides.
Air Protect Technology
It's reassuring that we now have this added safety when we travel.
After testing the Safety 1st Alpha Elite 65 for many months we are very happy with it's performance. We've traveled on a few longer trips where my daughter slept for significant time in her seat and we never had her legs fall asleep. She says it's very comfortable and loves the arm rests and the easily accessible cup holder so she always has her water bottle on hand. The only feature my daughter didn't like was the added lumbar support cushion. It's an easily removed pillow and she prefers to ride without out. She felt it was frustrating to get in and out without it shifting. We also love that the seat is adjustable to tilt forward/backward if we know we're taking a long trip in the evening where we're sure she'll sleep.
We expect this seat will transition well as she uses it as a high back booster in the future.
Safety 1st Celebrates 30th Anniversary of Baby on Board Sign
Dorel Juvenile, a segment of Dorel Industries, and the world's largest juvenile products manufacturer, and the maker of Safety 1st brand products, celebrated the anniversary last month of the iconic Baby on Board sign, the little yellow sign that 30 years ago sparked a child safety movement.
To celebrate this momentous milestone and staying true to our leadership in child safety, starting early in 2015, Safety 1st will be including 1 million "Where's Baby?" window clings packaged with Baby on Board signs as part of its continued support of the National Highway Traffic Safety Administration's (NHTSA) "Where's Baby? Look Before You Lock" safety campaign to prevent accidental heat stroke incidents of children left unattended in cars. When combined, these two little signs become a simple, smart solution with a big impact—giving parents peace of mind that children are safe, no matter where the road takes them.
BUY IT:
The Safety 1st Alpha Elite Convertible Car Seat is available in four designs and retails for $169.99. You can purchase it at Amazon, Babies "R" Us and Walmart.
WIN IT:
One lucky reader will win the their choice of Safety 1st Alpha Elite Convertible Car Seat to keep their little one comfortable and safe!
Disclosure: I received a sample for this post. All thoughts are my own.