This Buffalo Lettuce Wraps recipe post is brought to you by StarKist and The Motherhood. All opinions are my own.
Do you plan your lunch out in advance? Since my kids mostly take bag lunches from home they are always top of mind, but I rarely think of myself.  When lunch rolls around each day for me, I typically find myself looking in my refrigerator hoping for some inspiration. Unfortunately my lack of lunch ideas means what I eat isn't always healthy or satisfying.  With just a little planning, I can have a lunch that is filling and easy to prepare, like these easy Buffalo Lettuce Wraps.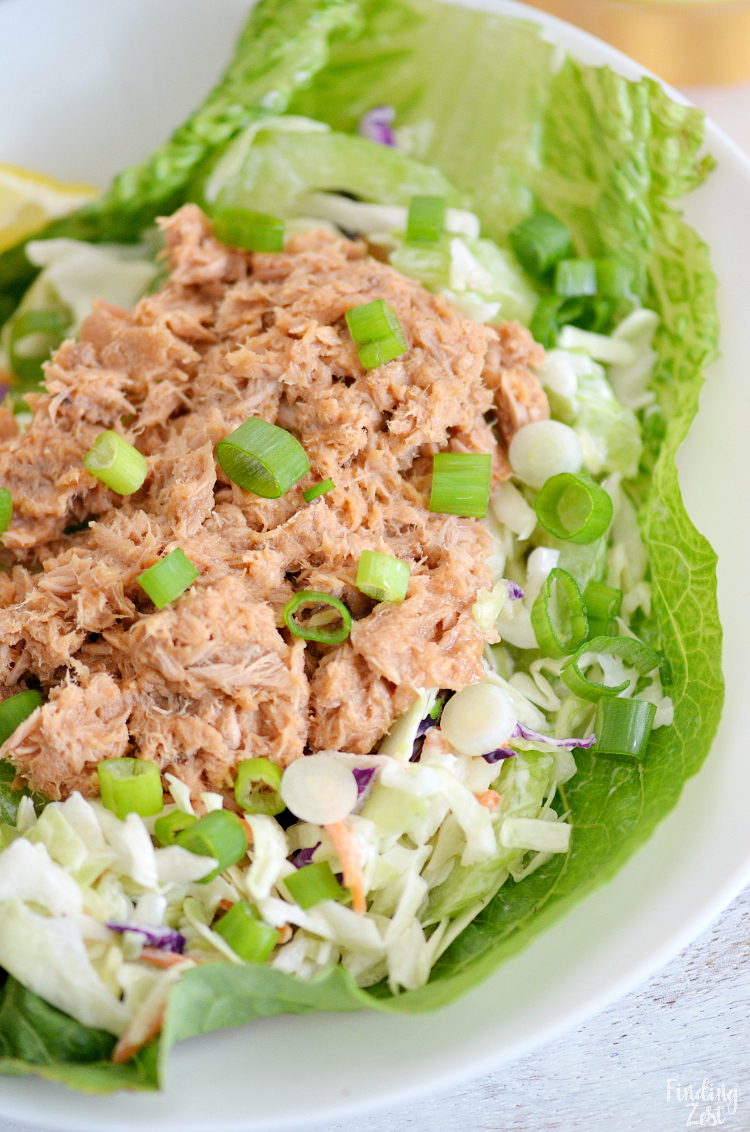 Flavored Tuna Pouches
Canned tuna might be a lunchtime staple, but it has come along way. Single-serve StarKist tuna pouches have made tuna more portable and easy to eat.  Having to drain your tuna or find a can opener is a thing of the past. Now you can enjoy tuna wherever, whenever simply by tearing open a tuna pouch and digging in with a fork. You can just Tear. Eat. And Go! I love to enjoy it on a cracker for an easy snack option.
Flavored tuna takes tuna to another level and StarKist has kicked up the heat with their 6 BOLD varieties, including StarKist Tuna Creations® BOLD Thai Chili Style, Tuna Creations® BOLD Jalapeño, Tuna Creations® BOLD Hot Buffalo Style, Tuna Creations® BOLD Tapatío, Tuna Creations® BOLD Sriracha and Tuna Creations® BOLD with Rice & Beans in Hot Sauce.
I love buffalo wings so I couldn't wait to give the Tuna Creations® BOLD Hot Buffalo variety a try. StarKist combined premium tuna with cayenne peppers for an authentic and BOLD Buffalo Sauce taste.
Buffalo Lettuce Wraps
I set out to create a lunch that was low carb and high in protein but stayed as true to the traditional buffalo flavor we all know and love. Mixing ranch or blue cheese dressing with a coleslaw mix and celery is a perfect combination with this buffalo flavored tuna pouch.
I served this on a very large romaine lettuce leaf but there is enough filling for two leaves if you prefer. I topped mine with some sliced green onion for garnish and a little extra flavor.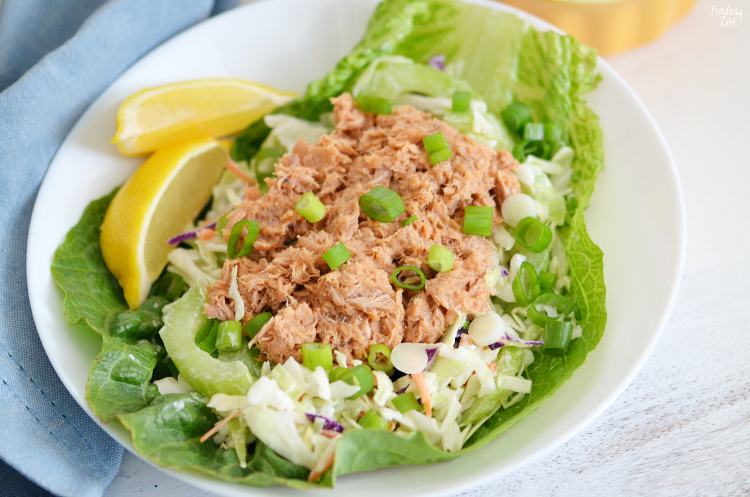 These buffalo lettuce wraps are the answer to my indecisive lunch habits. Each pouch is a good source of lean protein and contains 110 calories or less to keep me fueled. This low carb lunch idea is one that fills me up without any guilt.

Easy Buffalo Lettuce Wraps
Author:
Emilie at FindingZest.com
Ingredients
1 pouch (2.6 oz) Starkist Tuna Creations® BOLD Hot Buffalo
1½ cups coleslaw salad mix
½ cup sliced celery
2 tablespoons ranch or blue cheese dressing
1 or 2 romaine lettuce leaves
sliced green onion (optional)
Instructions
In small bowl, stir together coleslaw, celery and dressing.
Top lettuce leaf or leaves (depending upon size) with coleslaw mixture.
Add tuna and sprinkle with green onion (if desired).
Serve immediately or keep refrigerated until serving.
StarKist Tuna Creations BOLD flavors offer delicious & nutritious meal solutions to fit your busy lifestyle and add an extra kick of flavor. Look for them in the tuna aisle at stores nationwide.
Which flavor would you try first?
Be sure to follow @StarKistCharlie on Instagram and Twitter and like StarKist on Facebook. You can also visit StarKist for more information.