You may recall earlier this year I shared an image from the Angel Lush Cake I made for 4th of July. I loved how it turned out in every way from the presentation to the flavor and the added bonus that it is actually a very low in calories and fat. And I simply fell in love with the pineapple filling so when spied a recipe using the same ingredients for a fruit dip, I knew it would be wonderful for a party we had last month. It did not disappoint.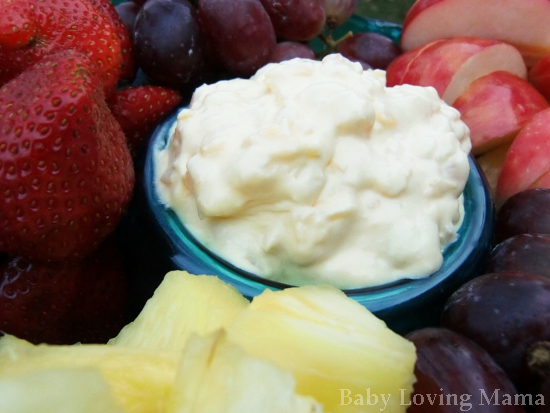 Serves:
26 servings of 2 tablespoons
Ingredients
1 pkg. (3.4 oz.) JELL-O Vanilla Flavor Instant Pudding
1 can (20 oz.) crushed pineapple in juice, undrained
1 cup thawed COOL WHIP Whipped Topping
Instructions
Whisk dry pudding mix and pineapple in medium bowl for 2 min.
Fold in whipped topping.
Serve immediately or chill if desired.
This is by far one of the easiest recipes that adds so much to a fruit tray, especially during the winter months when some fruits aren't at their peak of sweetness. You can also switch things up and serve them with graham crackers or cookies such as vanilla wafers.  It does serve a lot so be prepared for some leftovers if you have a small crowd but that isn't a big deal as this dip tastes good enough to eat on its own!
Disclosure: This recipe can be found at Kraft Recipes. While I have worked with Kraft Foods on promotions, this post is not sponsored nor compensated in any way by Kraft.