With far too many gray days lately I thought I'd share a sunshiny "craft" idea that you get to eat when you're finished. We recently made a felt rainbow and this time we went for an edible one! Although it's admittedly far from healthy, it's a fun treat for families with more than one child to share in the snacking or works perfectly as a birthday party centerpiece. Perhaps this is a fun St. Patrick's day rainbow activity? No matter how you use this edible rainbow inspiration I hope it's a fun and brings some color to your day!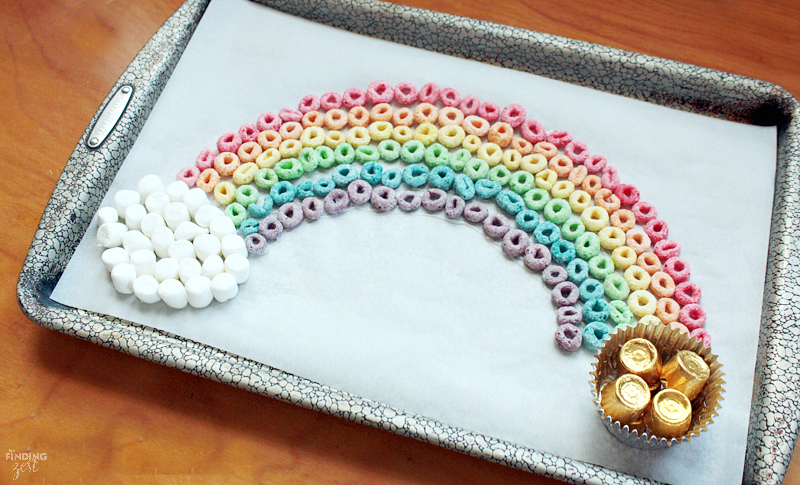 Edible Rainbow Supplies
Raid your cupboards or add a few sweet treats to your shopping list. You'll need: mini marshmallows, any rainbow colored cereal (I used Fruit Loops), gold foiled candy (I used Rolos), a metallic cupcake paper, Wiltons gel icing (I used clear sparkle gel) and parchment paper (optional).
Sparkle Decorating Gel 3-1/2-Ounce, White
ROLO Chewy Caramels in Milk Chocolate (12-Ounce Bags, Pack of 4)
Jet Puffed Miniature Marshmallows, 16 oz
Froot Loops, 21.7 Oz
Wilton Gold Foil Standard Baking Cups, Package of 24
Reynolds Cookie Baking Sheets Parchment Paper (Non-Stick, 22 Sheets)
Nordic Ware Naturals Non-Stick Jelly Roll Baking Sheet
For added convenience you can also have all these items shipped directly to you from Amazon!
How to Make a Cereal Rainbow
Since I was creating my rainbow as a test for my daughter's rainbow birthday party  I used parchment paper and lined a baking pan to keep things organized. You could also create your rainbow right on the surface of a decorative platter. The parchment paper did make for easy clean-up later!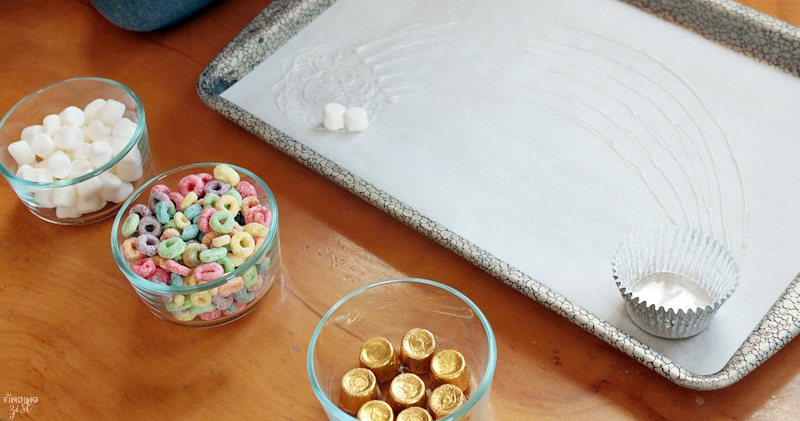 I organized my ingredients into cups so it made it easy for little fingers to help. Using your gel icing, draw the lines of your pattern onto the surface you're working on. I started with the cloud on the left making spirals or squiggles with the icing. *** Note: I wasn't sure how much space I needed for each row of cereal so I'd suggest drawing on one line of icing at a time and working your way down. I drew six lines of gel icing for each color of the rainbow (make sure you know how many colors are in your cereal of choice) and left room for the metal cupcake paper at the end. My daughter helped me put the mini marshmallows into place over the cloud area.
Next we started our rainbow by placing the cereal pieces onto the icing. Start at the top and work your way down adding icing where needed. Our cereal had six colors and in rainbow order they are red, orange, yellow, green, blue, purple.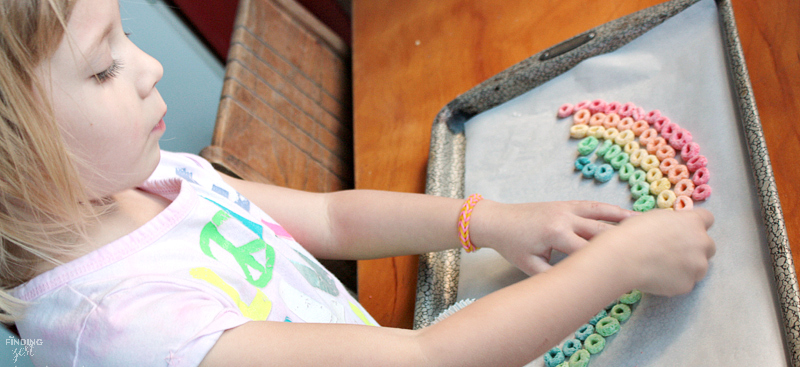 Continue working your way to the end, adding icing where needed.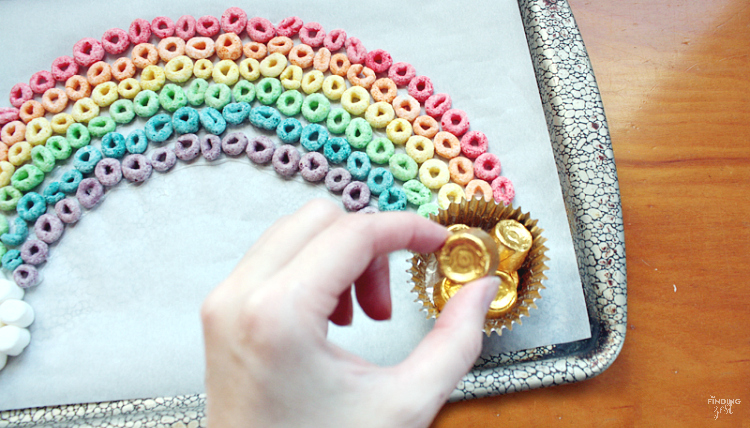 Lastly we added our Rolo candy to the end of the rainbow by tucking it inside of the metal cupcake paper!
Your edible fruit loops rainbow is ready to enjoy.  Be sure to eat it shortly after creating this treat for the freshest cereal and marshmallows. If you're making this for more of a decoration or centerpiece you can make ahead of time. Save those precious party planning hours on the day of the event.
Love Rainbow Food?
We've also made this fruit rainbow kids activity that is similar but a healthier option than cereal with whipped cream clouds. If you have a bit more time, you could make this homemade rainbow bagel recipe or these healthy rainbow popsicles. Your kids will love them!
If you enjoyed this edible rainbow tutorial please consider sharing on Pinterest or leaving a comment below.