This is a sponsored post written by me on behalf of Visit Gulf County. All opinions are 100% mine.
I had the opportunity to visit Florida three times last year. I fell in love with Florida as a whole, but still haven't had the opportunity to visit the panhandle.  After reading more about Gulf County, Florida, it is now on my list to visit.  My favorite vacations have always been those that offer both adventure and a chance to really relax. Florida is a great destination for offering both! Here is my idea of a perfect Gulf County, Florida vacation.
Renting a beachfront property so we have easy beach access. We'd admire the wildlife, go shelling, build sandcastles and soak up the sun! We could spend all day here, but when the sun gets too hot we can head back to our beautiful rental for a break!
Rent a boat and go fishing. My husband and I have spent our whole lives in Minnesota. We really enjoy fishing and don't get to go often anymore. We'd love to experience fishing in Florida with our boys and go for a nice long boat ride!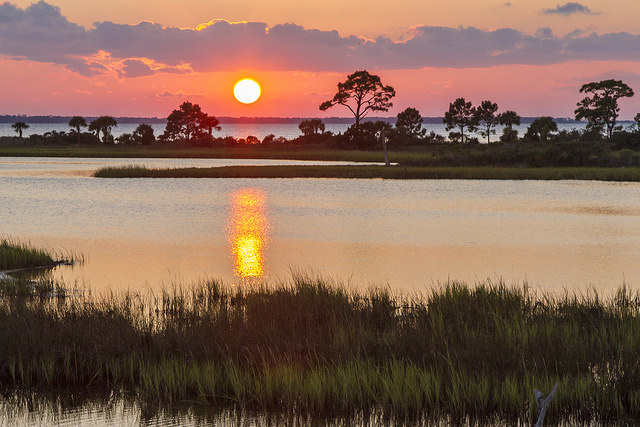 Watching the sunset. Doesn't even matter where. All of the sunsets that I've seen over the Gulf of Mexico have been breathtaking and I have no doubt this would be the case in Gulf County. Here is a picture to prove it.
Horseback riding on the beach. I love being adventurous while on vacation and that means doing things I never get to do at home. I have only been horseback riding a few times, but the idea of being able to do it on the beach is just too good to pass up!
If you also love exploring the outdoors, you should consider Gulf County, Florida as well for your next travel destination. With so many fun options, the hardest part will be narrowing down your choices. Check out the Gulf County Adventure Guide for more great ideas!
Gulf County has been offering a fun weekly contest where 10 lucky winners receive a $50 gift card to have an adventure of their own in their local town! How cool is that? It is easy to enter, but the contest ends April 13th, so don't miss out on your chance to win this week!