Frogs are certainly a favorite animal for my three boys. They've always enjoyed jumping like a frog and saying, "ribbit!" We typically have several in our yard during the warmer months and have followed them around to observe. Since we just post this fun Frog Pond Cookie Cups recipe yesterday, it seems like the perfect time to share these 10 fantastic frog activities for kids! From games to science projects to art and sensory play, this list has a wide variety of frog related fun for children.

Frog Activities for Kids:
And if you are looking for some cool frog treats to go along with the activities, be sure to check out the frog treats we posted yesterday which feature a chocolate cookie bottom, pudding "water", candy grass/reeds and an adorable gummy frog. It works perfect for celebrating nature this spring, or as a kid-friendly option for a frog birthday party! They are the perfect size for little hands and a child-sized portion.
And if you are considering a frog themed kids birthday party, check out the frog birthday cake I made for my niece a few years ago. It features a sugar cookie face and was a labor of love but a huge hit!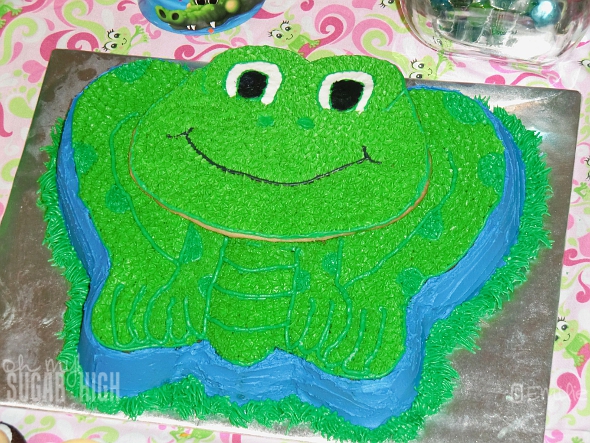 Can you guess what insect cake pan was used to create this frog cake?? The answer might surprise you.
What frog activity would be the first you'd want to try out with your kids?