In my house, dairy is an important part of our diet. From serving milk at our meals to eating yogurt for snack, dairy is one of our favorite ways to get our daily calcium and load up on protein. When I was asked to join the REAL® Seal Dairy Divas, a network of bloggers sharing their love of dairy, I knew it was a perfect fit.  The REAL® Seal provides individuals and families with a guarantee that they are buying genuine U.S.-made dairy products.  Today, more than 350 companies use the REAL® Seal on more than 10,000 products! To kick off this partnership, my first post features a favorite family recipe with dairy. I discovered these Cranberry Orange Scones with Orange Butter more than a decade ago and they became a treasured recipe.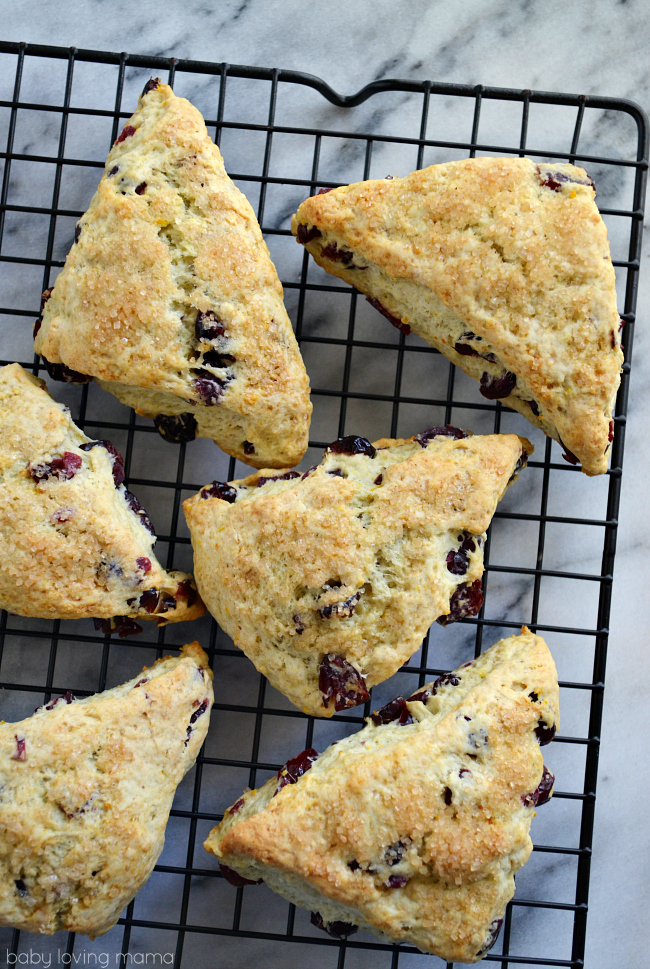 When I looked in my fridge to gather ingredients, I realized right away that my dairy products displayed the REAL® Seal.
It wasn't hard to find on either products. While one had it located on the back, the other prominently displayed the seal on front of its packaging. I was happy to see that products I was already buying had the seal!

Since this recipe requires combining a flour mixture with cold butter to create coarse crumbs, I highly recommend cutting the butter into small cubes to make this job easier. If you have a pastry blender it is ideal, but one or even two forks can get the job done.
If you want larger scones, you can pat your dough into an 8 inch circle and cut into 10 wedges. I prefer to get 12 scones from this recipe so I pat my dough into a 9 inch rectangle.
I then cut my dough into 3 inch sections and each square in half again until I get four wedges from each section.
Brushing with milk and sprinkling a coarse sugar on top will make your scones really sparkle!
While the orange butter isn't necessary, it really makes this recipe stand out. As we often say in my house, "Butter makes everything better!"This orange butter tastes so good, you could eat it by itself. You wouldn't believe it is only two ingredients!
If you've never tried making scones before, they aren't as hard as you might think.  You don't even have to pull out your mixer! (Bonus, right?)
No other scone recipe I've tried even comes close to being as good as this one! Give it a try. You won't be disappointed!

Cranberry Orange Scones with Orange Butter
Ingredients
2 cups all-purpose flour
2 tablespoons sugar
1 tablespoon grated orange peel
2 teaspoons baking powder
½ teaspoon salt
¼ teaspoon baking soda
⅓ cup cold REAL® Seal butter, cut into small cubes
1 cup dried cranberries
¼ cup orange juice
¼ REAL® Seal half and half cream
1 egg
1 tablespoon REAL® Seal milk
2-3 tablespoons turbino sugar
½ cup REAL® Seal butter, softened
2 to 3 tablespoons orange marmalade
Instructions
In medium bowl combine flour, sugar, orange peel, baking powder, salt and baking soda.
Cut in butter until mixture resembles coarse crumbs using a pasty blender (or fork) and set aside.
In small bowl combine cranberries, orange juice, cream and egg.
Add to flour mixture and stir until soft dough forms.
On a floured surface gently knead 6-8 times.
Pat dough into a rectangle that is 9 inches long.
With a sharp knife, cut rectangle into three even parts the long way, 3 inches wide.
Slice each three inch section again in half and then each square in half again so you get 12 triangular wedges total.
Separate wedges and place on baking sheet lined with parchment paper or a silicone baking sheet. (Ungreased will also work.)
Brush with milk and sprinkle with coarse sugar.
Bake at 400 degrees for 12-15 minutes or until lightly browned.
Combine softened butter with orange marmalade.
Serve with warm scones.
Notes
This recipe is a slightly altered version of the 2001 Taste of Home Annual Recipes cookbook.
Be sure to like REAL® Seal on Facebook and follow them on Pinterest for more great recipes like this and to stay up to date on the latest diary news!
Watch for more recipes and special promotions as part of my involvement with the REAL® Seal Dairy Divas!