Thank you Waxing The City for sponsoring this post. Unwanted hair is part of life…and so is getting rid of it. From brows – to backscaping – to bare it all Brazilians –we've seen it all. With 100 locations open –you'll be sure to find a Waxing The City studio near you. First time customers get 50% off their first service!
I am happily married but I still like trying new things. When you've been with your spouse for over 20 years, you look for ways to shake things up a bit. I knew my husband would love it if I got a full Brazilian wax. I had considered several times yet was just too chicken to actually make the appointment. But I finally did it and survived!  Sit back and relax while I tell you all about the journey of my first time Brazilian wax at Waxing The City.
I've watched the movie, The 40 Year Old Virgin. The waxing scene was slightly traumatizing. (Steve Carell really did get waxed in those scenes.)  I've had my legs and brows waxed but I knew that experience would never compare to having a whole lot of hair ripped out at once in my most sensitive area. I doubted that I would be yelling out, "Kelly Clarkson!" like Steve but I expected some pain and prepared accordingly. And by prepared, I mean I scoured the internet reading up on tips and what others have experienced hoping that my tolerance for pain was higher than most.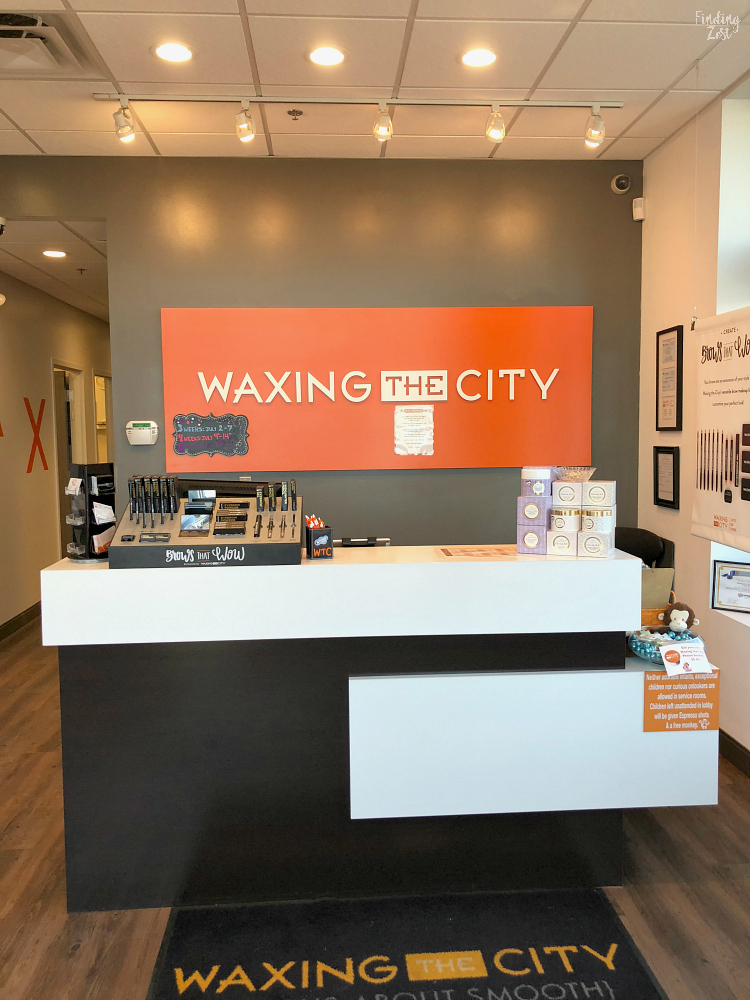 Visiting Waxing The City
I walked into my waxing appointment at Waxing The City feeling a bit nervous and excited at the same time. My husband knew about my appointment and had been giving me knowing looks and encouraging words throughout the day. He was pumping me up like I was doing something special. It kinda felt like I was.
I met Kadie, my wax expert, who immediately put me at ease and brought me to a private room.  Kadie explained thoroughly how their wax process worked, including a demonstration of applying the wax and ripping it off. Wax The City uses a special hard wax for the face and sensitives areas with no cloth strips! Instead, the wax hardens and is then torn off to remove the hair from the follicle.
Waxing My Eyebrows
Kadie started by doing my eyebrows first. While I had originally only planned to get the full Brazlian wax, I was long overdue on my brows. Getting my eyebrows waxed was a great way to ease into the transition of getting a full Brazilian.  It gave me a chance to get to know Kadie before showing her my lady bits and it made me feel more comfortable.
Normally when I get my brows waxed at the salon I'm not really that involved in the process. But Kadie asked a lot of questions about what I wanted as she examined my brow shape, brushing them out and handing me a mirror.  I didn't do anything too crazy but loved how she cleaned them up.
The hard wax worked so well that I could hardly tell that she had even waxed them. It was virtually painless. While I'm sure I'm a bit desensitized since I have my brows done regularly, I did notice it hurt less than usual.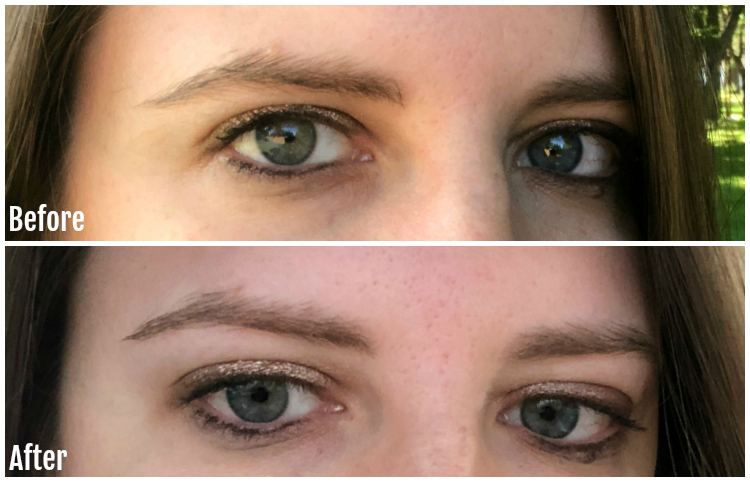 My Full Brazilian Wax Experience
When it was time for my Brazilian I had to strip from the waist down and was given wipes to clean up, a special numbing product to reduce pain and a cloth to cover myself. At this point it very much like a doctor's visit. And while you might think it is unusual to have someone you just met so close to those parts, a doctor's appointment can be even more invasive.
Kadie rubbed me down with powder and explained her process as she worked. She even showed me the hair on the wax to demonstrate how well everything was working. I quickly discovered that getting up close and personal with my hoo-ha was no big deal. Kadie sees vaginas and butts all day, every day. She pays attention to the hair itself and the best ways to remove it. There was really no reason for me to feel uncomfortable or embarrassed and so I wasn't. It also helped that Kadie did her best to distract me and we chatted a lot!
What I Learned from My First Brazilian Wax
Don't get waxed too close to your period or the first few days of your period to avoid any extra sensitivity. I went right at the end and that seemed to work well.
Be prepared for tweezers. I thought that this would be waxing only but my waxing specialist got right in there to catch any strays and clean it up.
For best results you need hair that is at least 1/4 of an inch in length. They can work with longer hair so if you go looking like a woolly mammoth, that is better than having shaved recently.
Not all of it hurts. The bikini line is not very painful at all and neither is the backside. The pubic mound is the most sensitive area by far but that part was over much quicker than I expected.
It is smart to get waxed consistently. This causes the the hair grows back slower, finer, and sparser. My waxing specialist mentioned getting my hair on a "schedule" for growth which offers the best long-term results.
Funniest Brazilian Wax Moment:
To do my backside I was flipped over. This area was surprisingly not sensitive at all and I barely noticed the pain when she waxed it.  But then my waxing expert went in with the tweezers and the song, "Sexy and I Know It" came on. Kadie mentioned you never know what XM radio was going to start playing during a waxing session. I just laughed.
I had someone literally tweezing my butthole while hearing, "Wiggle, wiggle, wiggle, wiggle, wiggle, yeah" and "Girl look at that body"
That doesn't happen every day.
Besides offering a wide variety of waxing services, Waxing The City also has after care products, including an extensive selection of brow products!
What Did My Husband Think of My Brazilian Wax?
He loves it. No really, he LOVES it. I got my wax done a couple of days before Father's Day and he whispered in my ear, "Now THIS is a Father's Day present." I've never felt sexier.
Was it Worth It?
Yes! I already scheduled my next appointment for both another eyebrow and full Brazilian wax! While my hair is already growing back in, it is so soft. I loved the results and the overall experience was so much better than I originally expected. Now I'm always beach ready!
Waxing The City Discount
Did you know that first time guests can receive 50% off their service? Visit waxingthecity.com to schedule your service and enjoy a hair-free summer. Trust me, the results are worth it! At Waxing The City, they've seen their fair share of hair in every shape, size and color fur, fleece and fuzz you can imagine. In fact, they've done more than a half a million Brazilian waxes. Once you go completely bare down there, you'll be a Brazilian Believer, too.
I was selected for this opportunity as a member of CLEVER and the content and opinions expressed here are all my own.