I have such great memories of attending spa parties for girls as a child. When my daughter and I were discussing birthday party themes for her this year I suggested we use my new spa products to treat her friends to a facial and foot/hand treatment. She was excited to plan all the details of her girls spa party with me, including homemade bath salt party favors!
Girls Spa Party Ideas
The best part of spa birthday parties is the fun product that the guests get to try. We decided to do a mini facial, exfoliating hand scrub and hand lotion, peppermint foot soak and scrub, as well as a few simple party games.
Everyone started the spa party with their exfoliating hand treatment. We applied a deeply moisturizing lotion on damp hands first. Then came the fun exfoliating scrub which the girls loved rubbing into every nook and cranny of their hands. They finished with a hand cream with a soft scent.
I split the girls into two groups for the facials and foot soak/scrub and convinced my amazing husband to help manage the girls soaking feet while I lead the facials.
For the facial we started with a warm wash cloth and simple cleanser. Then the girls applied an incredibly gentle face mask. Of course we had to add the cucumber slices for the full spa experience. Once the mask was wiped clean they finished with a light moisturizer. I also offered a simple foundation CC cream and lip gloss that they got to add to their favor bag to take home.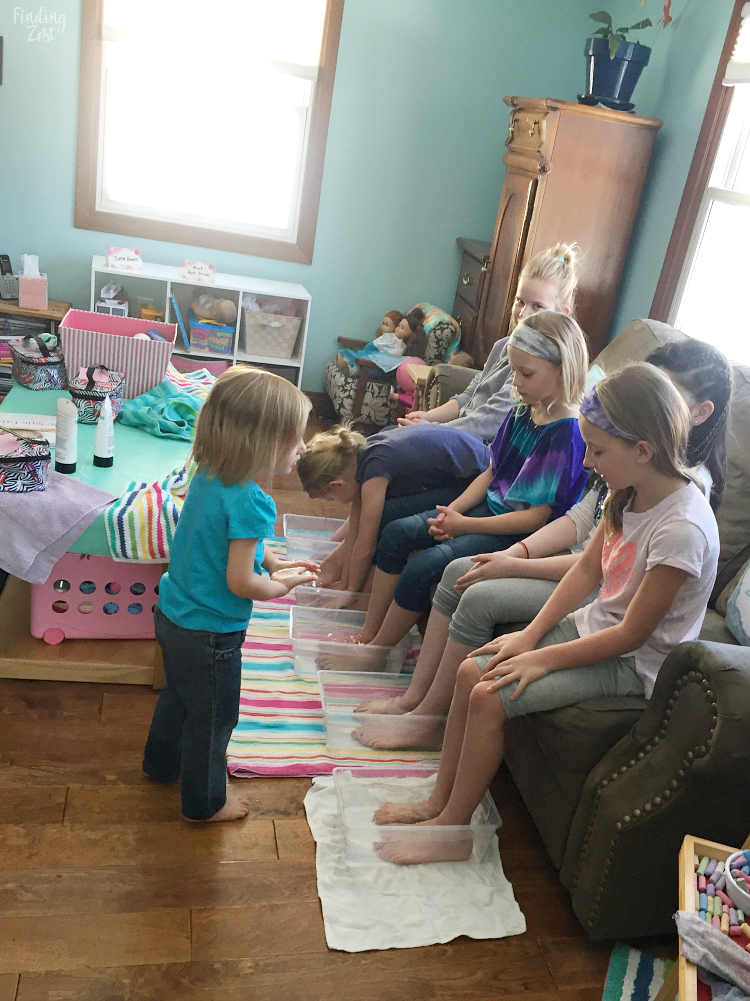 Meanwhile, the other group was busy soaking their feet. I got plastic shoebox-sized bins for each guest so we could have water near their seats. I made sure to have towels under each little foot bin and of course extra towels to dry.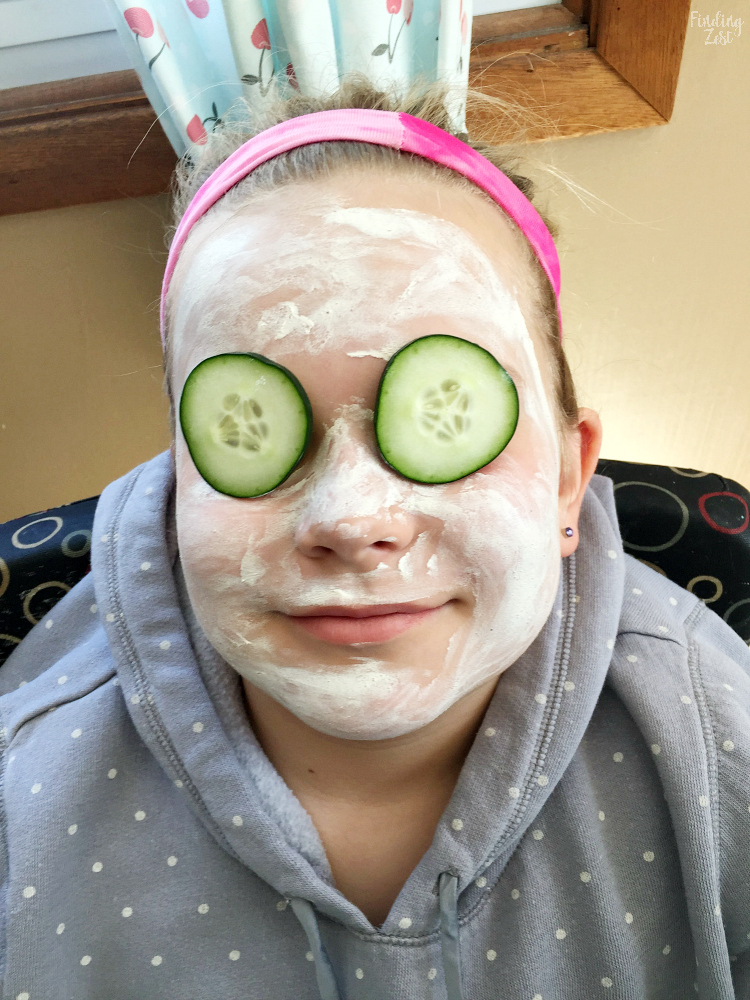 This was a great opportunity to talk about the importance of keeping our face clean and how to use gentle pressure when cleaning the sensitive skin on our face.
We also did a few party games including a word search,
pin the cucumbers on the spa lady
, and we made our own scented bath salts for the guests to take home as favors. See directions below to make your own!
Spa Party Supplies
Most of the supplies for this kids spa party can be conveniently found on Amazon and any local big box retailer like Target or Walmart. Here are just a few of the spa party supplies we used or think would be fun!
Spa Themed Paper Products and Decor
A few special themed paper products go a long way for any party. We used the Little Salon Makeover Party but here are few more spa party supplies from Amazon.
BirthdayExpress Little Spa Salon Makeover Party Supplies – Value Party Pack
Cedar Crate Market Sparkle Spa Party Supplies Pack Bundle for 16 Guests: Straws, Dinner Plates, Luncheon Napkins, Cups, and Table Cover
Makeup Glamour Birthday Party Supplies Set Plates Napkins Cups Tableware Kit for 16
Girls Spa Makeup Birthday Party Supplies Pack – Dinner Plates, Cake Plates, Napkins, Cups (Deluxe – Serves 16)
Spa Party Activities and Games
For party games, Etsy has several great options that you can instantly download and print off including
spa bingo
and
pin the cucumber on the spa lady
, which we used for this party.  Amazon also has this adorable spa themed
photo prop kit
, perfect for a photo booth before, during or after your spa activities!
Spa Party Favors
Party favors for a girls spa party are really endless. Any health and beauty product works well. You can make handmade bath salts like we did (full instructions below) or you can purchase other fun products like nail polish or flavored lip balm.
Lip Smacker Original Flavors Party Pack Lip Glosses, 8 Count
GIRLIE MINI EMERY BOARDS (1 DOZEN) – BULK by Fun Express
Mudder 10 Pack Eye Mask Shade Cover Blindfold Travel Sleep Cover with Nose Pad, Black
eBoot Tie Dye Headbands Cotton Stretch Headbands Elastic Yoga Hairband for Teens Girls Women Adults, Assorted Colors, 10 Pieces
Kleancolor Nail Polish – Awesome Metallic Full Size Lacquer Lot of 12-pc Set Body Care / Beauty Care / Bodycare…
New8Beauty Toe Separators Toe Spacers (12 Pairs)- Apply Nail Polish During Pedicure Manicure – Stocking Stuffers for Men Women Teens Girls Kids – Nail Spa Party Supplies
Footcandy Original Pedicure Slipper 12-pair Party Pack
For our party we used a toiletry bag for each guest to take home. You can find them at the dollar store or the travel toiletry section at most big box stores.
Spa Party Pampering Products
For the pampering during the spa party, here a few general supplies we used to help you plan.
Hand exfoliating treatment
Foot soak/scrub
Facial: cleanser, gentle mask, moisturizer, foundation, lip gloss
Wash cloths and hand towels
Table top mirrors
Beauty product trays, paper plates or wax paper (I used artist's palette paper)
How to Make Bath Salt Party Favors
Bath Salt Favor Supplies
• essential oils of your choice (only if your epsom salt doesn't have a scent)
• baking soda (I used
Arm and Hammer
)
• containers with a sealed lid
• jar label
• permanent white marker  (or metallic gel marker and a fixative spray)
Beauticom 12 PIECES 60 Grams/60 ML (2 Oz) Leak Proof Round Acrylic Container Jars with Screw Cap Lids for Beauty Cosmetic Jewelry Charms Rhinestones (Clear Base with Teal Lids)
BalsaCircle 12 pcs 4 oz. Clear Round Glass Jars Favor Holders – Wedding Party Candy Gift Packaging Decorations Supplies
Brajttt 25 pieces of French Square Glass Spice Bottles 4oz Spice Jars with sliver Plastic Lids, and Labels
1.5″ Inch Round Handmade with Love Stickers in Black and White, 500 labels per Roll.
Cohas Chalkboard Labels for Mini 1.5 Ounce Hexagon Spice Jars includes No Marker and 210 Labels, Small Round and Rectangle, Refill Kit No Marker
Sharpie Sharpie Poster-Paint Markers Fine, White (35583)
DIRECTIONS:
Simply mix your epsom salt and baking soda in a 1:1 ratio. If you have epsom salts that already have the essential oil fragrance added you're set. If you have fragrance free epsom salt you can add a drop or two of your favorite, calming essential oil.
Have the party guests help measure the bath salts and baking soda into a large bowl.
Mix the salt and soda together well. Guests at a kids spa party can take turns stirring.
Using a small spoon or funnel (you can make your own by rolling a piece of printer paper) scoop the bath salt mixture into the individual favor jars. I like the glass favor jars with the tight sealed lid. If you have younger kids you could get the smallest food storage containers with lids or the acrylic cosmetic containers.
Add a decorative label on the lid to clearly label the bath salts. I suggest using a white, permanent paint marker. I I used a metallic gel pen. If your marker isn't drying fully, you'll need to spray a fixative (I used a spray varnish) on the stickers before applying them to the lid so they don't smudge.
This is a simple and fun spa party activity but could easily be used as a gift for friends or even a wedding shower favor. They'd even work for bridesmaids gifts for a bridal spa party. Add a small scoop to warm bath water and enjoy the calming essential oil scent while the epsom salt does its work on your sore muscles. You could also make your own mini foot bath to use your homemade bath salts. Epsom salts are know to soothe aches, pains, sprains, and stings as well as relieving muscle tension.
Hope you enjoyed these girls spa party ideas and homemade bath salts party favor!