Thank you to I Love Ice Cream Cakes for sponsoring this Football Party Dessert Table post. Thoughts are my own.
Football season is back in full swing! Can you sense my excitement? While I love so many aspects of fall like pumpkin flavored everything, changing leaves and Halloween, it is watching football that gets me pumped up. Regardless of whether you are a fan of the game, everyone can rally around the food. Normally we think of savory foods for fan fuel but you can kick the ball right through the goal posts with an awesome football party dessert table! Creating one is easier than you think. Read on to learn some easy tips for putting together your own football themed dessert spread.
Football Dessert Table Essentials
When putting together any dessert table, you'll want to offer a wide variety of desserts and present them in different ways. For a football table I concentrated on the standard football colors and textures including brown, green, white, yellow, and black. I covered my table with a black tablecloth and a football themed paper table runner I had on hand.
Tailgating Tip: For an affordable tabletop try artificial grass carpet from your local hardware store. It is inexpensive and can be used over and over.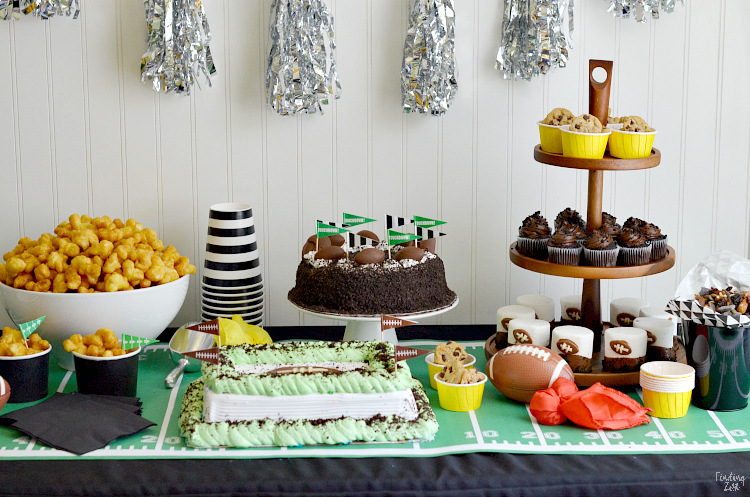 For a more visually appealing dessert table, present your food at various heights. For my spread I included a three-tier stand, cake stand, large bowl, treat cups, and metal bucket. Don't be afraid to pre-fill some of your treat cups. It works great for filling spaces between desserts and takes out the guesswork for your guests.

My treats reflected my color scheme as well with lots of brown and white with splashes of green. I used traditional treats like mini cupcakes and cookies but also offered unique choices like my jumbo marshmallows and sweet and salty trail mix.
Dessert Table Tip: Don't make your guests choose only one dessert. Including smaller or bite size desserts allows guests to enjoy multiple treats from your table.

Salty snacks and football go hand in hand so I made sure to include popcorn. This homemade caramel puff corn is the perfect blend of sweet, salty and crunchy!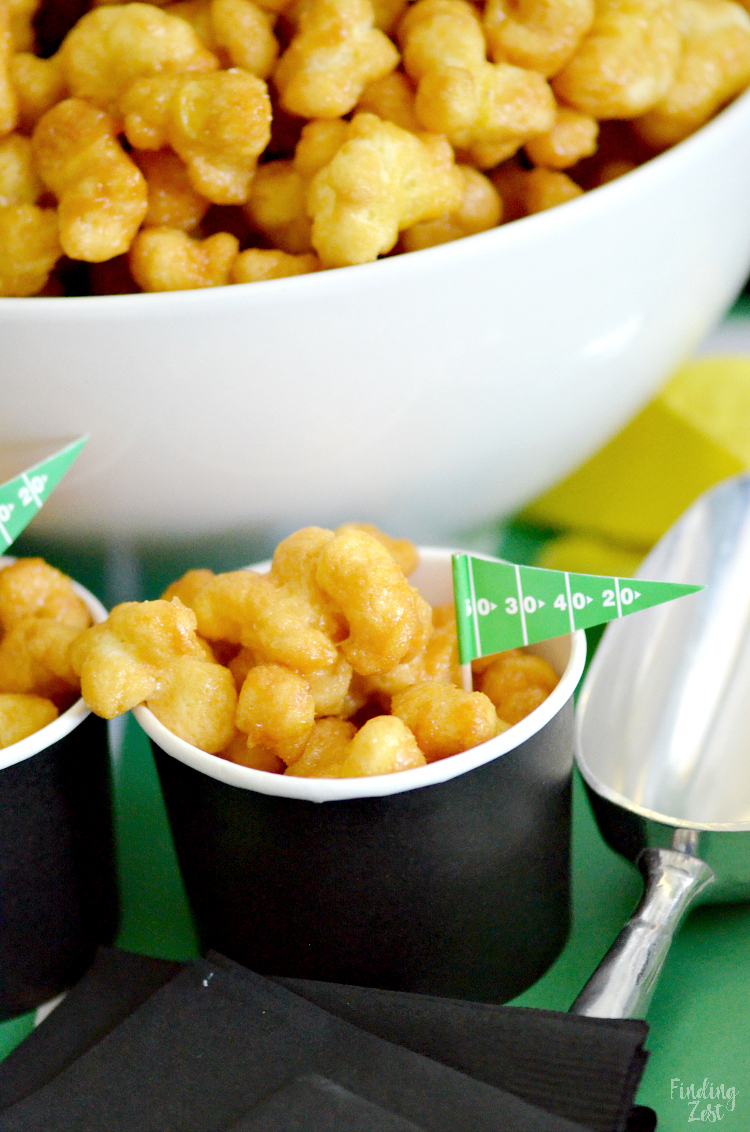 How to Save Time on a Dessert Table
Putting together a dessert table for any party can be a daunting task. To save time and my sanity, I only make some of the items homemade and purchase others. My secret is to add my unique touch to pre-purchased items. Take pre-made items and present them in a fun way like I did with my treat cups filled with mini cookies. It is simple but works! Would you believe those cakes are not homemade? Even better, they are ice cream cakes from I Love Ice Cream Cakes. And trust me, my family does. They'd much rather have ice cream cake than a traditional cake, and I can pick it up on a regular grocery run!
I picked up my ice cream cakes from my local Walmart. I found them in the freezer case right near the traditional cakes in the bakery section. There were many different styles and sizes, making it a convenient option for any celebration!

While this Carvel® Ice Cream Sheet Cake with Confetti doesn't exactly fit my theme, it wasn't hard to give this cake a football feel. And there is also a Carvel Football Ice Cream Cake available to make things EVEN easier (check here to see if there's a store near you carrying this cake.).
To make a chocolate football, I heated up 5 tootsie rolls for just 20 seconds in the microwave, just to soften them. I stirred in about a tablespoon of powdered sugar to cool it off but still keep it pliable. I rolled out this candy mixture with a fondant roller and used a football cookie cutter to create my own cake topper. I finished it off with some laces made from a vanilla tootsie roll using that same method.
I also piped on some whipped topping frosting I made and dyed green. I would have loved to use real whipped cream but that can be unstable and I was working in a warm kitchen. I covered the blue icing with the green whipped topping frosting in a swirl pattern with a 2D tip.
To finish off the look I sprinkled some OREO® crumbs over the top and added four football themed party picks, one to each corner.
My second ice cream cake was even easier than the first since I didn't have anything to adjust! The OREO® Premium Ice Cream Cake features vanilla-flavored ice cream blended with OREO cookie pieces plus whipped icing topped with a large OREO cookie wafer and OREO cookie pieces. What is not to love, right? The colors for this cake blend in perfectly with my football party.
To add a football theme to this cake I stuck with football picks and chocolate toppers I made using milk chocolate and this football mold. I loved how this football cake turned out so fun, festive, and colorful!
Chocolate Tip: When applying your chocolate toppers, use small tongs to avoid any fingerprints or melting chocolate.
To finish off the table, consider additional football party accessories such as mini footballs and flags as shown. Oh, and don't forget some drinks!
I couldn't wait to cut into the ice cream cakes! Carvel's ice cream cake is made with layers of vanilla and chocolate ice cream with those delicious chocolate crunchies and fresh whipped icing. This ice cream cake is perfect for any celebration, football or otherwise! It really is so good.
I hope these tips and ideas help you create an amazing dessert table that wows the crowd at your next football party!
Love ice cream cakes?
Join the Crunchie Club, where you can get product news, coupons and other info (you get $5 off just for signing up)! See what varieties are available in your area with the store locator.