Celebrate long standing football rivalries with a party! These football party ideas and Homegating products will help you tailgate at home and represent both teams in the game. This is perfect for those with friends and family who like different teams and want to watch the game together while they battle it out. Going head to head has never been more fun! Thanks to NFL Fan Style for sponsoring today's post.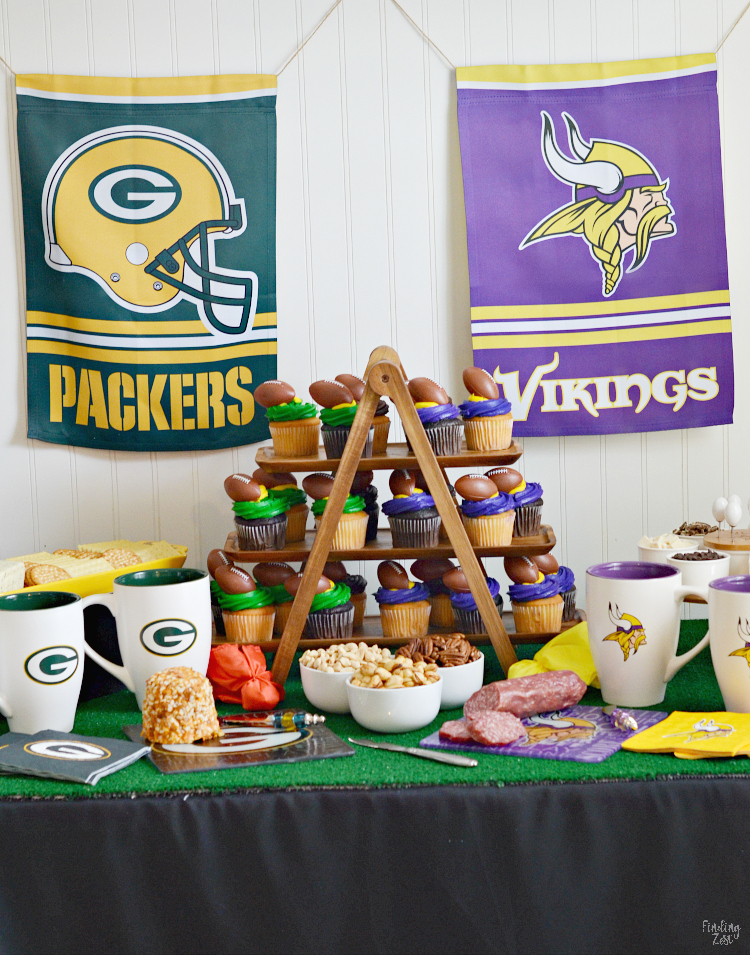 You know your rivalry is strong when you feel your most important games of the season are tied to one team. When your team beats your rival it is a victory for the season and eases the sting if you don't make the playoffs.  I live in Duluth, a border town between Minnesota and Wisconsin on the shores of Lake Superior. While Vikings fan still dominate my city, Packers fans can be found everywhere. No one wants to eat a slice of humble pie or take the walk of shame into work the day after a loss to your biggest rival.
How to Throw a Rivalry Football Party
If you have family or friends who love another team, celebrate the showdown with a rivalry football party!  These football party ideas work great for showcasing two teams, regardless of whether you live in an area that borders your rival. I started by lining my party table with a black tablecloth and then covering the top with a carpet that resembles grass from my local home improvement store.
Note: I did have to purchase enough to cover multiple tables since it is 12 feet wide, but it was a good investment for multiple parties and great if you have more than one table to cover. You can also re-purpose the excess for everything from coasters to a floor mat. It cost me just over $20.
Football Team Banners
For the theme, I really wanted to clearly defined one team on each side of the table. To showcase the match up, I used garden flags as banners. These banners were very inexpensive and double sided for two options. To hang them I taped some twine to a wooden skewer on the dull end and pulled it through the opening at the top.
Green Bay Packer Garden Flag | Minnesota Vikings Garden Flag
Football Cupcakes
At the center of my party table were football cupcakes in team colors. I ordered cupcakes from my local warehouse store and requested football rings to fit the theme, but you could easily make these homemade. These colorful cupcakes where displayed on a Picnic Time wooden tiered dessert ladder that was engraved with my favorite team on each level. This dessert stand adds height to my table and is so versatile for entertaining beyond game day!
Homegating Cocoa Bar
I thought a cocoa bar would be fun, especially for my kids who think the best part of watching football is the food! l used this engraved Picnic Time ceramic and bamboo platter to display different toppings in a unique way. This works great for all types of appetizers and the small cups are perfect for condiments. I placed it on a white cake platter to give it some height.
Go big or go home in football, right? These Memory Company matte mugs are 22 oz. and stand out! Represent your team with large mugs while watching the game. With the generous sizes you can be less worried about spills as you celebrate a touchdown!
One of the most inexpensive ways to decorate your table is with party napkins featuring team logos. Not only do they add some fun colors but they also serve a practical purpose. These football napkins are the best quality I've ever found, hands down. You can find them in this football gift set which also includes a small team cutting board and spreader.
Homegating Snacks
For the Green Bay Packers I had to have some cheese represented on my table.  The small cutting board worked great to hold my cheese ball and the spreader was perfect for serving it.
Green Bay Packers It's a Party Gift Set | Minnesota Vikings It's a Party Gift Set
The cutting board also is a nice option for cutting meats like the genoa salami which I offered on the Vikings side of the table.
Since my two wooden pieces on my table are engraved with the Vikings mascot , I chose this colorful Boelter Green Pay Packers appetizer tray to hold some additional cheese and crackers. This is another way to incorporate color and was so affordable!
NFL Blankets
Watch the game in style and comfort with team blankets! I love to cuddle up and watch a game on our couch with my family. Since the television is at the heart of any homegating experience, why not make you and your guests as comfortable as possible? Both of these Northwest throw blankets are super soft and extra-large, however the Packers Cloud Throw is exceptionally nice and even double sided!
Green Bay Packers Throw |Minnesota Vikings Throw
As you can see, I used many items from NFLshop.com to complete my battle spread Have you seen all of the incredible Homegating products? There's really something for every part of your house!
I hope you've enjoyed these fun football party ideas and tips for how to host a homegating "battle" spread during a big rivalry game! Tailgating at home with both teams represented in your decor and food selections makes it extra enjoyable for fans of the teams going head to head. Have fun battling it out!