This is a sponsored post for SheSpeaks/P&G. Thoughts are my own.
It is no secret that I love football. I talk about it often, but I love to sit down with my husband and spend quality time with him watching the game. And even though my team lost in the playoffs, I still enjoyed watching and wouldn't miss the big game. When my own team isn't playing, it is really easy for me to focus on other things that make game day special! During the game I can relax and enjoy my favorite sport without all the nerves that can eat me up when the score is close.
One of my favorite traditions this whole football season has been to prepare fun snacks for my family. I made a simple queso dip with chips weekly, but I often also offered a meat and cheese tray and other game day fuel.

While the food might not be required to watch the game, it certainly is a fun excuse to have some fun in the kitchen before game time. It is also makes football more enjoyable for my kids because they look forward to my snacks!
I also like having fan gear to show off my loyalty. I bleed purple and like letting others know who I'm rooting for with my own personal style.

Getting game day ready can be a lot of fun, regardless of whether you watch the game at home or head to the stadium. A little purple and gold eye shadow and nail tattoos or colorful polish are just a few of the ways to show team pride.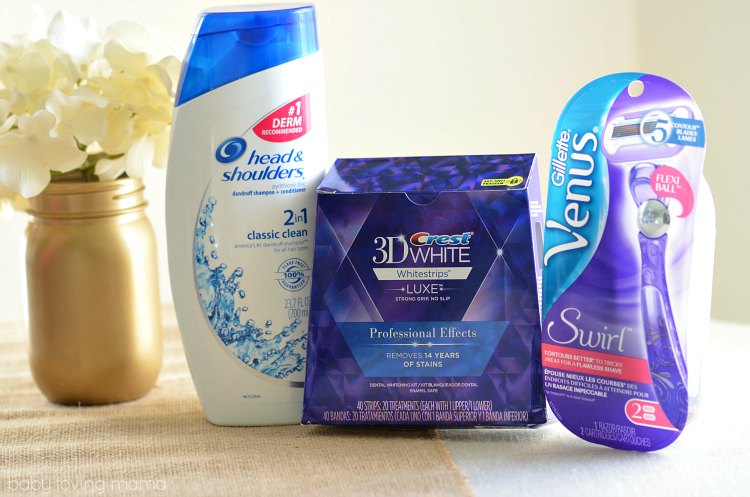 P&G has plenty of products to make sure you look your best on game day.
Smooth legs are a must, especially if you are wearing a skirt. Pairing a flirty floral skirt in your team colors with a team tee is a great casual look!  Gillette Venus Swirl Razors are a good way to make sure those legs are silky smooth! FlexiBall technology helps to contour better to tricky areas, like knees and ankles and the MicroFine comb guides hair to the blades.
Of course, it is also nice to have a gorgeous white smile while cheering for your team! Crest 3D White Whitestrips Professional Effects offers an easy way to get those pearly whites bright again using the same enamel-safe teeth whitening agent dentists use in the comfort of your home. I hadn't tried these before and found them really easy to use. I've already noticed a difference after just a few applications. It removes up to 14 years of stains and results last up to 12 months. pretty awesome, right?

We always have Head & Shoulders in our home. My husband suffers from dandruff and Head & Shoulders is part of his every day routine to avoid flakes.  It is the#1 dermatologist-recommended dandruff brand after all. If we run out, it shows almost immediately. I like Head & Shoulders for my dry scalp in the winter. It is gentle and pH balanced for daily use on all hair types, even on colored or chemically treated hair. Just a simple 2-in-1 product that helps you get ready even faster on game day!

Look for these P&G products and more at your local Walmart to be game day ready!
Do you have any game day traditions?