While I enjoy being in the kitchen with my kids, I am so glad I decided to take part in the Mini Chef Monday series. It is a reminder to make sure I'm spending quality time with them regularly doing something we all love. Over the weekend we got to experience unseasonably warm temperatures and some sun which has been sorely lacking as of late. I wanted to make something with Wesley that would be super fun for him to present to his brothers as a special treat. I have seen similar frozen banana desserts floating around pinterest, but we gave them a holiday twist with Valentine's Day sprinkles
and heart cupcake picks
. I hope you give these Chocolate Banana Sundae Bites for Valentine's Day a try!
We did not follow any instructions for this recipe, so feel free to switch up the directions if you know a better way to work with bananas.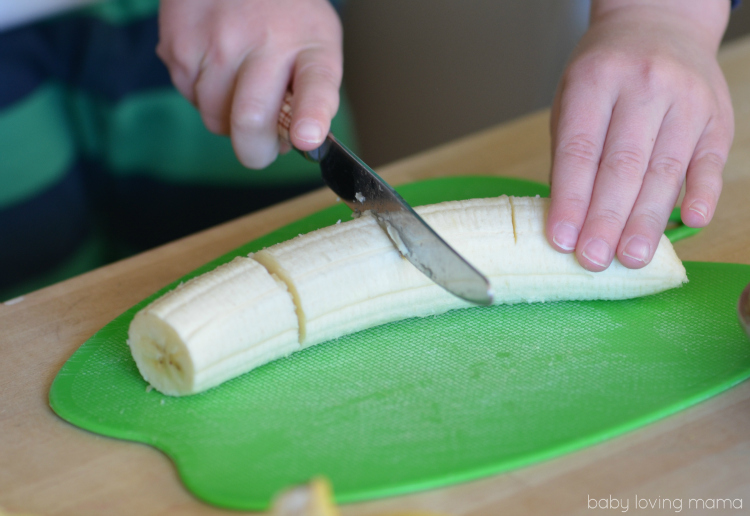 Wes loves cutting bananas and it is great job for preschoolers.  To keep the sizes relatively even, I lightly marked where Wes should cut the bananas and he did the rest.
You definitely want to make sure you freeze the bananas a few minutes before dipping them in chocolate. It helps keep them firm and avoids them browning as fast.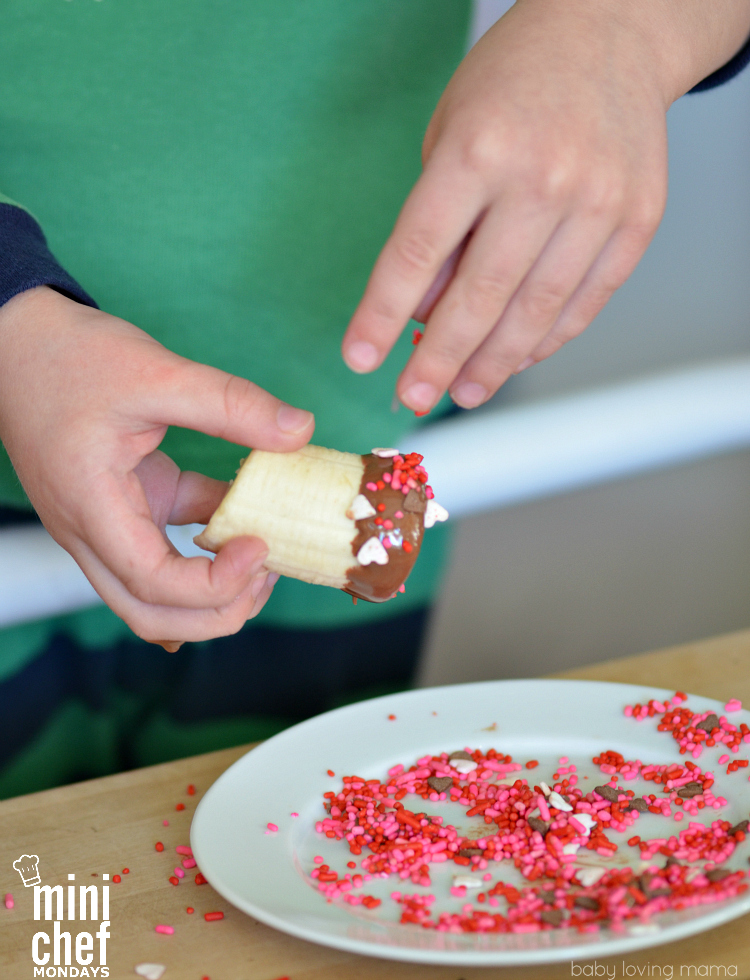 We found it easiest to sprinkle the jimmies over the chocolate around the sides of the banana.
Wes loved skewering the cherries and adding them to the banana after I placed a dollop of whipped topping on each banana. We made a great team! Homemade whipped cream or real whipped cream from a can would also work well.
To keep things simple, we did not add any ice cream to the center of our bananas as some similar recipes do. With so many wonderful flavors in this dessert already, it wasn't even necessary.
These chocolate banana sundae bites turned out so amazing. My kids devoured them and they were a big hit with our entire family.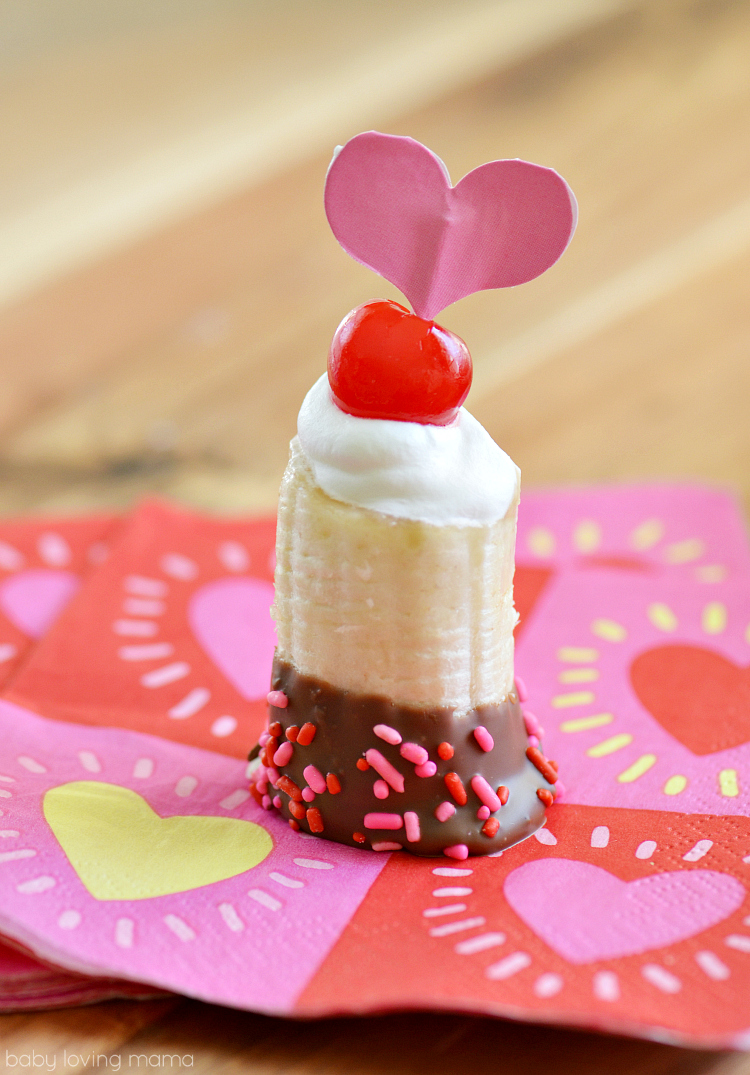 Chocolate Banana Sundae Bites
Recipe Type:
Dessert/Snack
Ingredients
2 large, ripe bananas, peeled
⅔ cup milk chocolate chips
2 teaspoons oil
8 maraschino cherries washed and dried
whipped topping
sprinkles
toothpicks or cupcake picks
Instructions
Cut bananas into four equal pieces, removing ends.
Place on parchment paper or silicone baking sheet lined baking sheet.
Freeze bananas for 15 minutes.
Melt chocolate chips and oil in microwave, just until melted.
Dip bananas ⅓ way into chocolate.
Add sprinkles over chocolate and place back on lined baking sheet.
Refrigerate 10 minutes or until chocolate is set.
Add a dollop of whipped topping to top of bananas.
Skewer cherry with cupcake pick and gently push down into center of banana.
Serve immediately or refrigerate up to one hour.
These Chocolate Banana Sundae Bites are very versatile. You can easily switch out the cupcake picks and sprinkles to match any holiday or celebration.
I hope you try this fun banana dessert for Valentine's Day with your mini chefs.
I am hosting Mini Chef Mondays along with 11 fabulous bloggers!
Be sure to check out each of their Mini Chef posts as well. We would love it if you would share your Mini Chef posts with us each week, too! Follow along socially and join in on the fun by using our hashtag #MiniChefMondays to share creations your mini chef created in the kitchen. Additionally, if you have a kid-friendly recipe that kids can easily recreate link up! Don't have a blog? Share the URL of your instagram photo in our linky below.